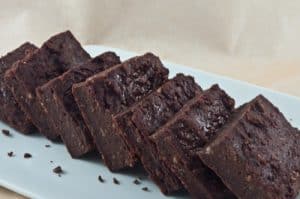 Meatless Monday is an international campaign trying to get people to try meatless meals at least once a week. Even Chef Mario Batali has added meatless dishes to the menus at all 14 of his restaurants.
One of my favorite meatless blogs is happyherbivore.com .  She provides quick and simple recipes with easy to find ingredients.  Happy Herbivore AKA Lindsay has one cookbook in retail stores and another on the way.  I was a recipe tester for the upcoming book and can tell you it is going to be great!
I emailed Lindsay about this post and she suggested some really nice fall dishes.  So, I am going to include those links but I really want to feature her Black Bean Brownies.  If you have any doubts about the idea of black beans in a brownie, just try it!  I tried it about 2 years ago and the pan of brownies disappeared in one day!  So yummy. Here is the recipe and all the nutritional information can be found for all her recipes on the site.
Ingredients:
Instructions:
Preheat oven to 350 F. Grease an 8×8″ pan and set aside. Combine all ingredients, except oats, in a food processor or blender and blend until smooth, scrapping sides as needed. Stir in the oats and pour batter into the pan. Bake approximately 30 minutes or until a toothpick inserted in the center comes out clean. Allow to cool before slicing. Chef's Note: if you find these brownies are too soft or too fudge-y, add another 1/4 cup oats or flour.
Go on! Get baking and be sure to come back with your RAVE reviews!
Also check out her African Kale and Yam soup or Mexican Cabbage .