It's April 20th.  Earth Day.  Chipmanzee is in theaters everywhere.  See Chimpanzee, Save Chimpanzees.  Purchase tickets for opening week, April 20-26, 2012, and Disneynature will make a donation to the Jane Goodall Institute (JGI) to protect wild chimpanzees.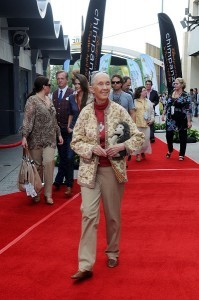 So get this.  Last Friday, April 13th, I had many amazing experiences.  You know, breakfast at Animal Kingdom, an awards ceremony at the Festival of the Lion King Theater, walking the red carpet (again)…world premiere of Chimpanzee….and a group interview with Dr. Jane Goodall.  Yep, that Jane Goodall.  THE Jane Goodall.  The amazing woman who's given her life since she was oh, about 10 years old, to learning about and living amongst and teaching others about the amazing creatures that are chimpanzees.   According to Dr. Goodall, it was the movie "Tarzan" that started her on life path…and Tarzan didn't even have a chimp, nor was he raised by them!  The seed was planted  inside her at an early age…the desire to go to Africa and study animals…it was a man named Louise Leakey who got her into studying chimps…the rest, as they say, is history. In the decades that Dr. Goodall has worked with, studied and lived with chimpanzees, she's learned and shared so much with the world about chimps and rain forests and how important it is to conserve rainforests.
Dr. Goodall is every single bit as amazing as you hope she will be and then a little bit more.  She's quiet, she's soft-spoken, and she sure does love her chipmanzees.  Start to mess with her beloved chimps, show disregard for the earth and our planet, and you will find a whole different side to her.
Oscar's adoption by Freddy in Chimpanzee was surprising to everyone, including Dr. Goodall.  This isn't something that happens very often with chimps, and even she hasn't seen it happen many times over the years.    As far as people adopting chimpanzees like Oscar, with the assumption that they will be cute and nice and sweet- and make great pets- that's the greatest misconception about chimps, in her mind.
Dr. Goodall has worked alongside Disney for a very long time, since shortly after Disney's Animal Kingdom opened.  The partnership has held strong for 20+ years and it seems only fitting that she be the spokesperson for the Chimpanzee film, even if she wasn't a direct part of the making of the film.  She knows Disney and she knows chimps.  Like Dr. Goodall, Disney understands and appreciates the importance of educating the youth of today about conservation and protecting our planet- and all of the creatures living on it.
But the reason I am so passionate about our youth program, Roots and Shoots, is because we have to raise a new generation to understand that, yes, we need money to live, but we wouldn't live for money.  And we need all of — all of the adults to admit that we haven't inherited this planet from our parents but borrowed it from our children.  We have to admit that's wrong.  We've been stealing from our children.  We're still stealing.
What struck me as powerful in Dr. Goodall's words to us was also her view of HOW to conserve- her understanding that things are interrelated and have to be looked at and fixed on a global level.  Not just saving the plants, and not cutting down more trees, but viewing the areas around the rain forests, and educating and helping the people who live in those areas.
We have to care about conservation of rain forests.  If we want to conserve a rain forest, we have to make sure the people living all around it have better lives than most of them have.  They are mostly living in great poverty, so we work with all of those people.  And then in turn, eventually, they are coming around to help us, to conserve the forests, and the chimps.  So you have to realize, everything is interrelated, and no one organization can do anything alone.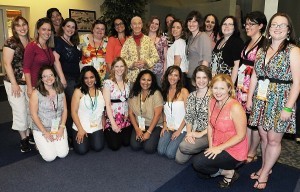 1, 2, 3, CHIMPANZEE!  (Never say 1, 2, 3 cheese again!!) (borrowed from Dr. Goodall, but I think she'd be ok with me using her phrase)
I know that this is long, but I'm going to end this with some (more) wise words from Dr. Goodall about what the average person can do :
The message is: just spend a little bit of time each day thinking about the consequences of the choices you make.  What you buy.  Where did it come from?  How was it made?  What do you eat?  Does it involve cruelty to animals?  What do you wear that does involve child-slave labor or sweat shops?  How many miles has it traveled?  How was the environment damaged?

And when people start thinking like that, they begin making, first, small changes, and then usually, bigger changes.  And the difficulty is getting people to understand that what you do matters.  That what each one of us does every day is having an impact on the planet, and we have a choice.  What kind of impact do you want to make?  
 This interview was part of a press trip I was invited on by Disney and Global Resort Homes.  Travel, accomodations and expenses were provided to me.  All opinions are my own. 
0