The holidays are quickly approaching and I am always on the lookout for great gift ideas. Particularly ones that involve creativity and imagjnation. When I had the opportunity to try out the new Megabloks Blok Squad Sets I immediately thought of my 5 year old. He is always building and inventing new things. Megabloks offers several Blok Squad sets, including: Army Base, Army Trooper SUV, Orbital Mission, Space Astro Exploration, Construction Site and Beach Patrol. There is something to peak the interest of almost any young boy. My son was particularly interested in the Fire Patrol set.
Product Features
Buildable Fire Patrol Station team of Fire Command 4×4 Truck, Fire Rescue Chopper, Fire Rescue Carrier and Fire Ladder Truck TL with 956 pieces
Includes 5 Blok Squad Firefighters
Collect them all and combine Blok Squad vehicles to create super rescue trucks to complete any mission and save the day!
.
*I received a sample of this product to facilitate my review. All ideas expressed are my own.
My Impressions:
These sets are labeled for ages 5 and up, but I recommend adult supervision. The parts are small and the instructions are a bit complicated. The four rescue vehicles are fun and interactive and the firefighter figures were easy for my son to assemble by himself. It took us about an hour and a half to completely build the set. I did find the assembly to be a bit cumbersome, as the blocks were not organized and packaged into sets. There are a lot of blocks, which made it difficult to get started. In addition, several of the bags opened in the box. However, once the set was assembled, my son did enjoy playing with the characters and rescue vehicles. This would make a good rainy day activity. I also like the wide variety of sets that MegaBloks offers. These would make a great Christmas or birthday gift for a young boy.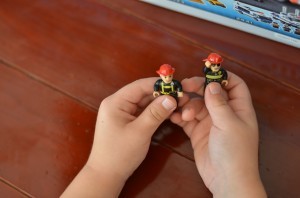 You can purchase Mega Bloks Blok Squad sets online at
Amazon
, This set retails for $32.99.
*I received a sample of this product to facilitate my review. All ideas expressed are my own.