Last week, I was invited to take part in a roundable discussion for a new show on Netflix called Waffles + Mochi. We meet Waffles, a sweet creature who happens to be half waffle and half yeti, and her best friend Mochi, an adorable and tiny pink rice cake who has a language all his own. Waffles + Mochi live in the Land of Frozen Food and as we meet them, they are watching a cooking show on their ice television, sitting in their ice house on an ice armchair, dreaming of things to eat that aren't ice! Suddenly, these besties find themselves getting a job at a fun supermarket with a rooftop garden, which is all owned- and tended to- by their new boss and friend, Mrs. O. That's Mrs. O as in Mrs. Obama, former First Lady and advocate for bringing healthier foods onto the tables of kids in America.
I think your family is going to love this show, and in all likelihood, you're going to fall in love and refer to our former First Lady as Mrs. O, because she becomes Mrs. O to all of us, in love with a Bee who takes his job VERY seriously, a little pink rice cake and the cutest half yeti half waffle puppet you've ever seen. It's silly and fun and wholesome and you're probably going to be inspired to do some cooking with your kids. I know my family already has plans to make some of the recipes we saw in the show!
Waffles + Mochi on Netflix and Michelle Obama Interview
Several content creators and I got to do a roundtable via zoom with with Waffles, Mochi and it included a Michelle Obama interview! Yes, I was nervous, yes it was awesome, and yes I would do it again. Many thanks to our friends at Netflix for including me for this.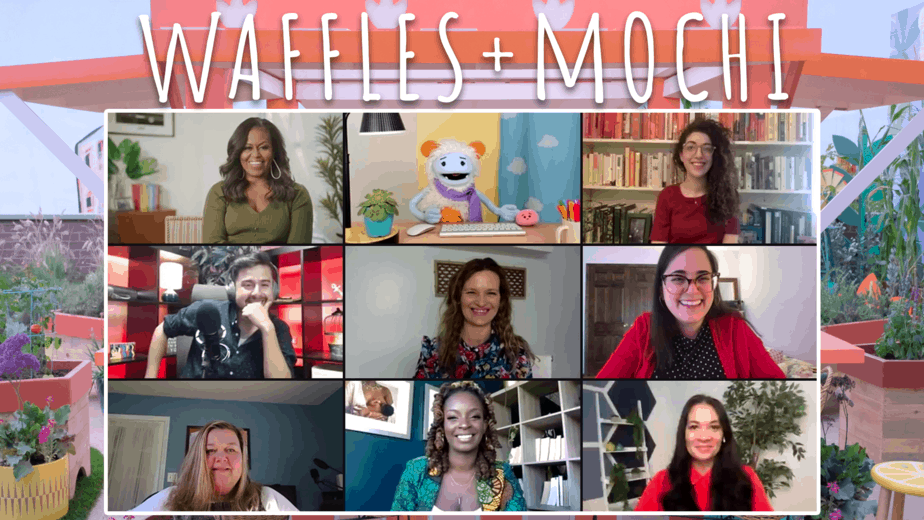 Through humor, honesty, adventure and plain old curiosity, Waffles + Mochi and all of their cast colleagues bring foods around the world into your living room. This show is fun and does a lot of teaching about where foods come from and how they are prepared in different places without being preachy- one of my first thoughts watching it was that it had a very Sesame Street vibe….and having grown up watching and loving the 'Street' myself and again with my own kids, that's an awesome thing. Kids will love watching a half waffle half yeti puppet fly around the world (and even to Mars!) with her BFF pink rice cake, and parents will enjoy finding new ways to hopefully get their own kids a little more excited about new foods and trying new tastes. The cameos and guest appearances from so many talented folks doesn't hurt, either! Read below about our group interview with Mrs. O, Waffles and Mochi themselves!
Chatting with Waffles, Mochi and Michelle Obama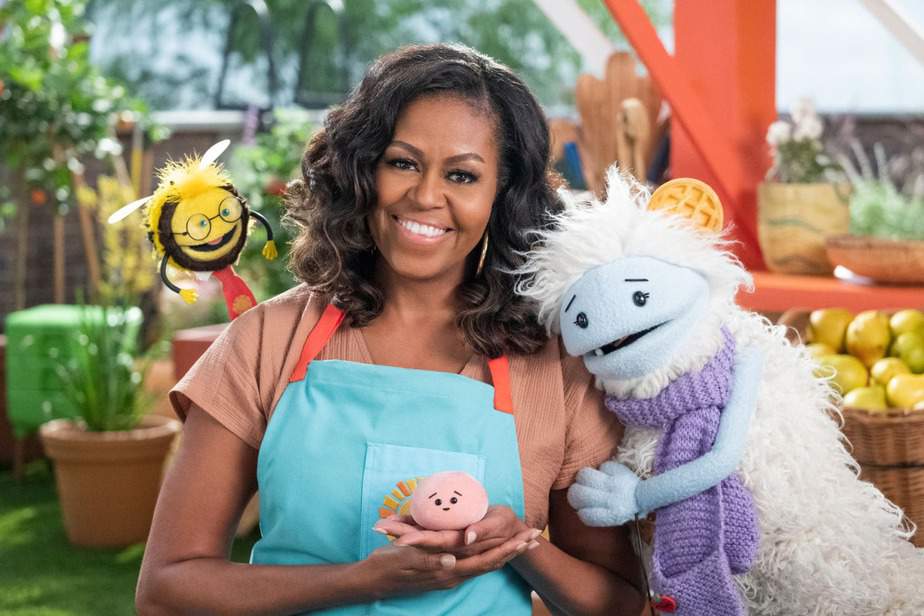 New Foods can be Daunting!
Waffles + Mochi, like many kids, including my own, aren't always super enamored at the idea of trying a new food. Sometimes they are, and their reactions are so much fun to watch, and others, the new food isn't an instant favorite…and reminded me when my oldest would look at us very seriously when she was little and say "I can't like this right now, mommy" and would do her best to avoid trying something new. Now, especially since COVID started and we've all been home more, we're all a bit better about trying new ingredients and new recipes because we've been watching more and more cooking shows.
(ME! Brett!) Mrs. Obama, did any of your experiences raising your own girls, especially around foods that they were maybe hesitant to try or refused to try as young kids–did those come into play when you were creating episodes?
Michelle Obama: Oh, gosh, absolutely. I mean, the trauma of dinner time is a universal challenge for every parent. So, that's why the core concept of this series which–is to explore, try new things. I mean, those were some of the conversations that I remember having, beginning when my kids were sitting in highchairs with a little tray. And you'd put food on the tray instead of the plate. You'd scatter it around and try to make it look interesting and colorful.
Waffles: And did it get messy?
Michelle Obama: And let it get messy.
Waffles: Yeah.
Michelle Obama: But the goal would be to just have them give it a try. Just try it. And Waffles and Mochi, they make trying new things fun. And the goal is to have kids connect with the experiences that Waffles and Mochi had. That's why their origin story, the fact that they live in the land of frozen food, where they never had real food before–.
Waffles: –Oh, no, we had ice, and we had snow and all kinds of–.
Michelle Obama: –You had ice and snow.
Waffles: I mean, there's a lot of variation on an ice. That's pretty much it.

Michelle Obama: And watching their reaction when they try their first tomato? What did you think about that? I mean–.
Waffles: –I mean, wouldn't your mind be blown if you'd never had fresh food before, and then you popped in a cherry tomato from some garden? Yeah. My mind was blown, blown. I think my mind is getting blown almost all the time, every single day, huh, Mochi?
Mochi: Brrrr.
Michelle Obama: So by making it fun, we hope that that fun is contagious and that maybe a child walks away from the program asking for a tomato or being curious about a mushroom. Even if they're not ready yet to put it in their mouths, they're familiar with it. And it's beginning with the familiarity and understanding the story behind the food that will hopefully help bring out that curiosity in kids and help parents at home do their job a little bit more.
Try Samin Nosrat's Tomato Candy recipe at home for yourself!
Learning about where the foods come from, how they are prepared and then eaten certainly helps most kids, Waffles + Mochi included, to be a little more confident about trying new things. This whole show is about exactly that. Curious puppet kids who explore and discover and try and learn- and love! all kinds of new foods and tastes!
This (first and hopefully more will follow) season, we visit places across the globe and learn about Rice, Water, Eggs, Tomatoes, Mushrooms, Pickles, Potatoes, Salt, Corn, and Herbs & Spices (amd not in that order).
We asked: Latinos, immigrants, minorities in this country have shaped the history of our food so much. And I was wondering if highlighting those contributions was an important motivator for you in doing this show and how that connects to your mission of raising healthier kids.
Michelle Obama: Well, the international component of this show was definitely intentional. As food is–it is a universal language, we all speak it. All of our cultures have helped shape how we eat around the world. And I think it opens up the world to kids, again, especially in a time of pandemic where people are sort of stuck in their homes, and they've been stuck there for a good year now. They can get on a magic cart with Waffles and Mochi–.
Michelle Obama: –And see the world and learn where food comes from and appreciate the cultures that they come from and get excited about what the world has to offer. Waffles and Mochi, you guys had some fun on your adventures, didn't you?
Waffles: Yeah.
Mochi: Whoa, whoa.
Waffles: Tasty is the adventure of my life. I mean, we traveled literally all around the world and back.
Mochi: Uh-huh.
Waffles: It was so cool.
Michelle Obama: You even went to Mars.
Waffles: We did. We totally went to Mars. A magic cart took us all the way to Mars. We are intergalactic. Food really does bring people together, huh, Mrs. O?
Michelle Obama: Absolutely. And this is a show that parents and kids can watch together, which is one of the other things that attracted me about this show.
In each episode, Waffles + Mochi hop in the Magicart and fly to a new destination to learn about another food found at their supermarket where they work. As they learn and discover things, they get badges from Mrs. O. Visit your new favorite puppet friends over at their WafflesandMochi.org – and find out how to Pass the Love and help to feed others, some great recipes from the show and earn badges of your own!
We asked: What has been some of your favorite places to travel, and what were your favorite foods when you were there?
Michelle Obama: Oh, Waffles and Mochi, you guys should take this one first. Yeah, I mean, we did travel all over the world, like literally around the planet in the magic cart. Mochi, what was your favorite place.
Mochi: Manama.
Waffles: Oh, really. I mean, that was a pretty spectacular view, I know, in Peru. But, oh, you know what my favorite place was? Japan. You know why, because Mochi is super big in Japan.
Mochi: Mm-hmm.
Waffles: Yeah. And I think they're making little mochis now, huh? He's pretty famous.
Mochi: Mm-hmm.
Michelle Obama: And for me, I mean, it's really hard to choose. We were blessed with the opportunity to see so much of the world in the White House and to do it with our girls in tow. And there was really something unique and fascinating with every country and every type of cuisine we tried. Not everyone was a hit, for sure. When you've got–that was one of the toughest parts of trying to do international ambassador work with children.
Waffles: They don't have chefs.
Michelle Obama: They don't really–new places, and you're trying to get them to be polite and try new things. So world travel has brought us so much joy. And on every trip, I would always think of the children who would never have the opportunity to see the world in that way, to know what a mountain range in Peru looks like or to walk down a busy street full of neon lights in Tokyo or–.
Waffles: –Yeah, or a mushroom place in a forest in Osaka.
Michelle Obama: Yeah, yeah. I mean, every time I travel and see so many wonderful parts of the world, I think about the kids who will never even know that this part of the world exists. And so, Waffles and Mochi hopefully will open up those doors of possibility.
Waffles: Yeah.
Michelle Obama: Now, maybe some–not every kid will get to go every place, but knowing that this other part of the world, these other parts of the world, exist, I think is an important first step, making it a part of their life at an early age, so–.
Waffles: –Oh, yeah, all the kids in the world have a seat in our magic cart.
Michelle Obama: –An international piece of Waffles and Mochi, I think is–it is new. And it is necessary. As we become more of a global world, a global economy, our kids need to know that there's more out there than what's in their backyard, so–.
Waffles: –Oh, yeah.
Waffles + Mochi is coming to Netflix on March 16
Once upon a thyme, deep in The Land of Frozen Food, lived two best friends named Waffles and Mochi with one shared dream: to become chefs! The only problem? Everything they cooked was made of ice. When these two taste-buddies are suddenly hired as the freshest employees of a whimsical supermarket, they're ready for the culinary adventure of a lifetime. With the help of friendly new faces like Mrs. Obama, the supermarket owner, and a magical flying shopping cart as their guide, Waffles and Mochi blast off on global ingredient missions, traveling to kitchens, restaurants, farms and homes all over the world, cooking up recipes with everyday ingredients alongside renowned chefs, home cooks, kids and celebrities. Whether they're picking potatoes in the Andes of Peru, sampling spices in Italy, or making Miso in Japan, these curious explorers uncover the wonder of food and discover every meal is a chance to make new friends. Waffles + Mochi is an exciting invitation to get kids and grown-ups cooking together in the kitchen and connecting to cultures around the globe.
Waffles + Mochi Trailer
Watch the trailer, or pop over to Netflix and watch the whole season!
Since food really is a shared thing that brings us all together, we had to ask…
What is your favorite food to share with others and why?
Michelle Obama: Ooh, a family favorite night is Taco Tuesday. Yeah, Taco Tuesday–.
Waffles: –Taco Tuesday–.
Michelle Obama: –In our household favorite night of all nights because it's like there's so much variety in Mexican food. You've got tacos and empanadas or rice and beans. I mean, it just can go on–plantains.
Waffles: Tostadas.
Michelle Obama: Oh, tostadas, you can just–.
Waffles: –Tamales.
Michelle Obama: Nachos. And you've got the queso and the guac and, I mean–.
Waffles: Walk and roll.
Michelle Obama: And if you top it off with a little Margarita, maybe a Virgin for Waffles and Mochi–.
Waffles: –Yes, please–.
Michelle Obama: –It's a fabulous night.