A few weeks ago, the new Microsoft Store opened at the Westfarms Mall in Farmington, Connecticut. I was all kinds of excited to attend the media tour before the Grand Opening celebration and check out the store itself….but sad for me, I had a nasty bout of strep throat and wasn't even able to get out of bed. My friend Kathy came to the rescue and headed down to cover the opening for me.

I'll be heading over in the next few weeks, because I just can't stay away… if for nothing else but to drool over the Nokia Lumia line of phones and wish again that I had one of my own… So.  Microsoft Stores aren't just a place to go and shop.  I mean, trust me, you want to go shop there. It's just there's a whole lot more to the stores.  Service, sales, community events and programs are all key components of the Microsoft Store Experience. (I feel like it needs that capital E because it really is an experience, not just a store).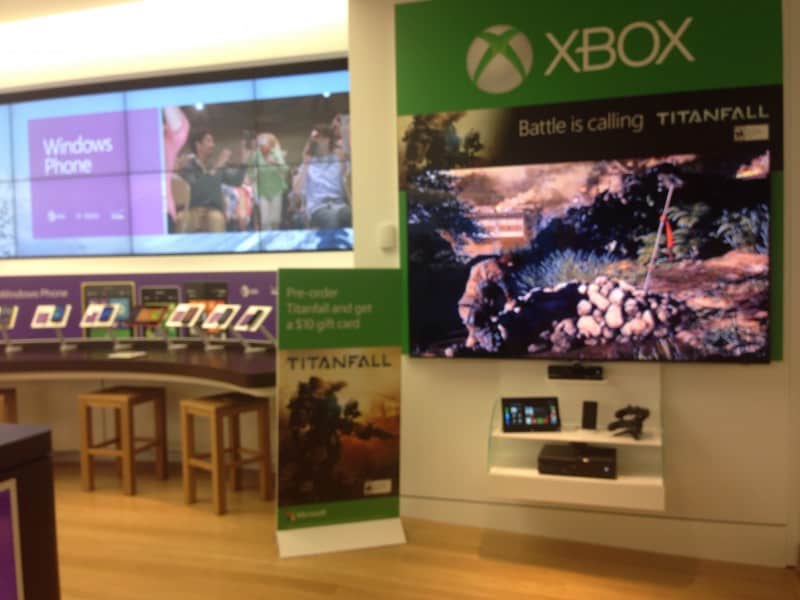 When new games are released they'll host a tryout party so people can try games before they're even released. That's right. A party.  I'm not really sure if there will be balloons or cake, but there's always hope, right? Still, trying before you buy especially with expensive games is a great thing.  It's also nice if someone in your life is asking for a game and you aren't sure if it's going to be the best game for them- age appropriate, content, etc…. you can pop in and check it out BEFORE purchasing.  We've not bought tons of games to date but even with the few we've purchased we've found some duds.  That's never fun to waste money.
This "Living room" area lets you try the games. Family friendly during the day so it's kid safe. That's a win for me, because I have this little guy in my house who would love to play video games all the time but given that he's 6, I really don't want him seeing many of the video games that exist in the world.  Family friendly is where I'm at in life and that's what I like to see when I have my kids nearby.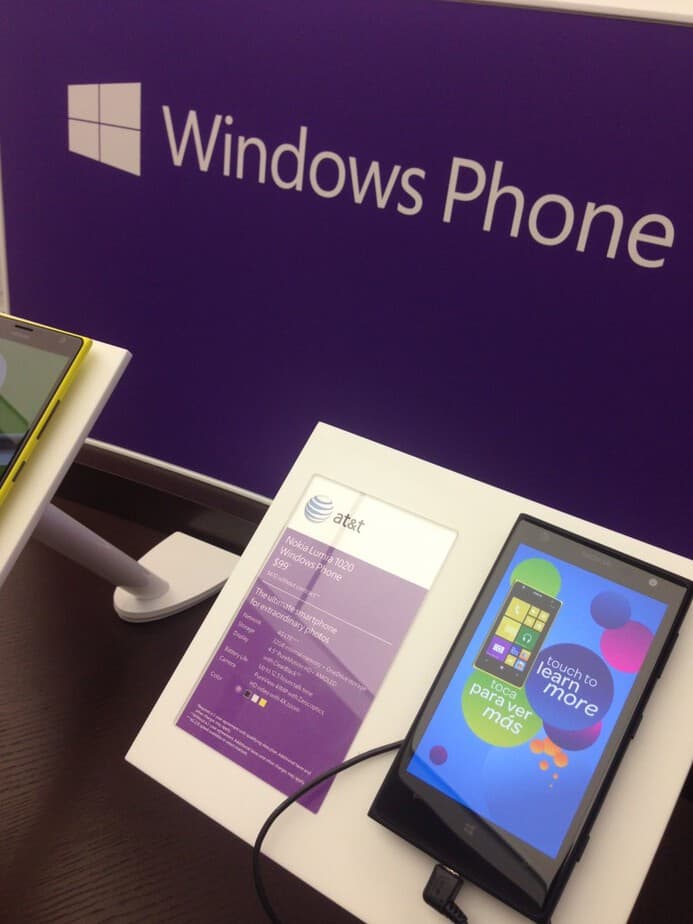 Remember I mentioned the Nokia Lumia phones?  Do you know why I love them so much?  This love affair started months ago when I was in Seattle and I'm still thinking about them.  There's a 41 megapixel camera on the Nokia Lumia 1020 windows phone. That's more megapixels than I have on my Canon 60D DSLR. Yea.  That many. You can zoom in so close without losing quality. Lots of accessories including my favorite battery charging grip case. Office built in. Stabilizer for photo and video. Different lens effects. Blink mode is great to capture motion. (Just a note, I'm turning 40 in May, right around Mother's Day, so if the Microsoft Fairy were to ask what I'd wish for….refer to this please). Remember, this is a PHONE we are talking about, with these features.  Not a camera. A smartphone.  There's even different colors!!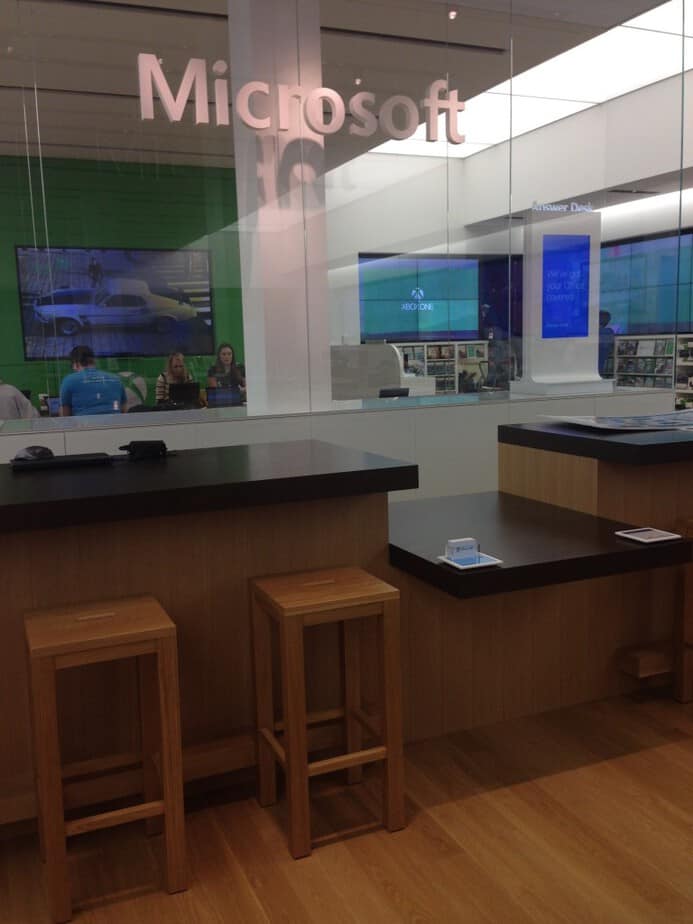 Got tech questions?  Issues? There's an Answer Desk at your Microsoft Store… with free services. Doesn't even need to be purchased here NOR need to be a Microsoft product to get free help. Data recovery for $149 if they can help you in store. They'll load your software purchased there too. My nephew Kyle will be REALLY happy I have someone else to bug with every.little.question that pops in my head about laptops, tablets or computers. Ecstatic maybe.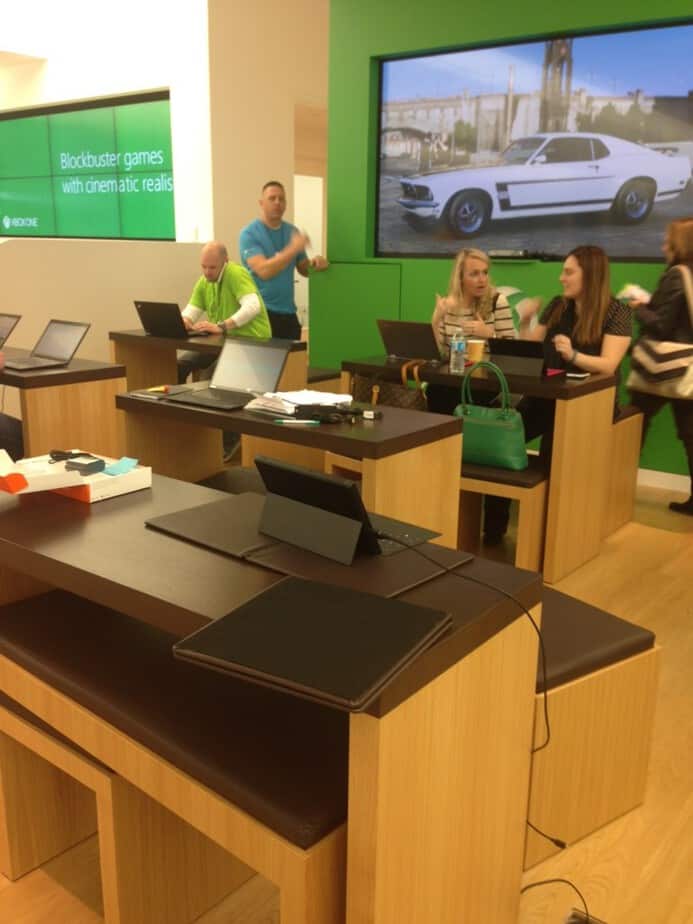 This is the Theatre. Microsoft will do personal training and workshops on days before the store opens to train on software. Oh yea!  Training . So when you get that new software and aren't sure how to get familiar?  Go to the store.  Help is there!   There's a 103″ tv for training. (I wonder if I visit if they'll pull up my home page of my blog and let it stay on the tv for a while… imagine? 103″ of my own little piece of the internet??!! Crazy). The space can also be used for free community events. A business could bring in employees to learn Outlook. Or Boy Scouts could learn how to make movies and borrow the cameras in the store. Someone could rent the space for a gaming tournament. You can schedule your free event online. Yea. Free.  Sweet, right?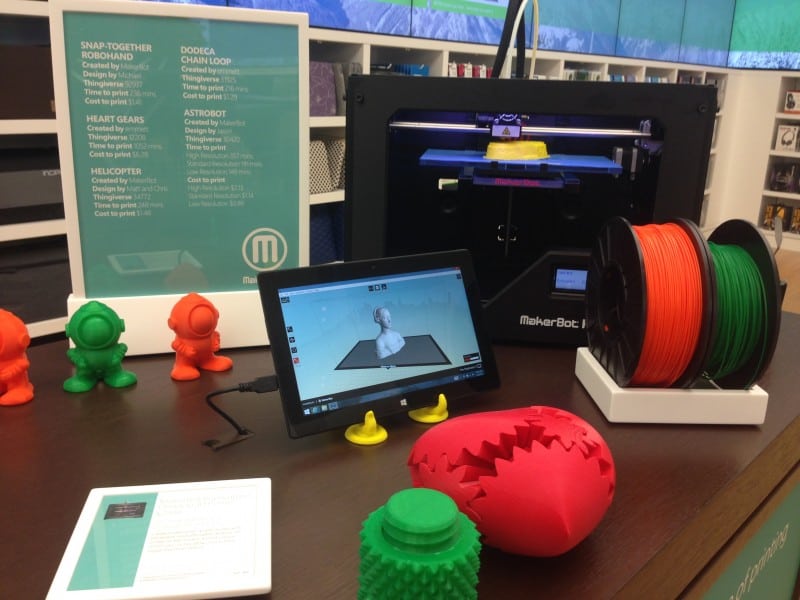 This section features newest emerging tech like this MakerBot 3D printer. You can watch it work in the store, making these objects. And like all MS products, they're all  easily compatible with other MS products. I got to see the MakerBot 3D printer printing about a foot away from me at Microsoft Headquarters in November.  Blew my mind.  I still have  hard time wrapping my head around what happens, but really? Its something to see.  I wish my grampa was alive to see, because he'd be blown away.
So– can you see why I have to call it the Microsoft Store Experience?  It's not just a store. It's oh so much more. Have you been to a Microsoft Store yet?