I think I love accessories more than anything else when it comes to fashion.  A long time ago, it was shoes.  Then I got pregnant, and my feet grew. They got wider and they got longer.  My attention shifted to diaper bags.  I thought I'd return to my roots, and be a shoe girl again, but sadly, with each pregnancy, came larger feet.  As my kids have outgrown the diaper bag age, I'd gotten back into bags a little bit- especially camera bags- but I think I've found my next love.  Camera straps.  I've had a few, but they were a pain in the neck to change, having to be slipped over the top of a strap, and wrangled into place.  This is where Mod Straps come into play, and where I have and will continue to spend many hours perusing their beautiful designer camera straps and camera accessories.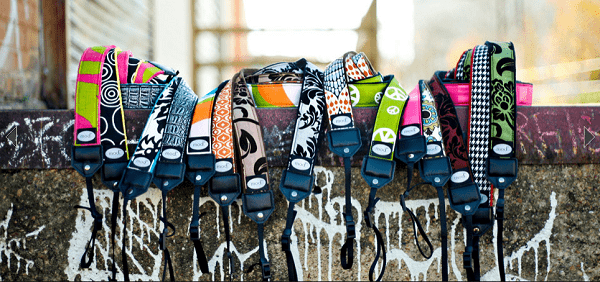 Mod Straps have this marvelous quick-release feature on their straps.  Do you know what that means?  It means you can change your strap with a few quick clicks.  Like under 30 seconds, quick.  Not the 30 minutes it took me to get my last strap purchase wrangled onto my camera body.  It was love at first click.  Don't worry if you have other straps without the quick release adaptors– you can purchase them at a pretty fair price right on the Mod Straps site.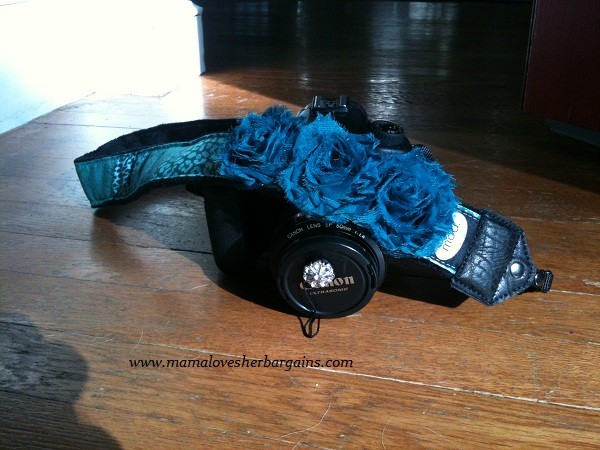 When you are there, check out the accessories.  The cap savers?  Oh so cute.  Practical, too.  You can see mine (Clear Rhinestone, $16.50) on my lens cap, above.  Sparkly and fun, and no more shoving my lens cap into a pocket only to have someone tap my shoulder a few minutes later with "I think you may have dropped this" which has happened way too many times!  The cap savers literally just slip on over your lens with an elastic and adhere to your lens cap.  A few seconds and many dollars saved (at least for me…maybe I'm the only one who loses lens caps regularly?)

The Premium Strap in Turquoise Flower ($48.50, comes in 20 styles)  is just delightful.  The fabric is just beautiful, and the flowers on the strap just add a feminine touch with a dash of whimsy that makes me smile no matter what my mood is when I catch sight of it. I love it.  It isn't even pink and I love it.  Having the quick release feature means that when I get another strap, or feel like changing to a different strap because of my mood or the seasons, or whatever, means changing will take just a few moments.

Sensible, sophisticated, and savvy, you are a woman who demands high fashion with practicality… and who says you can't have it all?  mod.'s Premium Strap offers the ultimate in comfort, utility, and style.  Along with its stylish design & plush signature lining, the Premium strap comes equipped with our "quick release" feature, which allows you to disconnect your strap with ease.  Go ahead: be the Total Package!• Decorative portion of the strap: 33" long
• Total adjustable length: 42" -48"; 1.75" wide
• High grade synthetic leather ends
• Backed with durable webbing
• Tested to withstand pull down weight up to 70lbs.
• Lined with our opulent, plush signature fabric
• Quick release ends
• Matching accessories available

If you aren't a DSLR or SLR owner, Mod has fun products for you, too. They have a camera strap/pouch for compact cameras ($23.50) along with strap wraps (no need to bring your wallet) and even tech sleeves to protect your devices in style.  High quality materials and gorgeous style are two things that Mod stands out for, in my opinion.  The hardest thing for me to do is decide what strap to get next. Yes, I do want a holiday themed one.  There are 4 strap styles at Mod- the Basic, the Basic Natural Eco, the Premium and the Classic- ranging in price from $20.95 to $48.95.

Mod Straps would like to send one of my readers a $35 Mod Strap gift card!

Loading Entry-Form…

…

Samples of these products were received to facilitate my review. Opinions are my own.

0

See the strap on my camera? It took me at least half an hour to get that on. Frustrating, to say the least.