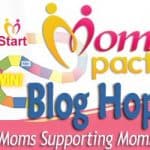 I just love supporting mom-inspired and created products, and Baby underSocks  is a great one!  What mom hasn't struggled to keep their little ones socks on?  I defy you to find anyone who doesn't have this problem.  Now that fall is approaching, socks will be a necessity (I personally avoid putting socks on my children until it is ABSOLUTELY necessary).  It always seems that the baby has one sock off and another just hanging on.
Well luckily, Christine, the creator of Baby underSocks (and mother of 4 boys) came up with the perfect solution.   A one piece garment with socks attached.  Genious!!  These are a great option for all babies, but especially for us "boy only" moms.  I know from personal experience, having 3 boys myself, that ALL footed legging type products are geared towards girls.  Come on now, our little guys get cold tootsie's too!  These are designed for both boys and girls.  I was personally so pleased to see the nicest baby blue color for boys.  Very sweet.
Baby underSocks are also made with bamboo, which makes them luxuriously soft and comfortable.  Bamboo is also more breathable, moisture wicking and hypoallergenic than cotton.  Not to mention that it is vastly more Eco-Friendly.
So how do Baby underSocks work?
"The socks are attached to the fitted thermal underpants, so your baby cannot take or shake them off.  Your baby's feet are sure to stay warm, and you won't lose socks either!  Unlike normal socks, underSocks won't disappear while at the mall or running errands.  You won't even lose them in the wash."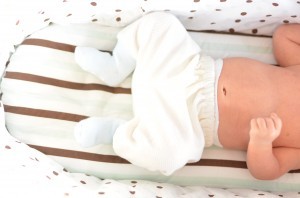 " Wearing underSocks eliminates the gap that occurs between socks and pants, where cold air can get to baby's skin.  I used to wrap a blanket around my baby's legs and ankles when we'd go out in a stroller in chilly weather–and he used to continually kick that blanket off.  With underSocks, your baby's legs stay fully warm without a worry."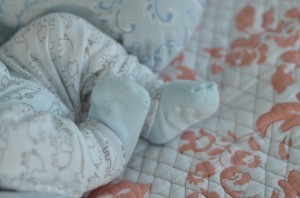 I tried out a pair of the 0-3 month Baby underSocks.  I found that the garment was extremely soft and comfortable.  The first picture shows the Undersocks alone, without pants.  The second photo demonstrates how the undersocks work with pants.  They fit nicely underneath normal clothing, without causing any bulk.  The socks worked great and were super thick and comfortable.  My little guy is 1 month old, and I anticipate that the 0-3 month size will fit him through the fall.  I will definitely need to purchase the next size up for our stash, we love these things!  I find myself washing them every few days just so I can have them on hand.  These make a great addition to any fall and winter baby wardrobe.   They are available in newborn size up to 18 months, so you can use them with an older baby too.  Visit Baby underSocks to check out this great item for yourself.  They retail for $19.95, with  $1.95 Shipping on all items!
In addition, all readers will receive a 25% discount with the code"mama25″!!!!  Click here to use your discount code now!


One of our Readers will win a pair of their own Baby Undersocks in the size/color of their choice.
 This post is part of the Mompact Blog Hop!  You should visit the other 120 blogs to enter additional giveaways- you can return to Mompact.com to find the links, etc but we all have a link to the NEXT blog on the list in our posts, so you can go through the list and learn about some amazing mom invented products!  You'll want to head over to Veater Family Adventures next and check out her review and giveaway of SeatPak!  (Our posts should all be "sticky" at the top of our blogs so they are super easy to find).
I received a sample of this product to facilitate my review.  Opinions expressed within are my own.
0