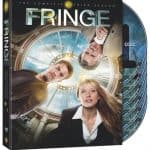 Throughout most of Fringe: Season 3, Peter is in love with who he thinks is Olivia, but it's actually Olivia from the alternate universe. When the original Olivia returns, Peter is emotionally distraught, because he realizes that he'd enjoyed spending time with the alternate Olivia. If you were Peter, what would you do in this situation? Would you stay with the alternate Olivia or return to the original Olivia who you developed an initial relationship with?
This is such a convoluded situation.  I mean, really, this is a rough choice Peter has to make.  To follow his heart he'd have to go both ways, with both Olivias, and he cannot.   Really and truly, I think he should go with the one he loves and that would be with the alternate Olivia…although how to break that to the original I don't know.  I guess that's what Season 4 will bring?  Answers to that and so much more drama to keep everyone interested and involved in the storyline, I am sure- and it's what keeps viewers coming back for more, more more! 
What would you do in Peter's shoes?  What if you were Olivia!! Can you even imagine?!
Order Fringe: The Complete Third Season on DVD here today: http://bit.ly/o2MYBv !
"I have been hired by Warner Bros. WBWord division to promote Fringe: The Complete Third Season on DVD/Blu-Ray."
0