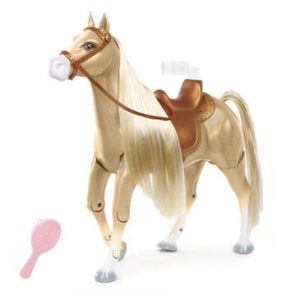 A few months ago, we were introduced to the world of be you. be true. and Moxie Girlz. I fell in love and my daughter fell in love. Fashion dolls who send a positive message to girls, with fun and funky clothing and accessories- and changeable feet instead of struggling and fighting with tiny shoes!! Cricket, the Moxie Girlz Horse Riding Club horse we received, is a gorgeous blonde colored horse and as with the Moxie Girlz, her mane hair is easy to comb, brush and style- with no tangles (why do so many doll and toy animals have hair that is forever a tangly mess?).
Cricket (and the other horses from the Horse Riding Club) comes with a brush, plus the saddle/bridle combination. This is a beautiful horse and well made- good to stand up to hours of play with your little ones. Cricket is going to be donated with a Lexi doll for the holidays, which is what my 6 year old specifically requested, so that another girl can enjoy her and love her (or him. I guess Cricket could be a boy horse too?)
One of my readers will win a Moxie Girlz Horse Riding Club "Cricket"!


I received a sample of this product in exchange for my post. Opinions are my own.
0