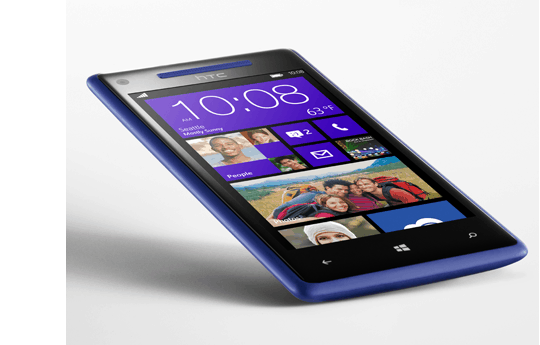 My husband has a sweet new smart phone. It's the brand new  Windows Phone HTC  8x.  Thankfully, it arrived just in time for our Disney trip earlier this month, which gave me a HUGE sense of relief- now, I knew if we got separated, I'd be able to get in touch with him (his work cell is for work and they are not allowed to use it for personal use).  Since this is a brand new phone, I knew I'd love the bells and whistles, and believe me, I've played with it, but I thought that having HIS point of view on it might be a refreshing change of pace.  So that's going to be woven in this post and any future posts I do about this phone.  His one big thing he wants to share is something he says with any touch screen device- big fingers and touch screens are not instant friends.  I think I finally have him set so that he knows to turn things sideways and it'll be less of an issue with the screen sideways, which makes the font/buttons/images larger.  He gets so frustrated with touch screens because of this but he's worked past this issue with the HTC 8x already.
The phone, by the way, is super sleek.  VERY thin profile.  Very fashionable.  I love the "blurple" color and no, I do not think that is an official HTC color although it should be.  It's totally a fun phone to grab out of your pocket.  Having it be so new, people were stopping my husband to comment on it frequently on our trip.  The phone itself is almost rubbery (again, non technical terms) which makes it really easy to hold and not drop, especially when you are multitasking or carrying items. It's a great feature, especially since this phone is so new, it's not really easy to find cases and accessories for it!
The HTC 8x is a Windows Phone, something we've reviewed a few times previously on this blog- a very, very user-friendly operating system. Jenni and I have both checked out Windows Phones and like us, my husband is loving the graphics and ease of finding the most commonly used features of the phone.
Having a smartphone means that I can almost have access to my husband 24/7.  Which is a double edged sword for ONE of us, although I won't say who.  I can text him and more importantly, send him pictures he can see almost immediately if there's something going on with the kids or the house and he's not able to be here with us.  I can send a picture when some "thingy" on the washing machine looks funny, and he's able to give me guidance (or laugh) without having to leave work to help. I have sent him photos of the kids' activities when he wasn't able to join us, and while it isn't the same as being with them, at least he can share in it a little.
Being able to access the internet for weather, directions, sharing information, is such a convenience for so many of us with smartphones– I'd almost forgotten how much I rely on my phone until Mr. Bargains got his.  He's still new to the "I'll check it on my phone" thing.  But he's catching on, and fast.  I'm pretty sure his favorite thing is being able to see when UCONN basketball will be playing their next game and what channel it will air on but maybe I'm wrong.
Speaking of game times, and personal interests, one of the COOLEST features of this phone is the many ways you can customize it.  Sure, there's the standard wallpapers, and all, but you can really have some fun and give this phone YOUR personal touch in a lot of fun ways. Check this video to see how:

Content and/or other value provided by our partner, HTC.
Next time I post, I'm going to share with you the AWESOME camera on this phone.  It BLEW the photos on my iPhone 4 away! I was very (pleasantly) surprised.
Some content and/or other value provided by our partner, HTC.  A phone was provided with a promotional item to facilitate this review.  Opinions are our own.
0