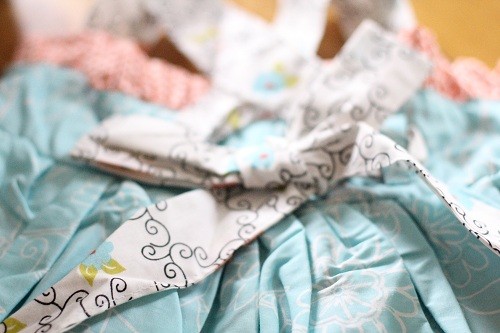 I have a love of whimsical fabrics and fresh prints combined to make original, fun and beautiful clothing.  If only I was able to both visualize outfits like these AND be able to sew them.  Lucky for me, there are creative geniuses out there who CAN do this, and boutiques like My Little Jules who can, will and do make these beautiful combinations for moms like to me to get their whimsy on…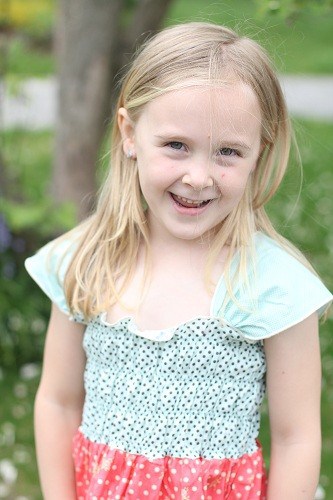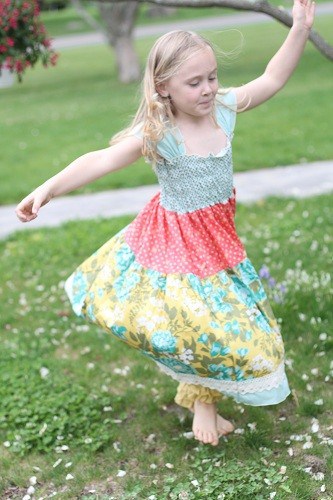 My Little Jules sent my oldest Persnickety Clothing's Bella Dress in Turquoise with a pair of Persnickety Clothing's Cropped Ruffle Leggings in Yellow. It's hard NOT to smile when you see this combination on…which is frequent since my daughter is in love with this outfit.  These clothes seem to run on the big side- sized very generously- so you will get a good long wear out of them .  My daughter will wear this dress for at least another full year, but I'm guessing 2 more.  Right now it's a little too big but she doesn't seem to mind.  I won't lie, I adore it.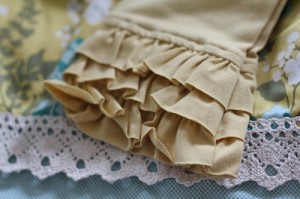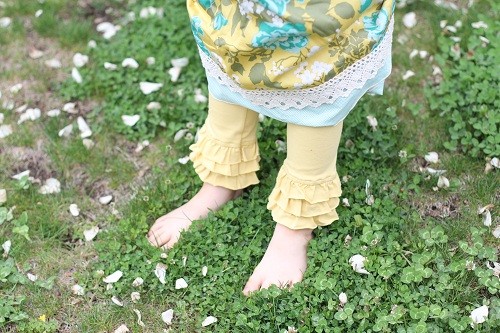 It's also the perfect dress for twirling (see above) and doing a sweet curtsy (and that will show off the cropped ruffle leggings)!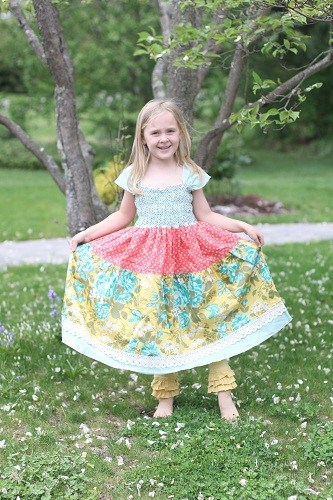 There's more cuteness to come…because My Little Jules also sent my younger daughter a dress and leggings that's just as cute, just as twirly, and just as whimsical.
Jelly the Pug's Opal Sassy Dress is quite simply, layers of gorgeous colors, fabrics and, well, cuteness.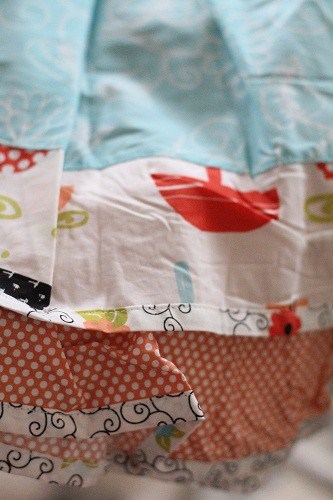 Seriously.  Look at this cuteness! Can you even stand it?  She is literally screaming in delight at her FANCY new dress in this photo!!
"Mommy it's swirly!! Look at me!! I have a swirly (twirly) dress like my sister!"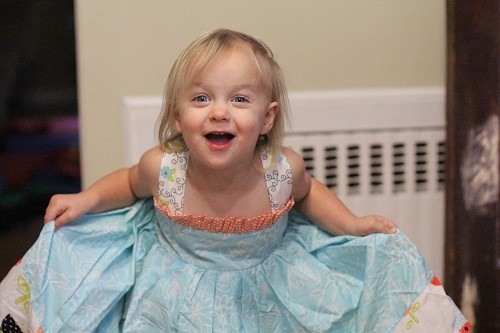 But the cuteness doesn't stop there.  Check out the cute ruffled leggings underneath…which can look extra cute when your little girl is twirl, twirl twirling around…which is hard not to do with a dress that's meant to be THIS twirly.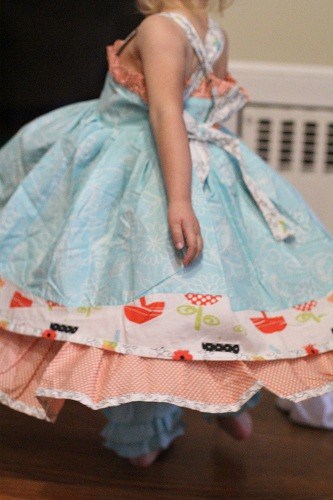 The cuteness goes on and on…and on some more over at My Little Jules.  I'm also noticing a lot of SALE pricing right now, and may be doing some early back-to-school shopping for my kids this morning!
MyLittleJules.com is a family owned and operated kids clothing boutique carrying such boutique children's clothing brands asPersnickety Clothing, Oilily and Room Seven, Deux Par Deux, Ooh La La Couture, Dollcake Clothing, Mustard Pie, Jelly the Pug,Twirls and Twigs, Pixie Girl, Flit and Flitter, Kate Mack, Livie & Luca shoes and more. My Little Jules began as a baby clothing boutique and was inspired by our beautiful daughter Julia, aka Little Jules. Since Julia's birth, we have cherished every moment spent with her and always looked for ways to have more time as a family. In addition, we wanted to connect with other parents with young kids. And since Little Jules and her mom have a passion for fashion, opening a kids clothing boutique seemed like a perfect solution.
At 

MyLittleJules.com

 you will find hand-picked boutique kids clothing, shoes and accessories. We search through many brands to find pieces that truly reflect the essence of childhood and combine lasting quality with styles your little trend-setter will love to wear. We treat our customers as family and believe in friendly, reliable service. If you would like more information about our kids clothing boutique, policies or products we carry, please 

Contact Us
Now that you've seen some of what this boutique offers, wouldn't YOU like to be the one who wins a $50 Gift Card to spend on ANYTHING from MyLittleJules.com?   To enter, simply fill out/follow the instructions on the Giveaway Tools form below.
Javascript must be enabled to enter this giveaway. Learn how to activate Javascript by
clicking here.

Loading Entry-Form
I received the outfits mentioned above to facilitate my review.  Opinions are my own. 
0