We all, all, at some point in time, rely on tires. Maybe we don't use our own tires, maybe we don't even ride in vehicles. But something we purchase does, or a service we use relies on tire.  They are kind of a BIG deal in the world of auto safety. If your tires go bad, you are putting yourself and others at risk.
It's not something I really gave a whole lot of thought to up until quite recently.  Or really, at all. I mean, I knew I had tires on my van (or previously, car). I knew they needed air, but I didn't check the pressure, like, well, ever.  I sort of know how to change a tire in an emergency because my dad didn't let any of us kids get a driver's license without being able to 1. drive a standard, 2. check the oil and 3. change a flat tire.
I've never put the tire thing into use. Fortunately for all of us on the roads in a 100 mile radius of wherever I am, I haven't needed to.  What I DO know is that I need to pay some attention to my tires. We all do.  Why?  Because they are how we get from A to B and everywhere else. Sears asked me to be part of their Sears Auto Center Road Warriors Program recently, and I was quick to accept the opportunity- I realized that what I don't know, lots of us may not know, and we need to pay attention. My first assigment?  To learn about Tires.  (Tires 101 was VERY helpful for me!)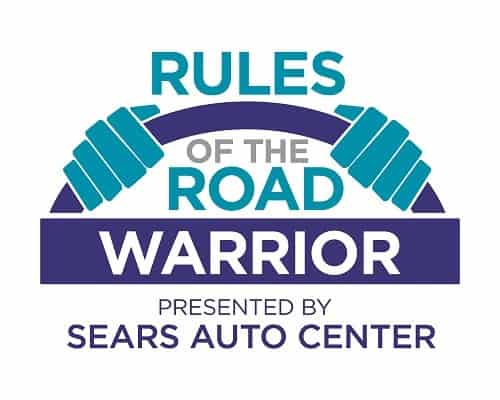 So what's the big deal about tires? What do I need to know about tires?

Tires are important to educate ourselves about. Tires have treads on them.  Those treads are designed to give traction on the road surface.  Think worn treads don't make a difference?  Do a search on YouTube.  I'm pretty sure it'll change your way of thinking.  That's not to say that all worn treads immediately mean you need 4 new tires.  It means that you have to pay attention.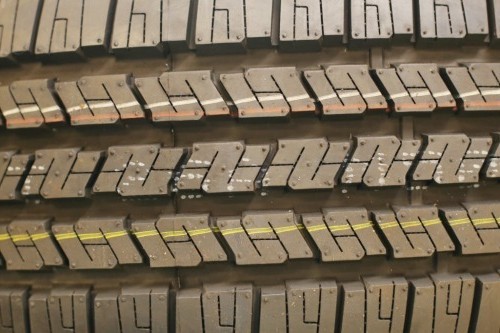 How do I know if I may need new tires?
Well, you can visit a local Sears Auto Center, for one.  In just a few minutes, you can have a FREE "health assessment" of your car.  During the One Stop Quick Check, your tire treads are measured, wear is measured, alignment, and battery life are all checked without you doing a thing (including taking out your wallet).  You'll get a printout with the results.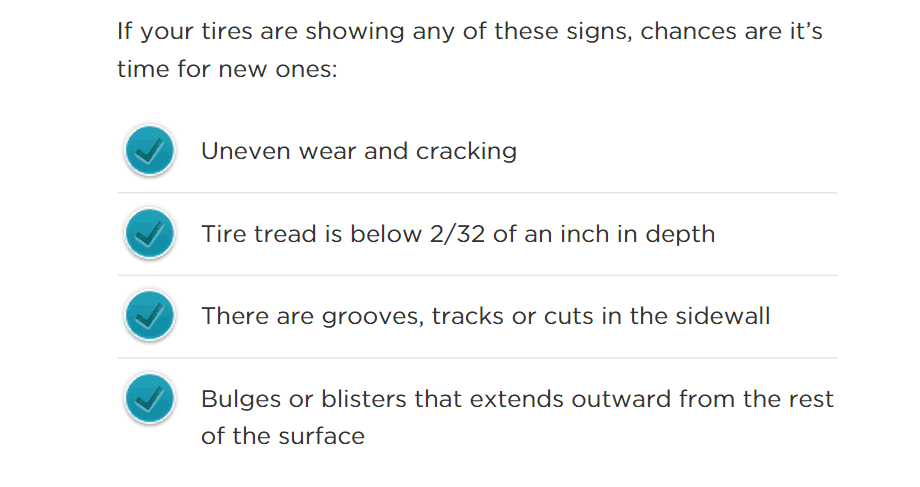 Significant tread wear – if there's little to no tread left on your tires, it's time.  Don't wait.
Cracks in your treads, cracks, grooves, etc on your sidewalls of your tires 
Uneven tread wear

You can see in the instagram shot above that my back tires aren't wearing as evenly as the front.  That's actually OK for now, because we rotate our tires regularly and that's part of why you rotate them.  Significantly uneven wear is when you have cause for concern.   (Let's just pretend we don't see the battery health)
Tire tread less than 2/32 of an inch in depth (Have you ever heard of the penny test? This is where that comes in to play!)
How to do a penny test: hold a penny upside down on the tire.  If Abe Lincoln's head doesn't disappear when you do this, your treads are not ok and you need to think about investing in new tires.
Bumps or bulges (see those bulges?  BAD news! for the record that is NOT my tire. It was on display at my local Sears store).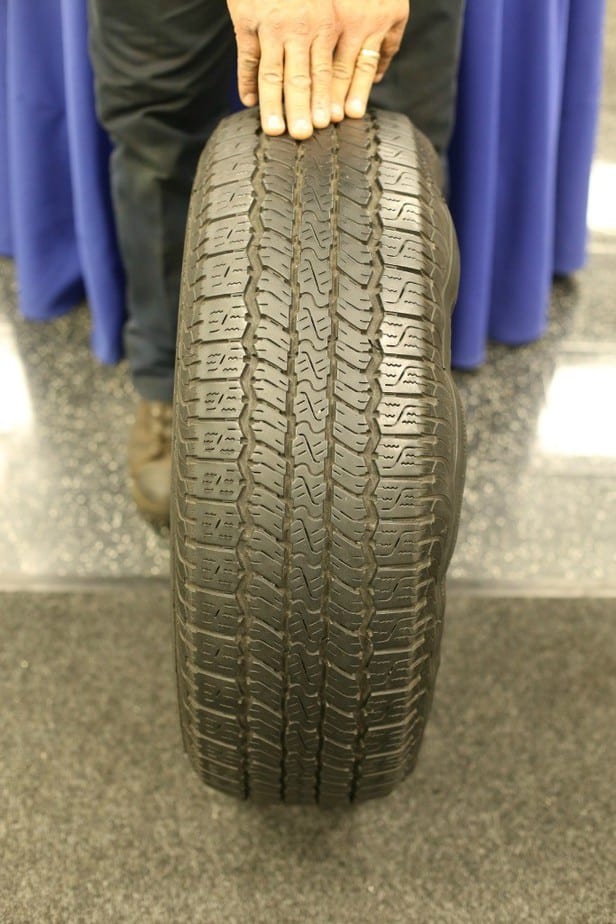 How do I know what tires to buy?
Listen, there's a LOT of tires out there.  I get overwhelmed.  Everyone seems to say theirs are the best.  But they can't ALL be the best!  Here's what I'm learning is a good way to find the tires for you. I found this great infographic that really just lays it out for you in terms of what means what on your tires.  But knowing WHICH to buy? Well, that depends on a lot of factors.

Look at the treadwear numbers/ratings on a tire.  Remember that the amount of time you can expect your tires to last DOES depend on other factors and not just the tire.  Driving fast, changing lanes, slamming on brakes, hitting curbs frequently, and other less than ideal driving habits can impact how long you can expect your tires to last.  A higher treadwear number should result in a tire that lasts longer.  Climate can impact that lifespan of your tire, as can road conditions.  If frost heaves mean anything to you, you know they can affect your tire's lifespan.  Potholes, uneven terrain, etc can all shorten your tire's lifespan. If you live in an area with a fairly mild climate, you may not need as high of a temperature rating as someone who lives in more extreme climates.
Traction- the faster you drive, the higher you should probably look for a traction rating on your tires.  This is a big one, because it's how your tires perform when trying to stop on wet pavement. Most vehicles may not need the highest traction rating, simply because we won't ever be driving as fast as say, a high performance race car.  Spend some time researching tires BEFORE you need them so you don't end up buying something you maybe don't need.
What's the difference between tire types? Is there a grading system?

Uniform Tire Quality Grading (UTQG): printed on the sidewall, a tire's UTQG consists of three factors and is assigned by the tire manufacturer. UTQG is listed as follows: Treadwear XXX Traction X Temperature X. These ratings can be compared within the same brand but not across brands.

Treadwear: the numeric portion of the UTQG, the tread wear grade is a comparative rating based on the wear rate of the tire when tested under controlled conditions on a specified government test track.

Tread wear grades are not a guarantee of actual tire mileage as factors such as driving habits, climate and road characteristics impact tire longevity.

Traction: traction grades range from AA – C, with AA being the highest and C being the lowest. These grades represent the tire's ability to stop on wet pavement as measured under controlled conditions on specified government test surfaces of asphalt and concrete.

Temperature: temperature grades range from A – C with A being the highest and C being the lowest. These grades represent the tire's resistance to the generation of heat at speed.
How do I take care of my tires on a day to day basis?
Look at your tires.  Pay attention to them.  Be familiar with how they SHOULD look, so that anomalies will be apparent quickly. (This is my first goal for tire maintenance in my own life. I'm guilty, guilty guilty of not paying attention to my tires).
Maintain proper tire pressure (Look on the inside of the driver's door of your vehicle.  NOT on your tires!!). Low presure (or too high pressure) can impact the lifespan of your tire and the performance.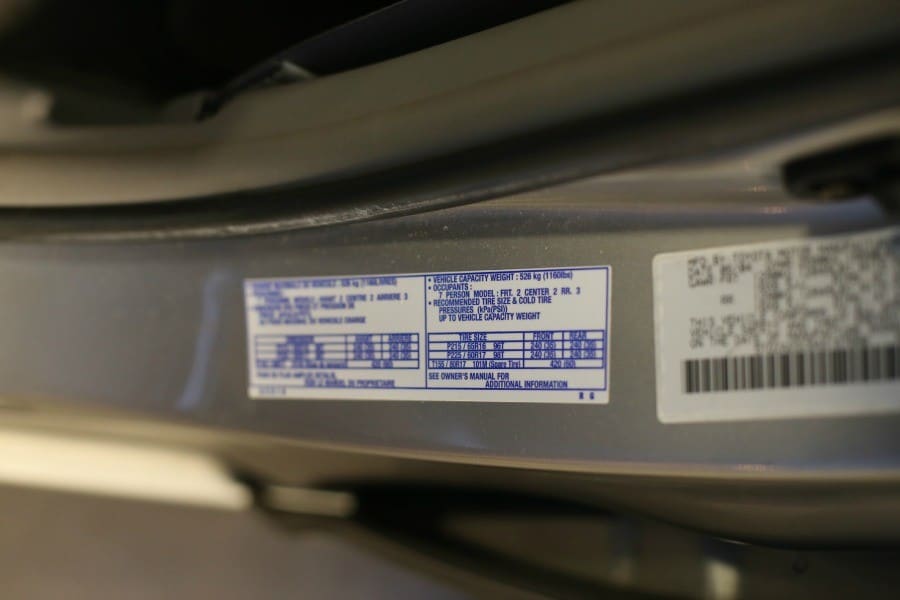 Rotate your tires regularly (Sears recommends every 5000-8000 miles) We usually rotate when we get an alignment, which we do about every 6 months if needed. Check the alignment and have your vehicle realigned as needed.
Replace– Tires typically are made to last 3-5 years.  They do have a 'birth' date on them.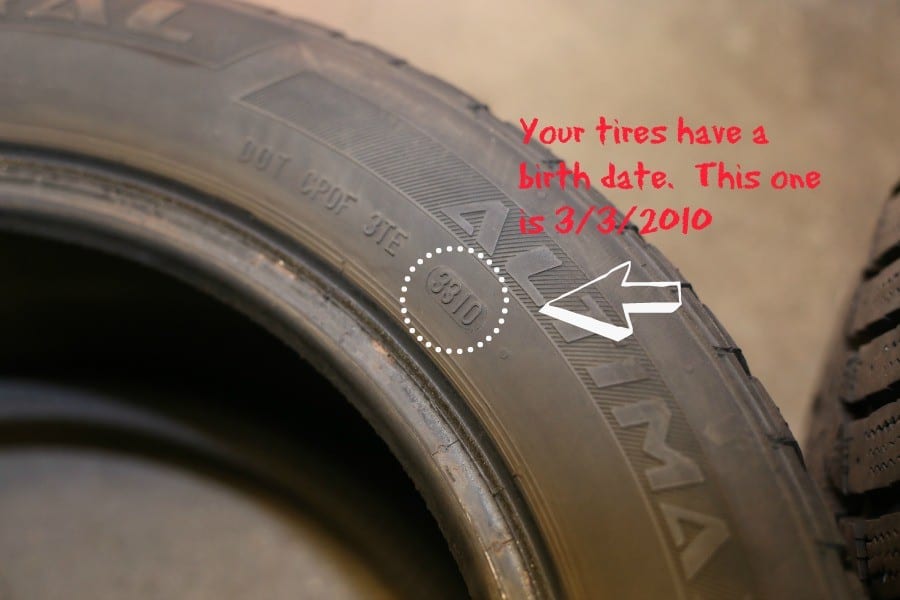 So here's a question for you- how often do you pay attention to YOUR tires?
Thanks to Sears for inviting me to be part of the Sears Auto Center Road Warriors Program and for sponsoring today's post.  Opinions are my own.