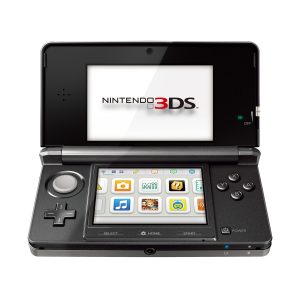 Nintendo 3DS is a very, very different hand held game than the GameBoy Advance I had about 100 years ago.  I've heard of the DS line, and obviously knew that technology had advanced, but when we turned this machine on I was blown away.  The COLOR GameBoy had just come out when I had one.  Yes, the color.  I am, apparently, getting old.
This handheld device is far more than a gaming device with amazing graphics and sound.  There's a little switch you can turn on (or off) for 3D viewing.  No glasses needed. That alone blew me away (The kids think its neat too).
As of June 7, 2011, a new alliance with Simon Property Group, the country's largest owner, developer and manager of high-quality retail real estate, will provide Nintendo 3DS owners with complimentary wireless connections at nearly 200 Simon™ shopping malls throughout the country. Nintendo 3DS users can also access hotspots at more than 1,000 Best Buy stores. Through an expanded agreement with AT&T, Nintendo 3DS users will have access to nearly 24,000 of AT&T's Wi-Fi hotspots.
So it's a gaming device, with 3D capabilities, and you can get online with it.  Plus the games themselves are really  very cool, at least the ones we've checked out…one is a 3DS game the others are DS games.   Think it sounds kind of…awesome, and really cool?  It is. And then some.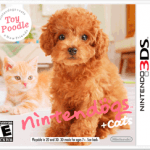 Nintendogs & Cats (Toy Poodle) came to us with our 3DS system.  This is a cute virtual pet game, with the idea that the more you interact with and play with your pet, the more they do for you.  They even can recognize YOU when you hold your 3DS close to your face, and we've even had our pooch try to lick us!  Between the touch screen, the camera and the microphone, you are really able to interact a lot with your new virtual puppy or kitten- and oh, are they cute!  Fluffy fur and adorable faces, very hard to resist.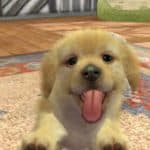 The 3DS is  also a pedometer.  You can walk your Nintendog on the 3DS.  It won't take your actual dog out for a walk, you'll need to do that for yourself.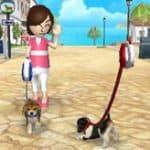 But if your 3DS is powered on in sleep mode and closed, it will work as a pedometer.  (Given that you can also import a playlist on this…and share it…its hard to keep coming up with excuses to hate exercise.  Get bored, just stop your walk and walk your Nintendog!! )
Using your 3DS as a pedometer also means you are earning PlayCoins and StreetPass Sharing.  You get 1 PlayCoin for every 100 steps.  I'm thinking with kids this could be a good motivator to get them moving instead of just sitting to play all the time.  StreetPass is also enabled with the 3DS powered on in sleep mode and closed.
There's so many cool features to the 3DS – you can actually do 3D pictures that are able to be shared- how cool is that?   You can actually set a timer and take a photo of yourself in 3D…how many of your Facebook friends have that for their profile photo?  None of mine do!
One thing I wasn't sure about but my PR rep was quick to reassure me about was using other DS games on the 3DS.  I wasn't sure if you could view them properly with the 3D features.  I mentioned it above but you can turn OFF the 3D feature with a slide of the switch- very simple, very easy.  Also nice for little kids who you may not want playing in 3D.  I won't lie, my 37 year old eyes are simply not used to 3D all the time and I can't keep it on for long.  My very-soon-to-be-6 year old loves it.
This is a really cool gaming device.  It is pricey at $249.99, but it also JUST came out a few months ago.  There aren't a ton of 3D games just yet, but I am quite certain that more and more games will come out before the holiday season…and you can still play "regular" DS games on it.  The additional features offer you so much versatility- playlists, pedometer, wi-fi internet…it almost suggests something far more than a gaming device to me.
I'm hoping that there are some cool Scrabble type games that come out soon, but I'm  a nut for word games.  Want to grab a 3DS for yourself or a gift?  Visit http://www.nintendo.com/3ds/ to locate a retailer near you.
Launch Date: March 27, 2011

Price: $249.99

Included in Hardware:

Nintendo 3DS system
Nintendo 3DS charging cradle
Nintendo 3DS AC adapter
Nintendo 3DS stylus
SD Memory Card (2GB)
AR Card(s) (view the cards using the outer cameras to play supported AR games)
Quick-Start Guide
Operations Manual (including warranty)

Characteristic Features:

3D screen, enabling 3D view without the need for special glasses and the ability to adjust or turn off 3D effect with the 3D Depth Slider.
Stereo cameras that enable users to take 3D photos that can be viewed instantly on the 3D screen.
New input interfaces including the Circle Pad, motion sensor, gyro sensor
SpotPass, a feature that lets Nintendo 3DS detect wireless hotspots or wireless LAN access points and obtain information, game data, free software, videos and so on for players even when the system is in sleep mode.*
StreetPass, a feature that lets Nintendo 3DS exchange data automatically with other Nintendo 3DS systems within range, even in sleep mode once this feature is activated by the user. Data for multiple games can be exchanged simultaneously.
Convenient features that users can access without stopping game play such as the HOME menu, Internet Brower, Notifications, etc.
Plenty of built-in software such as the Nintendo 3DS Camera, Nintendo 3DS Sound, Mii Maker, StreetPass Mii Plaza, AR Games, Activity Log, Face Raiders, etc.
Nintendo eShop where users can view trailers, software rankings and purchase software.
System Transfer which enable users to transfer already purchased software from one Nintendo 3DS system to another. DSiWare purchased for the Nintendo DSi or the Nintendo DSi XL can also be transferred into a Nintendo 3DS system.**
Compatibility functions where both new software designed for Nintendo 3DS and most software for the Nintendo DS family of systems can be played.
Parental Controls which enable parents to restrict game content by ratings as well as use of specific wireless connectivity, 3D functionality, etc.***

Size (when closed): 2.9 inches high, 5.3 inches long, 0.8 inches deep.

Weight: Approximately 8 ounces (including battery pack, stylus, SD memory card).

Upper Screen: Wide-screen LCD display, enabling 3D view without the need for special glasses. Capable of displaying approximately 16.77 million colors. 3.53 inches display (3.02 inches wide, 1.81 inches high) with 800 x 240 pixel resolution. 400 pixels are allocated to each eye to enable 3D viewing.

Lower Screen: LCD with a touch screen capable of displaying 16.77 million colors. 3.02 inches (2.42 inches wide, 1.81 inches high) with 320 x 240 pixel resolution.

Cameras: One inner camera and two outer cameras. Resolutions are 640 x 480 for each camera. Lens are single focus and uses the CMOS capture element. The active pixel count is approximately 300,000 pixels.

Wireless Communication: 2.4 GHz. Enabling local wireless communication among multiple Nintendo 3DS systems for game play and StreetPass. Enabling access to the Internet through wireless LAN access points (supports IEEE802.11 b/g with the WPA™/WPA2™ security feature). Recommended distance of wireless communication is within 98.4 feet. This can be shorter depending on the enviromental situation. WPA and WPA2 are marks of the Wi-Fi Alliance.
I received a sample of this product to facilitate my review.  Opinions expressed within are my own. [ad#glam between posts]