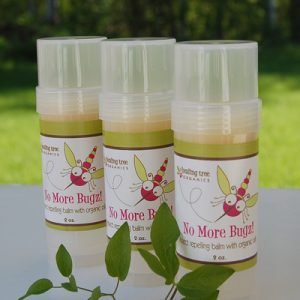 Its mid July in CT and we live near woods.  That makes for many, many bugs especially at dusk, when we're trying to play outside after dinner, swim, do yard chores, etc.  I'm always on the lookout for bug repellants that don't contain DEET or harmful to your skin ingredients, so I jumped at the chance to try the No More Bugz! balm from Green Girls Market.  The first thing I liked about this product was the cute label, but I find it hard to resist anything that's pink in color!!  I do really like the product being in a balm form instead of a spray.  (There is a spray available, but we got to try the balm, and I'm not sure I want to go back to sprays now. I lOVE the balm).  It feels like I can get more coverage on the kids instead of wasting some with each spritz.   My 6 year old likes it because she can apply it herself, without struggle or frustration.  The scent is very, very mild and offers a hint of citronella but not an overbearing one. 
Not only do I like the packaging and how the product is used, but it WORKS.  My son and my husband are magnets for bugs, there is just something about both of them that attracts biting insects, so they were the true test, and I noticed both had less bites after using this than normal.  My poor son has bug bites all over his arms, legs, feet and even his face and he scratches himself badly when he's sleeping.  I do what I can to provide relief for him but if I can offer something to prevent bites in the first place I'll do it.
No More Bugz! Insect Repelling Balm will keep pesky bugs away. We know that natural insect repellents are hard to find. Finally. . . a safe insect repellent for babies and children! No nasty chemicals or Deet are used making it safe for adults and children. Good for your skin . . . bad for bugs! Our solid balm won't evaporate like so many of the water-based sprays on the market. Herbal, organic insect repellent provides a safe answer to keep bugs away naturally. Our customers say it's the best natural insect repellent they've found!

Uses seven organic essential oils for a wider range of protection
100% Natural and Organic ingredients
Won't damage or fade fabric or equipment
Sweat and water resistant
Safe for children and pets
Bio-degradable
Eco-Friendly

Our blend includes a 100% natural blend of oils and beeswax and an organic essential oil blend of citronella, peppermint, lemongrass, cedarwood, geranium, lemon eucalyptus and lavender. All our oils, butters and beeswax are organic or wildcrafted ensuring you the most natural product available.  No More Bugz! balm effectively deters mosquitoes, black flies & other pests.
Green Girls Market offers sustainable products for green living.  Health and beauty, pet care, and even handcrafted jewelry are offered besides the No More Bugz!  product line.  They also offer free shipipng on orders over $50. Follow them on Facebook to keep up to date with deals and new products!!
I received a sample of this product to facilitate my review through my affilliation with MamaBuzz from Green Girls Market.  All opinions expressed within are my own. [ad#glam between posts]
0