I am not a fan of violent video games.  My husband does play some, but he does so when our children are in bed for the night and he just wants to chill for a while.  Me, I'll take a cute  game any time, or a word game.  But never violence. I'm especially not a fan of games with violence for children, especially for young children. We have violence everywhere in our lives, and there are just SO many great non violent options to find! An added bonus I keep finding?  These games are almost always priced LESS than their more violent counterparts.  Makes no sense to me. Here are some of OUR family favorites for non-violent video games- for Nintendo DS, LeapFrog Explorer/LeapPad, Nintendo Wii, XBOX. Scholastic is a brand known for quality, fun educational content, so I don't think anyone will be surprised that I will highly recommend anything they put out.  The I Spy Games for DS and Leapfrog are fabulous- my kids adore the I Spy series, and while we do always prefer books, at least mama does, at least when the kids are playing these games, I know that they are engaged and learning and not just pressing buttons.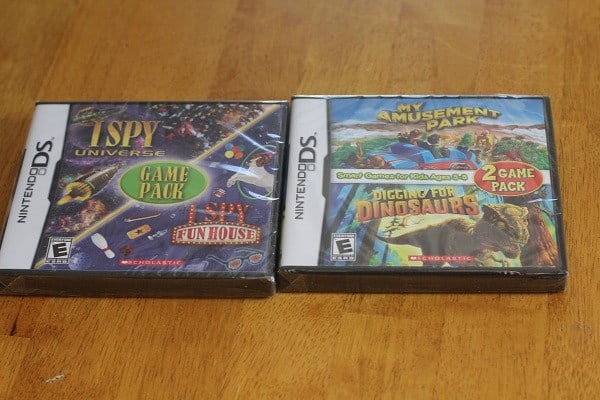 I SPY® TWO GAME PACK for NINTENDO DSTM  & Nintendo WII includes two of the popular franchise's award-winning titles – I SPY Fun House and I SPY Universe. Together, the games feature more than 50 riddles and over 200 levels of play for seek-and-find fans of all ages. To escape the topsy-turvy world in I SPY Fun House, players must earn tickets by completing games, riddles, and the ultimate Prize Popper challenge. I SPY Universe takes players on a different kind of puzzle-solving adventure – a trip through the cosmos. Players unlock new planets and explore the universe while searching for over 400 objects in 36 I SPY riddles, and playing six brain-teasing games.
For children 5-8, SMART GAMES FOR KIDS TWO GAME PACK for NINTENDO DSTM  – inclusive of two popular Nintendo DSTM titles – My Amusement ParkTM and Digging for Dinosaurs®. In My Amusement ParkTM, kids build and run their own entertainment venue. Players can choose from four different themes to create rides, food venues, and special attractions in their own personal park. Digging for Dinosaurs® challenges players with a variety of distinctive mini-games that range from simulated paleontological digs to dinosaur battles, all while teaching interesting facts about more than 20 prehistoric species.
I have to tell you that this Digging for Dinosaurs is a hot game with the Kindergarten and First Grade crowd.  My son saw it at Kohl's months ago and still asks me about it weekly. "Mom, did you get that dinosaur game for my DS yet?"  Well, yes I have but it's a secret, tucked away for Christmas.  Dinosaurs are cool, and kids can learn, play the "big kid" DS system, and still have fun- without violence. LeapFrog is another very well known, high quality brand that devotes a great deal of research and investment in producing games and toys that both educate and engage- in very fun, interactive ways.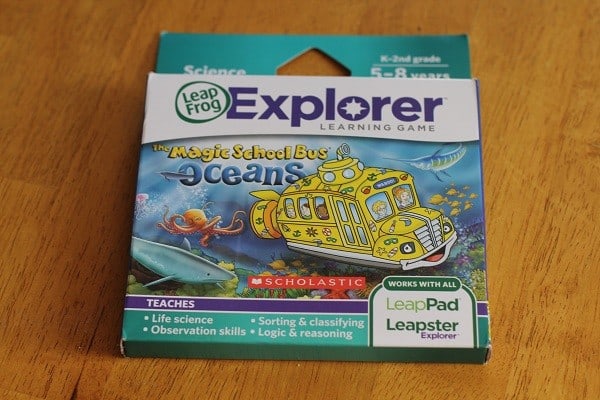 The Magic School Bus: Oceans is now available for LeapFrog®'s award-winning Leapster Explorer™ and LeapPad™. Designed for children ages 5-8, The Magic School Bus: Oceans teaches young gamers hundreds of interesting facts about ocean life through fun trivia challenges and seven highly replayable games. Players can earn special badges by performing well in games or trivia challenges, and can redeem these badges for additional features – like decorations for the bus or a customized Magic School Bus driver's license – through the LeapFrog® Connect Application.
We are kind of new to the Magic School Bus scene.  We have this game on DS and LeapPad, and in my house, it's preferred on the LeapPad. It may simply be this way because all three kids can see the screen of the pad better than the DS- but they all like the game, even my 3 year old, though she obviously needs a lot of help with it.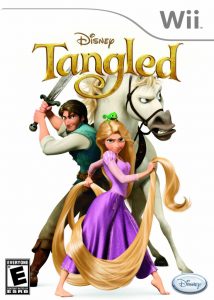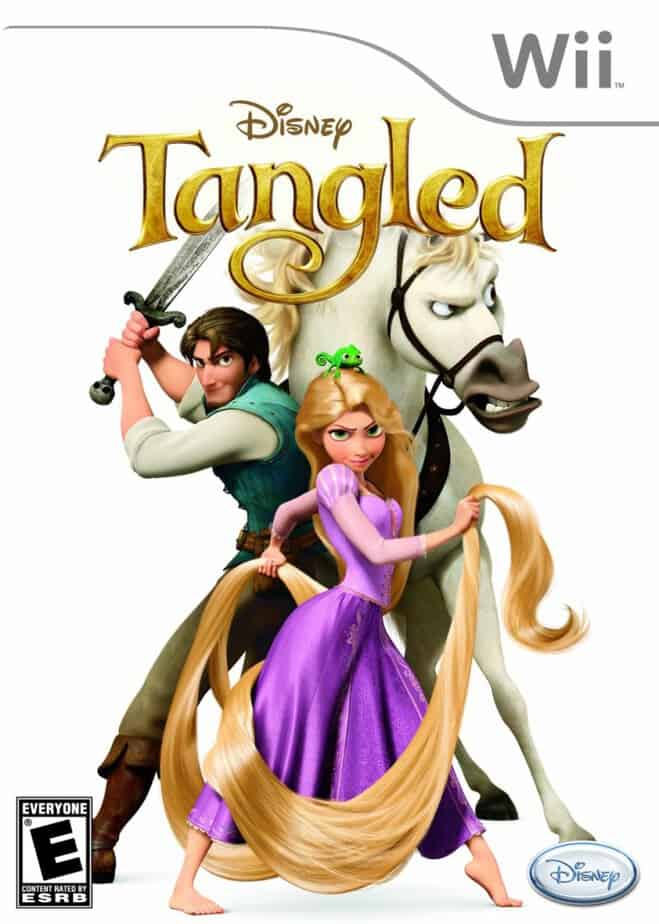 Tangled– There's a little bit of the frying pan action, so I hesitated to put this in, but really, this is a CUTE game, easier to control so the littler ones can enjoy it, and when you whip Rapunzel's hair around, flowers grow.  My girls adore this game, we have it for the Wii.

Nat Geo TV for Kinect is FABULOUS!  National Geographic, but interactive.  Gorgeous photos and superb graphics.  Great for all ages.  It's fun to even watch the kids play. Funky Barn for DS- this game is just hilarious.  Its cute, it's fun, whether you are in 2D or 3D mode (I can't stand 3D anything lately, I think I'm getting old).   Kids (and adults) can learn about working on a farm- in an oddball way, but they are still learning!
I hope this list helps you. I know so many little ones really want to have a gaming system and maybe like me, you are not really wanting to get them into violent games to start.  Let me know if you have other suggestions or ideas- I'd love to add them!   Some of these games were received to include in the gift guide- some are simply games my family loves.  Opinions are my own.