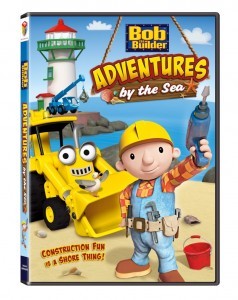 Join Bob The Builder™ And His Can-Do Crew 
 For Building Fun In The Sun!
Bob and his Can-Do Crew are making waves and having fun in five new, sea-themed adventures in construction in Bob the Builder™: Adventures by the Sea, sailing onto DVD, Digital Download and On Demand May 22, 2012 from Lionsgate and HIT Entertainment.  From facing fears, correcting mistakes, doing good work and always getting the job done, Bob's the man and when you're on his team, life's a beach!
Bob the Builder™ and his machine team "sea" lots of new ways to work together to get jobs done in and around Fixham Harbor in these five exciting stories. Scoop must make a creative seaside rescue to get the lighthouse lens shining again! Scratch realizes that admitting mistakes is the best way to be cool; the team comes to the rescue when Muck's sandcastle compromises their big job. Scrambler shows that the key to bravery is admitting your fears. Bob and the Can-Do Crew get the job done and find success by the sea with sand, water, sun and friends!
Episodes include:
·        "Scoop's Sea Rescue"
·        "Pineapple Scratch"
·        "Muck's Beach Tower"
·        "Here Comes Muck"
·        "Scrambler Gets Clean"
·        "Digger with a Heart of Gold" Music Video
·        "Mixin' It Up" Music Video
Year of Production: 2012
Title Copyright: © 2012 HIT Entertainment Limited and Keith Chapman.  The Bob the Builder name and character, related characters and riveted logo are trademarks of HIT Entertainment Limited.  Reg. U.S. Pat. & Tm. Off. and other countries.
Type: TV on DVD
Rating: Not Rated
Genre: Children/Family/Animated
Age Target: 2-5 years old
Subtitles: None
Closed Captioned: English
Format: 4×3 Full Screen (1.33:1)
Feature Running Time: 60 minutes
DVD Audio Status: English and Spanish 2.0 Dolby Digital
Program Website: www.bobthebuilder.com
—-
My Thoughts:
I love this animated cartoon series, as it shares wonderful lessons, as well as shows young children the importance of teamwork and friendship.  And, this DVD didn't disappoint! At 66 minutes, this DVD, made up of 5 fun-filled episodes featuring Bob and his Can-Do Crew will have your little young singing and dancing along, as they root on Bob and his friends, when it comes to getting the job done.  Each episode on this DVD teaches children about problem solving skills, the need for positive thinking, when tackling a new project.  Based around sea-side adventures, this DVD is great for children to help welcome in summer and beach days.  Savannah loved the "Scoop's Sea Rescue" episode, as well as the 2 music videos, which make up the bonus features on this DVD.
So, if your children love Bob the Builder, why not surprise them with this new release?  It is definitely one to add to the home library, and will keep them entertained, especially on rainy days.
–BUY NOW–
You can buy this DVD at
Amazon.com
right now for only $8.93.
One reader will win a copy of Bob the Builder: Adventures by the Sea!
Javascript must be enabled to enter this giveaway. Learn how to activate Javascript by
clicking here.

Loading Entry-Form
Disclosure:  I was sent a copy of this DVD from the vendor in order to write up an honest review.  The views above are mine and mine alone.
0