When I was growing up, my mom let us pick a special treat at the store to bring in our school lunches around our birthday week. My favorite was always Little Debbie® Oatmeal Crème Pies. I don't know that there was a specific reason for it, but that was what I chose every single year, and at some point in time, it became a tradition. Just as much as when the holidays rolled around and she'd buy the one box of sugary cereal she'd tolerate in the house- that came in a Christmas variety. At some point, she just picked them up without us having to ask- it became part of our childhood. 
This is a sponsored recipe post for Oatmeal Creme Pie Kabobs written by me on behalf of Little Debbie®. As always, all opinions are my own. 
I think that's why even today, when I see that smiling face of Little Debbie® on a package of baked delights, including the Oatmeal Crème Pies, it brings me right back to those birthday weeks, and having a delicious special treat in my paper bag every day. Now that I'm a mom myself, I find that my birthday brings a lot more nostalgia than excitement, especially since it falls close to or on Mother's Day each year. That's what inspired these Oatmeal Crème Pie Kabobs- my kids love to do special things for me on my birthday and Mother's Day and the little ones cannot always do it without supervision, so these will be both fun for them to make all by themselves, and we can ALL enjoy the kabobs together. It's like the perfect mix of my childhood and modern family time and I love it! Plus, food on a stick is just fun. The Taste You Never Outgrow.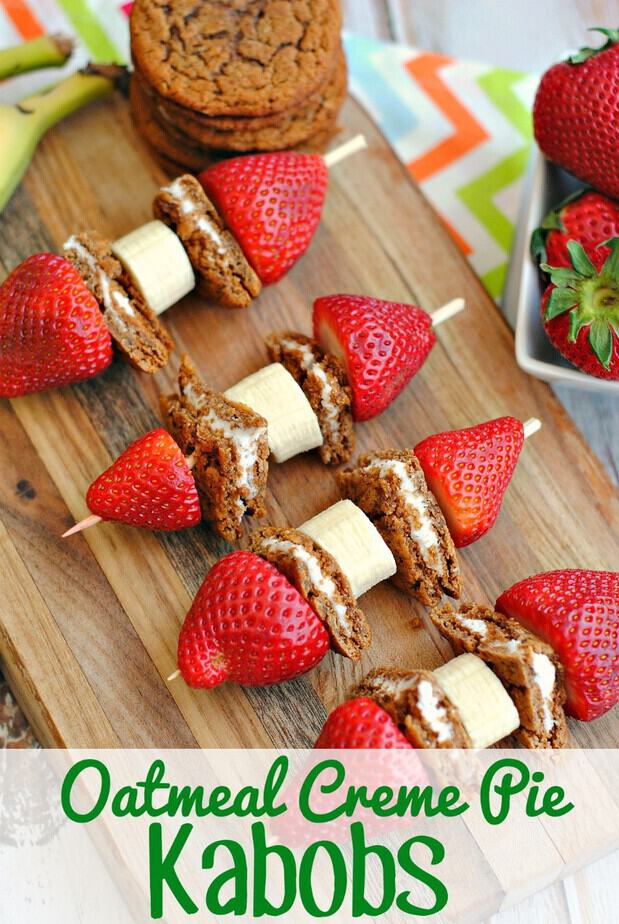 Oatmeal Crème Pie Kabobs
Ingredients 
1 12 ct package of Little Debbie® Oatmeal Crème Pies
wooden skewers, cut in half using a pair of kitchen scissors
1-2 lb fresh strawberries
1 lb bananas, peeled and sliced
Directions 
Open the Little Debbie® Oatmeal Crème Pies and discard the wrappers.
Carefully slice each Oatmeal Crème Pies into quarters and set aside.
Rinse and cut the stems off the strawberries
Slice the bananas into chunks.
Take 1 skewer at a time and gently slide (1) strawberry, (1) creme pie quarter, (1) banana chunk, (1) creme pie quarter and lastly (1) strawberry.
Set aside on a large plate or baking sheet and repeat with the rest of your ingredients.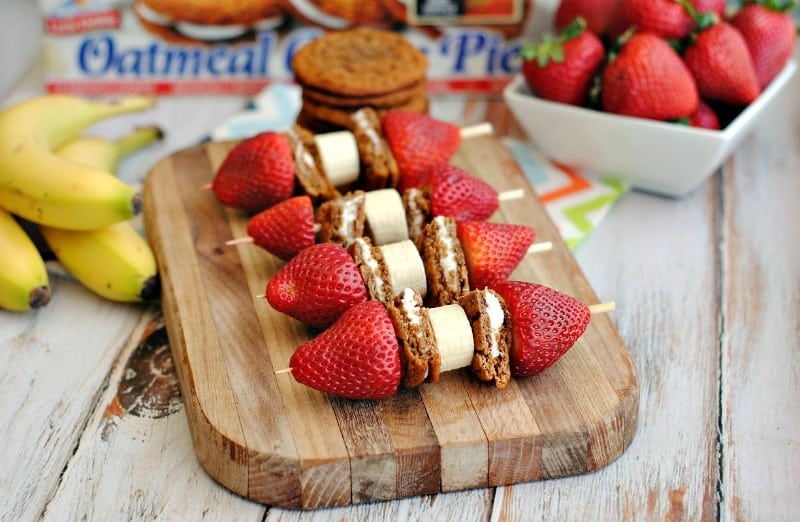 Little Debbie®, America's No. 1 snack cake brand started as a family run bakery 80 years ago and has since been passed down to second and third generation family members. The McKee family has been creating family favorite snacks since 1960.

From Oatmeal Crème Pies to Swiss Cake Rolls, Mr. McKee created an American Icon by naming his family's new snack cakes after his granddaughter, Debbie. But more than that, our friends at Little Debbie® know how to put a smile on the faces of everyone who savors their delicious baked goods.
Join Little Debbie® social media giveaway by posting an image of a Sweet Memory to Instagram with the hashtag #SweetMemoriesGiveaway! You could turn your own sweet memories into a prize – Enter for a chance to win $1,000
[mpprecipe-recipe:2129]