Have you ever found that you love a shirt because its really worn in, really comfortable, and has just the right amount of "fade" to it?  I have.  I know when I first started dating Mr. Bargains, years ago, he had this blue tshirt- nothing special, nothing exciting, but it was oh-so-very worn in and I knew that I was going to "borrow" it from him….which I did.  He' s never worn it since.  He surrendered it to me- willingly…but oh, that shirt.  It was so soft and faded and I wore it until it literally fell apart.  I think he'd already had it a few years before I got my hands on it- and sadly, a few years ago, it literally fell apart.
I've missed that blue shirt, although I have to say that the Old Navy BEST-TEES are very, VERY similar in look and feel to that soft, just-enough-faded shirt.  So similar that after my review shirt came, I went and bought three more.  Plus 3 tanks in case I want layers, to go underneath.  They are marvelous.  They even have the "stamped" tag so no one has to worry about itching!!   I received the Women's Tri-Blend V-Neck Tees in dark blue.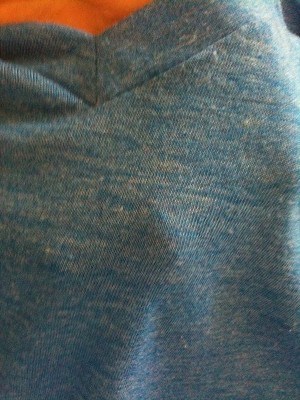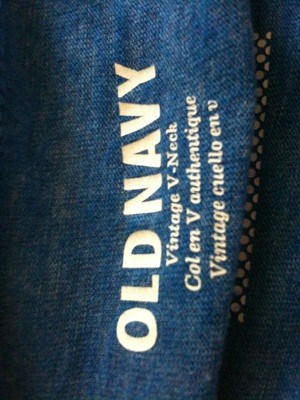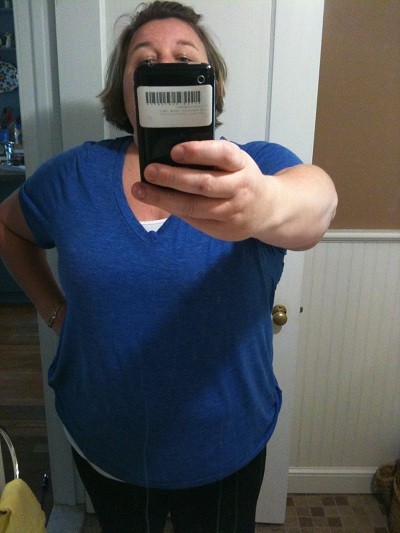 I love these shirts.  Love the colors, love the different style options available, and I love that the whole family can enjoy the goodness that is a Best-Tee.  I'd never tried one before it arrived, but it was love at first try-on.  The softness, the fit- not baggy, not super-fitted.  Just right.    And a nice length, too- meant to fall at the hip.  They kind of feel soft "like buttah" when you put them on.  An old friend, from the moment you meet.
The Best-Tees come in fitted, perfect fit and vintage style for women.  They are available for toddlers, kids (slim and husky too), men and women- including plus and tall sizes.  They truly do come in a size, color and fit for everyone in the family…tanks, crewnecks, vnecks, ruched, bright colors, classic colors- you name it, this tee makeover by Old Navy is HUGE.  They have me back.  I've been wanting marvelous tshirts again that I actually seek out in my drawers to find and I finally have found them.
I'll be sporting a variety of the newly redone Old Navy tees this summer- will you?
Check out the  Old Navy BEST-TEES mini infomercial : 
"I wrote this review while participating in a blog tour campaign by Mom Central Consulting on behalf of Old Navy and received a product sample to facilitate my review, and a promotional item to thank me for participating."