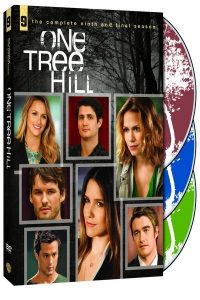 One Tree Hill is a show I didn't watch for a really long time, although I kept hearing of it- my friend Ashley was the one who had so much enthusiasm about the show that I decided it was time to check it out.  It didn't take long for me to love it too, and while I've missed a lot of episodes through the years, at least I can check them out on DVD and watch at my leisure!
It's been really interesting to watch the progression of Brooke's character over the years- she was so self absorbed, shallow, selfish in the early years of the show- and as she's gotten older she's matured and learned what so many don't- that selfish isn't the way to live life, and there are things more important than yourself.  It's been a rocky road but I've enjoyed watching her character grow and develop.    We've all been like Brooke was at some point in our lives- I like that her character didn't magically transform overnight into a mature adult- I know that I didn't become a mature adult overnight, and I like when stories aren't written to make characters have evolutions that simply aren't true to life.
Preorder the One Tree Hill Season 9 DVD, available 4/10!
"I have been hired by Warner Bros. WBWord division to promote One Tree Hill Season Nine on DVD."
0