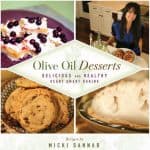 Micki Sannar created a very healthy dessert cookbook that features an ingredient I'd previously never thought of when baking desserts- olive oil!  Olive Oil Desserts features dozens of delectable recipes that replace trans fats with olive oil without sacrificing taste (which, let's be real here, is what matters for dessert!!). Cakes, Cookies & Bars, Muffins & Sweet Breads, and Pies & Crisps are the different 'chapters' in this cookbook, with dozens of mouth watering images to tempt you even further beyond the recipes themselves.
Olive Oil Dessert FACTS 
• NO Trans Fats
• NO Hydrogenated Oils
• 30% Fewer Calories
• Monounsaturated Fat
• Made with Pure Olive Oil
• Heart Healthy
• Whole Grain Option
• Amazing Taste & Texture  
• Makes You Smile!
I've used applesauce to replace oil for years in many of my baking recipes, but it honestly never occurred to me to think of olive oil as a substitute.  I think I started using the applesauce to reduce the fat content of the baking, and have always associated olive oil with cooking.  But why not use olive oil?  It is well known for its heart-healthy properties, so if you are going to use a fat, why not a healthy fat? 
I wasn't sure where this baking venture would take me (really, no one is ever sure where my baking ventures will take me…I'm inconsistent with baking and cooking…) but was game to give this a try.  I decided to start with the "New Toll Cookies" which are a replacement for the ever-loved Toll House Cookies.  The reason I chose this recipe is that I find it almost a challenge to screw chocolate chip cookies up (but I have) and since its something I'm comfortable baking anyway, probably a good place to start. I've made these twice now- the first time without the Butter Extract that Micki recommends- and the second with it- definitely adds the buttery taste but the cookies themselves are delicious with or without it (given the choice, I choose with).
A New Toll Cookie
INGREDIENTS
2/3 cup……………….. pure olive oil
3/4 cup………………. granulated sugar
3/4 cup………………. brown sugar, packed
2 large……………… eggs
2 teaspoons……….     pure vanilla extract
1 teaspoon………… butter extract
1 tablespoon……..    milk
2 1/2 cups……………. flour
1 teaspoon………… baking soda
1 teaspoon………… salt
1 cup………………… semi-sweet chocolate chips
1 cup………………… chopped pecans (optional)
PREPARATION
1. Preheat oven to 375°F. Lightly coat large
cookie sheets with olive oil cooking spray.

2. In a mixer bowl add olive oil, sugar, and
brown sugar. Blend until smooth and creamy.

Beat in eggs, vanilla & butter extracts, and milk.
3. Add flour, baking soda, and salt. Blend well.

4. Fold in chocolate chips and pecans. Drop
by tablespoonfuls or medium size cookie scoop
onto prepared cookie sheets.

5. Bake 9~11 minutes. Cool on wire racks.
Want to try baking vegan?  Micki has some recommendations for vegan substitutions in this book.  A very nice touch!
I'm anxious to try the Blueberry Streusel and Lemony Squares with Blueberries this summer when our blueberry bushes start producing our berries- perhaps it will be a new family tradition- picking the berries, washing them, and then baking with some of them!
Want to grab a copy for yourself?  You can buy Olive Oil Desserts right on Micki's site, and it is also available on Amazon.com  and QVC.com.
One of my readers will win a copy of Micki's fabulous Olive Oil Desserts Cookbook for their kitchen!
Mandatory Entry: Leave a comment with your name and a valid email address.  If you don't give me a valid email I can't reach you if you've won!
Extra Entries:
Like Olive Oil Desserts on Facebook (leave a comment for Micki and get an extra entry!) +1 (+2 if you leave her a comment on the wall)
Subscribe to my daily updates with an RSS Reader or confirmed Email subscription +1 entry each
Share this giveaway on any social networking site: #Win heart healthy @oliveoilchick Olive Oil Desserts cookbook from @mamatomjr http://wp.me/p1qA6G-1uL (can be done 2x/day at least 1 hour apart per share site)
Leave a comment on any non-giveaway post +1 entry/post up to 5 entries
This giveaway will end on May 21, 2011 at midnight, EST. Winner to be chosen randomly.  US only.  Winner has 48 hours to respond to initial contact or a new winner will be chosen.
I received a sample of this product to facilitate my review.  Opinions expressed within are my own.