One Fish Two Fish Red Fish Blue Fish 
Here is one of Dr. Seuss' classic books- One fish, two fish, red fish, blue fish.  I have pulled together some snack ideas, fun activities and art projects, and a sensory bin for you to enjoy with the story in honor of Dr. Seuss' birthday on March 2nd.  Bright colors and fun rhyming words make this story a hit with children and it lends itself well to colorful activities as well.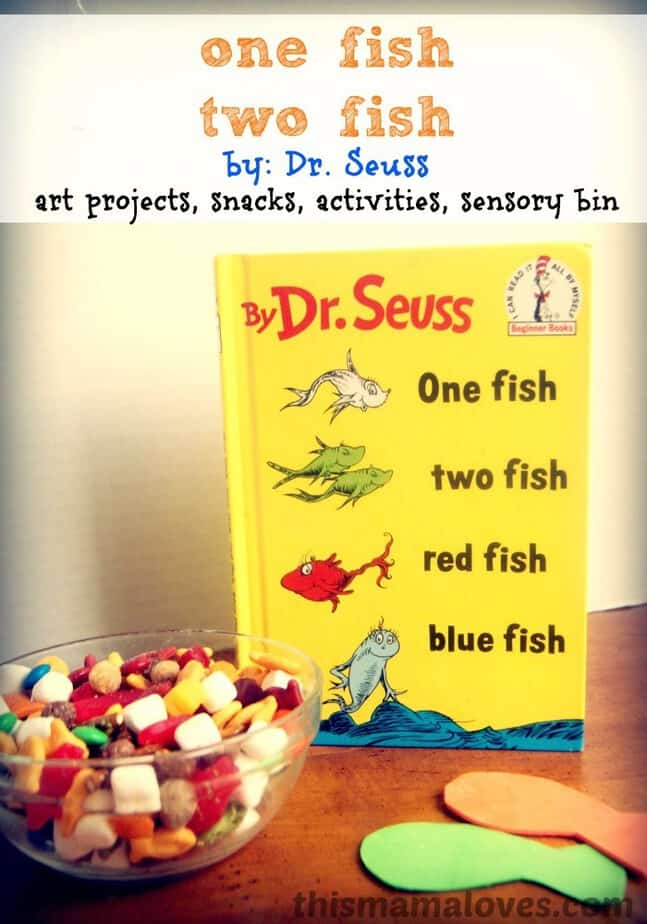 "From there to here, from here to there, funny things are everywhere!"
Sensory Bin- Cut out fish from craft foam (you can also pick up a multi- pack of foam at Dollar Tree) and attach a metal paper clip to the mouth area.  Pour water and expanding water beads into a large rubbermaid tub. Drop in fish.  Tie a string onto a pencil or other stick- leaving it between 12-18" long, hot glue a magnet onto the end of the string. Let them free play or call out colors and have them fish for that color, see how many they can pick up on one "cast", have a contest to see who can get the most. This is one of my kids favorite activities and we get so much use out of the foam fish to for other activities.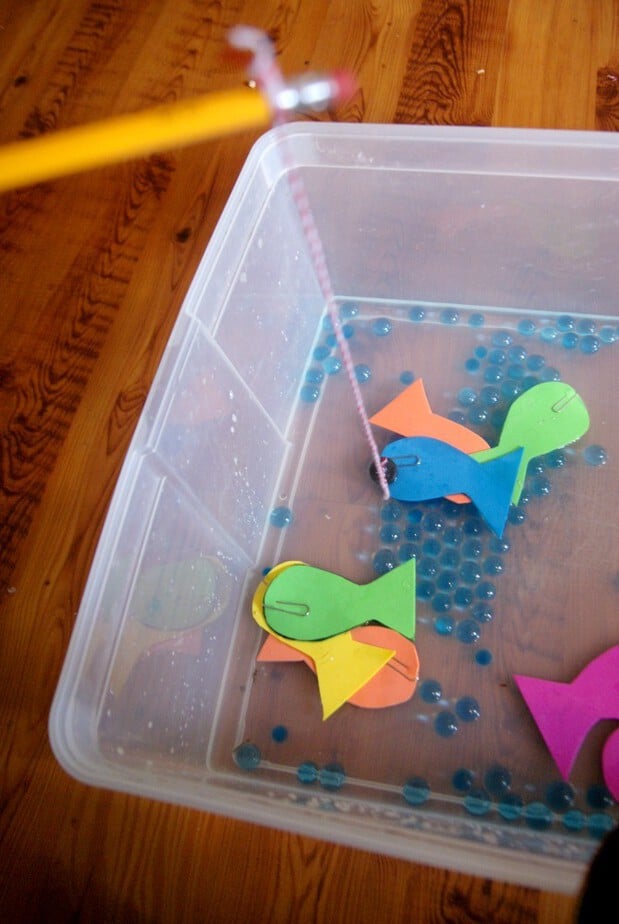 Snack-  One fish, two fish trail mix- Set out bowls of rainbow goldfish, popcorn, pretzels, mm's, dried fruit and anything else you think they will like and let them mix up their own special, silly trail mix for snacking on. You could also provide them with a small cup of peanut butter, show them how to dip the tip of pretzel sticks in peanut butter and use it to "catch" the goldfish out of their trail mix.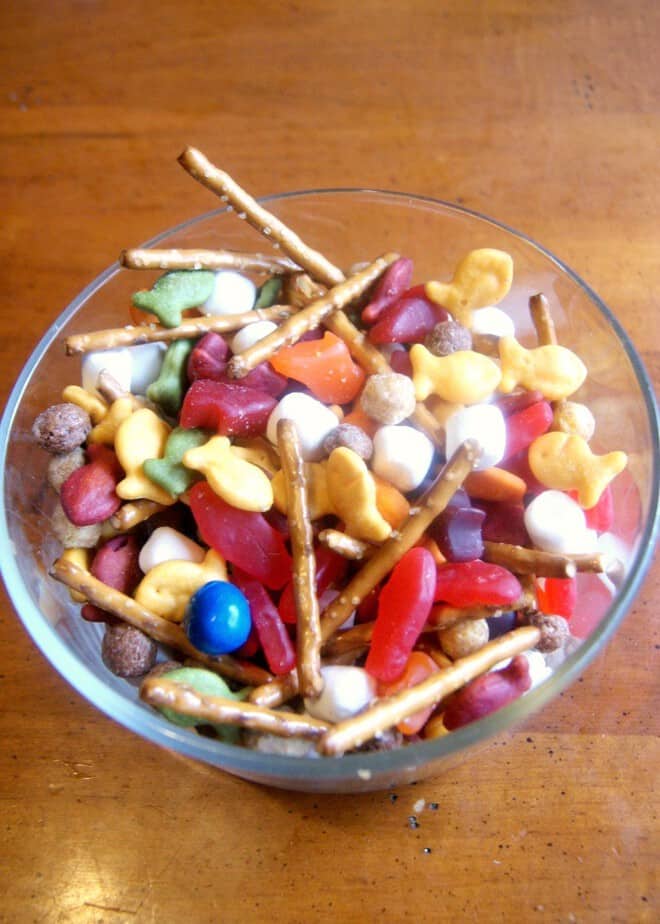 Snack- Make box cupcakes together, a great activity for math skills, fine motor, following directions, as well as a fun time with mom. Use blue food coloring to color a can of frosting blue like water.  Top with Swedish fish in- 1's and 2's of course.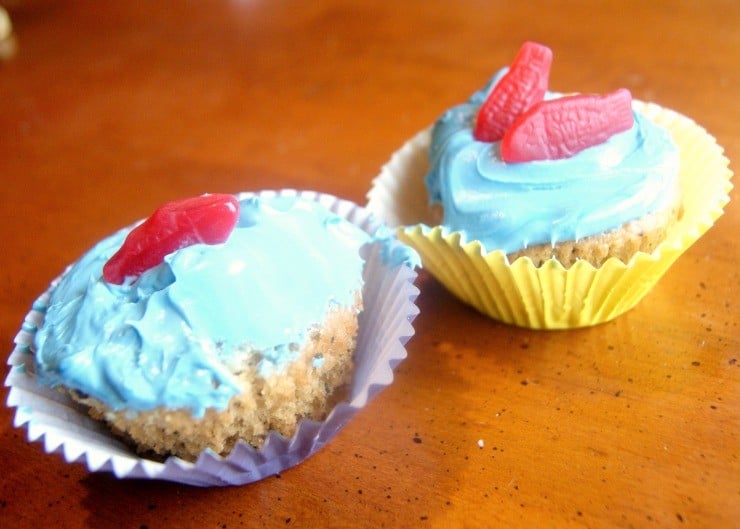 Art- Paint your little ones hand red, stamp on paper sideways to make a fish, wash their hand and repaint in red, stamp sideways again.  Once dry add details such as fins and a mouth with a sharpie and glue on a googly eye to finish. Don't forget the bubbles!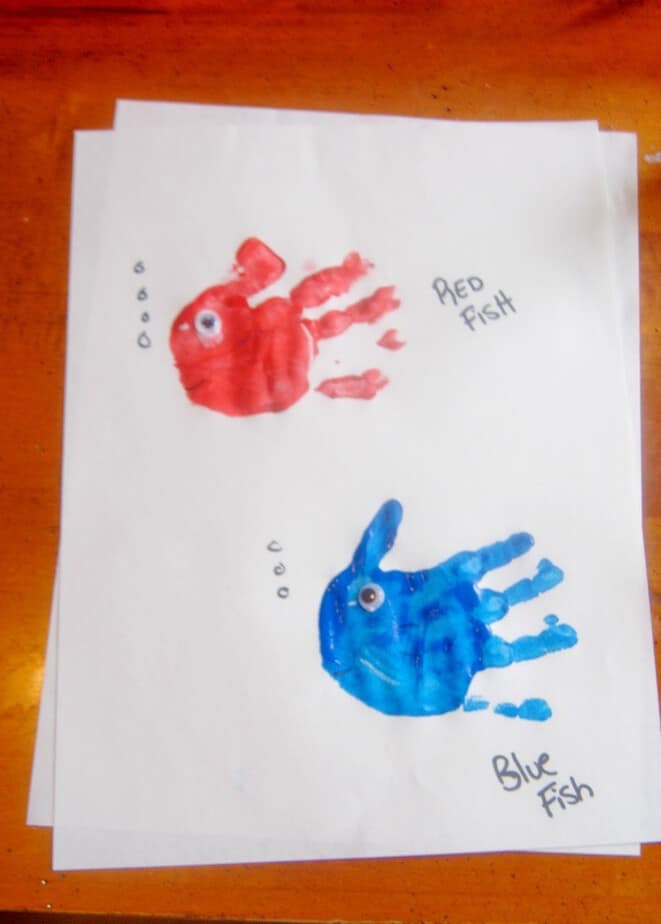 Art- Rescue a toilet paper roll or two from your recycle bin. Paint the roll any color you like, if desired, add glitter while paint is still wet. Use tissue paper glued around one end, and frayed with scissors for a pretty fan tail.  Add tissue on the side for fins, and googly eyes.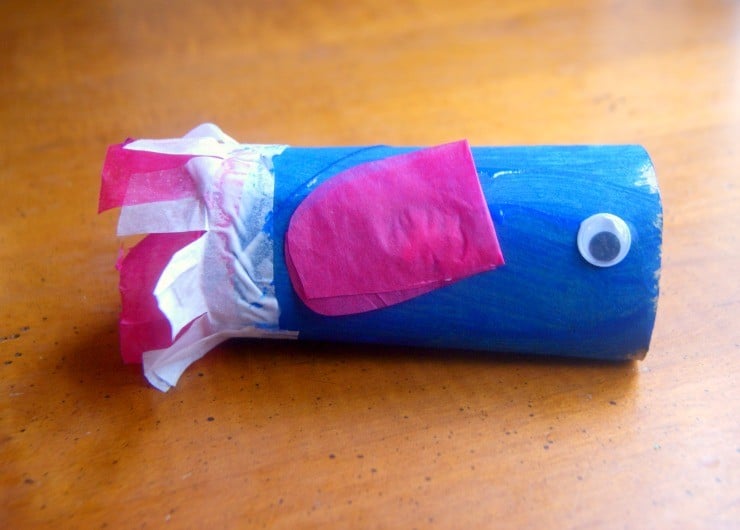 Art- Paper Plate Aquarium– You will need two paper plates, cut the center out of one, right up to the ridged border.  On the second you can paint it blue, or glue on blue tissue paper as we did. Cut out small fish shapes or use stickers to paste onto the blue, add googly eyes for dimension. Staple the paper plate that you cut the center out of over the decorated plate. Attach a ribbon to the back to hang your plate up.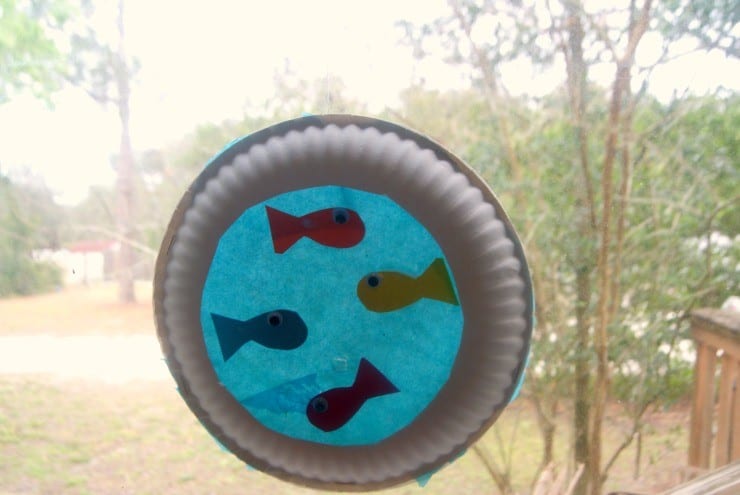 Activity- Build crazy, fantastic fish with play dough.  Set out an "Invitation to play"  this simply means  setting out objects, usually to fit a theme and encouraging your child to play.  I set out play dough, googly eyes, beads, cut up pipe cleaners, and Popsicle sticks- I directed the play a bit by encourage them to make fish from the supplies before them.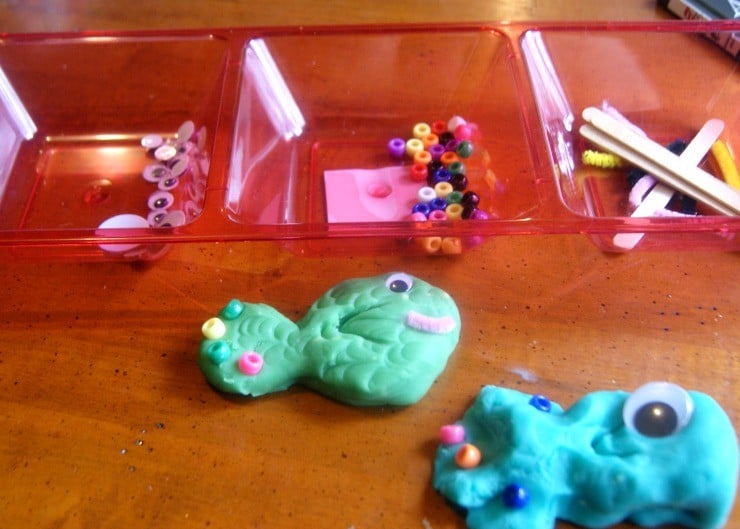 Activity- "Some are fast, and some are slow. Some are high, and some are low…" Find all the action phrases in the book, call them out to your child, encourage them to act out all the motions by crouching, jumping, running in place, etc.  Make up some of your own motions if they are enjoying themselves to extend the fun.
Activity- Sorting-  This plastic tray pictured I picked up at Dollar Tree and its perfect for sorting activities.  I picked up a pack of rainbow goldfish and put them in the center, there are just enough spots for all the colors in the pack.  This is a great activity for little ones, if you have older kids they can count, create patterns with the colors, or do simple math problems using the concrete objects. You could also have them graph how many of each color are in a pile.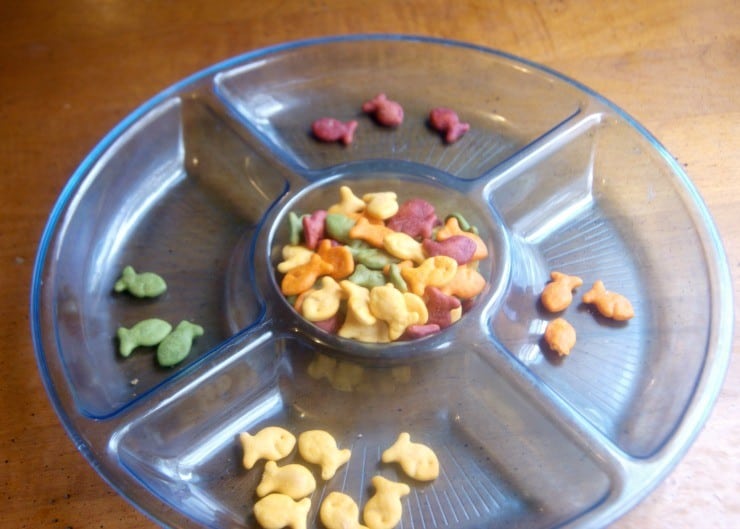 Activity– The foam fish we made above for the sensory bin? In the bathtub they become fun wall stickers! If you wet them they will stick to the wall just like a sticker with no damage- we also do this on the windows with a spray bottle.  My kids and I loved this discovery and often make different shapes for various holidays and themes, I just dry them off completely and store them in ziplock bags under the sink. This makes for a very fun bath time, you can also pull in the magnetic fishing rod you made for the sensory bin for a really fun bath game!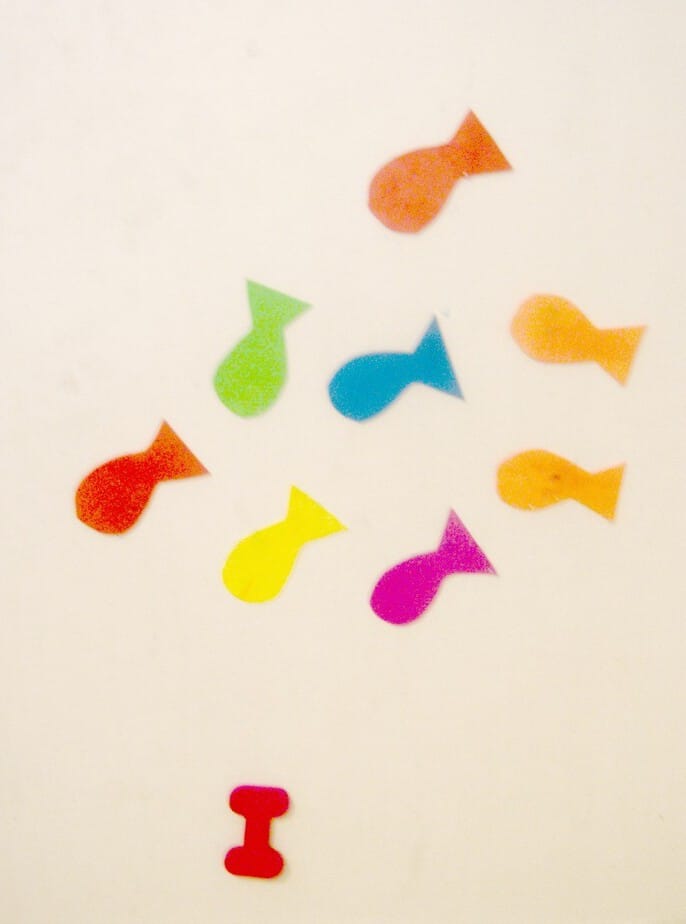 Consider taking your little ones fishing for real! Fresh air and sunshine is wonderful for you both and makes for wonderful memories. Maybe a trip to the aquarium would be more your speed and would tie in nicely with the theme.
Additional One fish Two fish resources
What's your favorite Dr. Seuss story?