>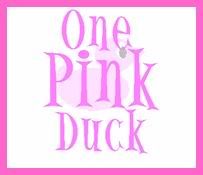 I have a great love for matchy things and monograms. Carrie at One Pink Duck does, too. It was love at first sight for me when I "met" One Pink Duck. If you have a need for a gift for a child who has everything, or a monogrammed anything – head to One Pink Duck. You won't be sorry. (Busy even had little bloomers with her name monogrammed on them for her first birthday, and a Happy Birthday hair bow she STILL wears every year on her birthday!!)
Carrie sent each of my kids an initial monogrammed hoodie. They are cuter in person than online, if that's even possible. It's been so hot the past several weeks we haven't attempted to even model these, but this morning was 60 and very cool so we took advantage. Plus my kids love to snuggle with their hoods up.
Busy B has a pink one, isn't it darling?
And, here's my little Buddy, with as much of a smile as you'll see (he makes you really work for smiles).
Finally, Baby B. Adorable, no?
The sweatshirts are not all the same company but all are a nice quality material that I can tell will hold up. I want to talk to you about the monogramming – its awesome. The first letter of each of the kid's names is appliqued onto the shirt and then stitched all around the letter to ensure it stays in place and looks great. She also has some fabric-y stuff (yes, that *is* a word, for those of us who attempt to sew but aren't in the know!!) The kids (me too) love having their very own special clothes like this. I'm pretty sure its also helping my little man spell his own name too!!
I have to show you one other item that I am dying.to.have. Its the Mee Tee.
Can you even stand the cuteness? I don't think it'd be as cute on me, as a plump 36 year old but for my kids, oh man!! Must.resist.
Find One Pink Duck on Facebook. Tell them you found them from This Mama for Blogmania!! (Hint: you might want to do this, because if you do it you get 3 extra entries if you "like" them by 9/1/10!! Just remember to put OPDX1, OPDX2, OPDX3 as sep entries when Blogmania comes around)


You can also sign up for One Pink Duck's newsletter on the left sidebar of their site. (Hint: you might want to do this, too, because if you do it *before* 9/1/10…I'll verify with OPD before Blogmania- but you'll get another 3 extra Entries if you do this. The code will be OPDE1, OPDE2, OPDE3)


If you have a photo of your child in a One Pink Duck item and would like 3 extra entries for that, you can share it on their Facebook wall or email to me and I will get it to One Pink Duck. (The code will be OPDP1, OPDP2, OPDP3)




Many thanks to One Pink Duck for the gorgeous, personalized and custom hoodies for all 3 of my kids and for sponsoring us for Blogmania.

0