I have heard from many places in recent years that oral health is the doorway to overall health.  It makes sense when you think about it…. the mouth is kind of the doorway to the body… and if that's got issues, chances are, those issues aren't going to stay exclusive with our mouth.  We all get (hopefully) 2 sets of teeth.  That's it.  Baby teeth and adult teeth.  Some of us, myself included, didn't even "come" with a full set of adult teeth.  Yep. I'm short a molar on my upper left jaw and never has anyone seen the lower 2 wisdom teeth on an xray of my mouth.  I'm 3 teeth shy of a set.  (I'm sure there's a joke in there somewhere).
For folks like my husband, who "came" with a full set of baby teeth but not adult teeth, well, they are the exception more than the norm.  My husband takes better care of his mouth than anyone I have met- but, then, I guess anyone would be hypervigilant about keeping their teeth when they were missing 12 adult teeth.  His, like my few, never developed.  Only he had a lot missing.  He's had bridges since he was 18.  BridgeS.
This is a sponsored post about oral health tips as part of my association with the Mom It Forward Blogger Network.  Opinions are my own.

So you can kind of see why we might be a little all up in the kids' proverbial grills about taking care of their teeth.  We brush. We floss.  We rinse.  We do not chew sugar gum.  Ever.  I will pay them for gum given to them but they will not chew it.  Why am I telling you this?  Because it's Children's Dental Health Month!  And it's always good to have some reminders about oral health care… so when I was asked if I'd share about Trident Gum's partnership with Smiles Across America over the past 10 years, I didn't hesitate to say yes.  In 10 years, Trident and Smiles Across America have helped over 2 million kids.  That's a lot of 0's and a whole lot of smiles (if you like numbers, it's also over $2.5 million).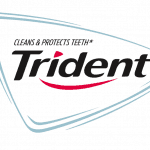 February is National Children's Dental Health Month, and Trident wants to share oral health tips* from The Partnership for Healthy Mouths to keep the pearly whites of those young (and young at heart) healthy and happy all year long:
Brush 2Min (2X) – It's best for kids to brush their teeth for 2 minutes, 2 times a day for healthier teeth, good breath and fewer cavities.

Children 2 or older should always use fluoride toothpaste.
Visit a Dentist – Kids and parents should visit a dentist regularly starting no later than age 1.
Floss – Kids should clean between their teeth once a day with floss to remove plaque and food where a brush can't reach.

Children as young as 2 can floss if their teeth are touching.
Fluoride – Fluoride is nature's cavity fighter and can occur naturally in some water and food sources. Did you know that to help protect teeth from cavities fluoride is added to dental products like toothpaste?
Chew Sugar-Free Gum – Chewing sugar-free gum, like Trident, helps keep teeth clean after eating and between brushing. In fact, chewing Trident sugar-free gum after eating stimulates saliva flow, which helps reduce the risk of cavities by reducing plaque acids, removing debris and strengthening teeth.
*The Partnership for Healthy Mouths, Healthy Lives is a coalition of 36 leading organizations in the field of oral health. www.healthymouthshealthylives.org
For an even happier smile, try a variety of delicious Trident flavors including: Original, Spearmint, Tropical Twist and Bubble Gum (my fave). For more on Trident, visit: www.facebook.com/tridentgum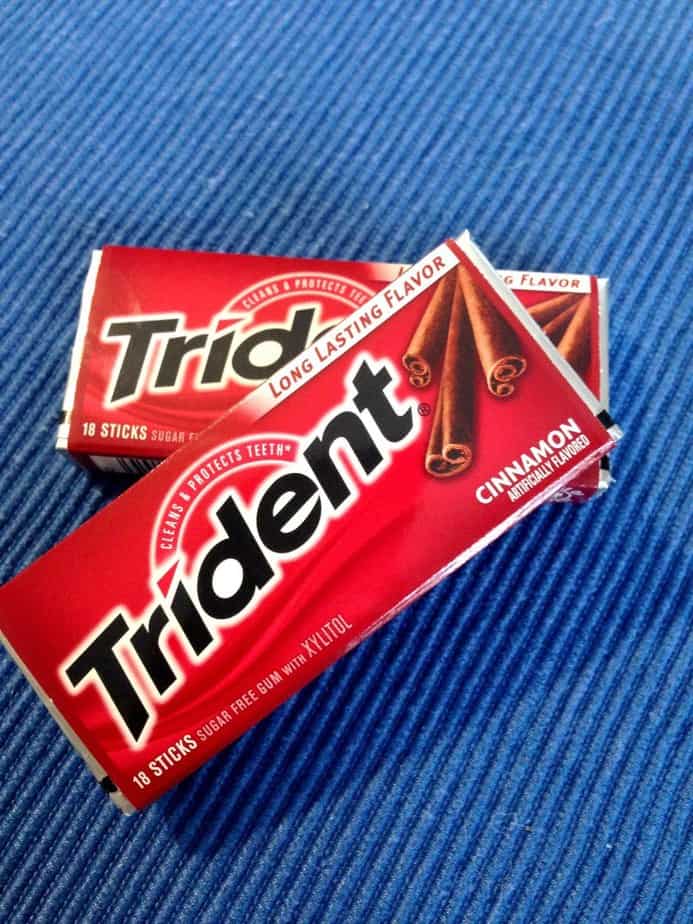 We are a Trident family.  I'm a bubble gum girl, as is my youngest.  My husband and my oldest like 'spicy' gums, especially cinnamon.  My son?  He's not picky.  He's not really 'into' gum too much but when he has it, he's pretty easy to please. ALWAYS sugar free. Period.
One reader will win a Trident Gum Prize Pack.  To enter, simply "like" Trident on Facebook and leave a comment below with your Facebook name and also your favorite Trident Flavor. 
Giveaway will end March 1, 2014 at 11:59pm EST.  Winner to be chosen randomly. This Mama Loves is not responsible for prize fulfillment.
0