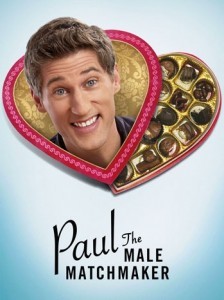 Have you seen the new Hulu series,  Paul the Male Matchmaker? I recently discovered it and it may very well be a new favorite show!!
When Paul inherits a matchmaking company from his Aunt Cathy, he wonders what his aunt could have possibly been thinking. But he soon realizes it makes perfect sense: by his own estimation, Paul is very attractive, super-likable and a really happy person — and he's got a fantastic marriage to a very wealthy woman, Teri. Although Paul's confident that he is the perfect person to help women find love, his approach is going to be a little different from that of his Aunt Cathy. His no-holds-barred philosophy toward dating can be surprising and frustrating to the women he is helping, but no matter how hilarious it may appear, his focus is always on being brutally honest with his clients.
In season 1 Episode 3 Jillian played by Lisa Edelstein seeks out Paul's advice on how to get back into the dating world after being in a 4 year relationship with her ex boyfriend. In this episode Jillian gets matched up with a 'dummy' for a date.
Here's the part where you guys get to hear about a funny story from MY dating files.
Friends of mine who'd just begun dating themselves decided to set me up on a blind date with this guy…we'll call him Jeff.  Ready to cringe? For our blind date we went to a comedy club.  For those of you who may not have ventured to a comedy club, this is NOT the place you want to go to for a first date- especially not a blind date.  The first comedian was fine, but the second?  He sensed the awkwardness at our table and targeted us- and asked some questions.  Stupidly, I said we were on a first date- a blind date- and that, my friends, was the last thing anyone should ever say on a blind date at a comedy club.
The next 10 minutes were directed at me, "Jeff" and our blind date…the lack of chemistry, or were we just pretending to not have sparks fly?  I vaguely remember some jokes made about which of our apartments we'd end up at, at the end of this date.
We ended up at our own apartments.  I've never spoken to him again, nor have I wanted to.  I'm fairly certain he felt the same.  He was kind of a pompous guy, but there really was just no connection on either side.  The comedy club did not help at all.
So, Paul the Matchmaker, if you read this, don't send anyone on a blind date to a comedy club!

Do you have a funny dating story?  I want to hear!
"I have been hired by Warner Bros WBWord division to raise awareness for Paul the Male Matchmaker."