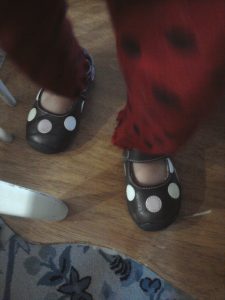 I've loved soft-soled shoes for my kids since my oldest was a teeny little infant.  Pediped is one of my favorite brands for these shoes, both for style and for function.  We've had them new, we've had them as hand me downs, and they hold up really well.
We recently tried the new Pediped Grip 'n' Go shoes in Giselle (Brown) for toddlers- Grip 'n' Go™ are made with all the benefits of Originals® but with special G2 technology for active toddlers.  G2 technology includes a specialized soft rubber sole, rounded edges that mimic the natural shape of a child's foot, heel stability and a soft toe box that allows toes to curl and grip the floor.
My husband hasn't ever noticed what the kids' shoes look like.  I mean, yes, he's noticed them, but I don't think anything's really struck him enough to comment on.  When he first saw these shoes on Baby B's feet, he couldn't believe the sole of the shoe.  I explained that they were made for new walkers and specially shaped for their little feet and extra grip.  He's impressed, which says a lot.  (This is the man who thinks you really can just have one pair of shoes and one pair of boots).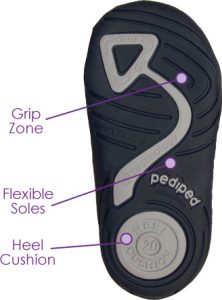 My photo of the sole wasn't as clear as this one, so here's the stock photo.  Plus you can see the different parts of the sole they mention.  I really do love these shoes.  She's been wearing them everywhere, even outside, and on our playset in the yard, and they have great traction.   It kind of looked to me before seeing these in person that the sole might be really thick- but its not. 
I love these shoes, like the Pediped Originals, because they are made for my little one's feet.  I'm glad Pediped came out with an in between line, for the toddler crowd, before they fit the Flex.  I like that these are designed to encourage healthy foot growth and development, and are made to fit a range of sizes- with kids' feet growing so rapidly having the sizing generous means they will be able to wear them for a good amount of time.   Baby B just outgrew her 12-18 month originals at 19 months- and my kids are known for having big feet!!  These new shoes will fit her for several more months, I'm sure!!  
Pediped shoes cost a bit more than most of the shoes you find at big box stores- but in my opinion, they are worth every cent.  Not only are you spending money to have shoes that encourage healthy foot growth and development, but you are also purchasing shoes that WILL last through at least 2 little ones.  I've never bought a pair of shoes at a box store that's lasted very long nor held up well while being worn, sadly.  I would rather spend a bit more at the outset and have them last longer.  (Plus there are always sales and coupons to be found!).  You can buy Pediped shoes, including the new Grip 'n' Go, at www.pediped.com (and also find a store locator on the site!).
I've got my eye on the new Adventure line for summer for my older 2 kids- I love the style and design and the closed toe of the shoe (my kids are like their Mama- they stub their toes a lot!!).
What are YOUR favorite Pedipeds?  What are your favorite kid shoes? Toddler? Baby? 
I received a sample of this product to facilitate my review.  Opinions expressed within are my own.
0