We are still new to the world of DS games, and are looking to find fun new games that are without violence, fun to play, and age appropriate.  The Petz Bunnyz Bunch
 game we checked out recently definitely fits the bill for my 6 year old, and she's big into animals and pets, especially enthralled with bunnies of late in particular, so this game came at a perfect time!  Kids can care for their bunnyz friends, just like a real pet (which I am hopeful will derail the Moooooooooooooooommmmmmmmmmmmmmmmmmy I want a pet in my own roooooooooooooooooooooom" mantra we hear all day, every day), and the more they care for their bunnyz, the more they interact with them, the more the bunnyz will play and do back!
When you start, you choose from 8 different breeds of bunnies.  All are adorable, and while I love things that are pink and sparkly as much (ok not as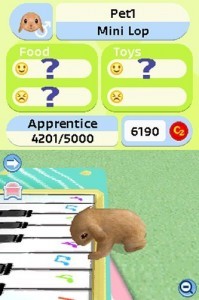 much) as my 6 year old, I was kind of glad to see that while animated, the Petz Bunnyz are more true to life than she'd want.  So, while you cannot have a rainbow colored bunny with sparkly hair, you can choose from a wide selection and they are all super cute.  Once you have chosen your adopted bunnyz, you can start caring for them, feeding them, interacting with them and playing with them.  The more you interact with your bunnyz and learn what your bunnyz like, the more you can get them to "do" and sometimes that even means some musical surprises or other cute tricks!
This is a really cute game and appropriate for the younger DS user in your life, the mini games are fun and not too long plus the bunnyz are adorable.  I think probably the 4-7 year old crowd will enjoy this game the most!
In Ubisoft's Petz Bunnyz, care for the cutest and most remarkable bunch of bunnyz. Raise them in your house and show them their new home. Teach them how to follow you when called upon, hop up on furniture, and even play music! On top of being absolutely adorable, these bunnies have personality! They know exactly what they want and know how to show you, so if you take good care of them they'll surprise you with games of hide-and-seek or other treats.
KEY FEATURES:

• Adopt your own family of bunnyz, choosing from a variety of breeds and personalities – Choose between 8 different breeds, each with unique personalities and preferences. See their excitement when you give them their favorite foods, or watch their silly reactions when they dislike like a toy. Bunnyz might change their favorite toys, so pay attention to their personalities and make sure they are happy.
• New fun activities – Give your bunnyz exercise by teaching them to follow you around the room, or toss toys between each other. Help your bunny become smarter by playing a game of hot & cold and searching for items. Bunnyz can even show their musical side! Teach your bunny to follow your sound and he will be jamming in no time.
• More ways to bond – The living room is your bunnyz new home. Show them their new toys, teach them how to get around, and even ask them to hop up to join you on the sofa.
• Bunnyz go on an adventure – Send your bunnyz to Petz World virtual world, and be one of the few with a bunny to play with. On Petz World, your petz will be able to travel the world, set out on extraordinary adventures and meet tons of other petz! Meet the wild animals of Kenya, help lost poodles in Paris and even enjoy the sunny beaches of Hawaii.
Thank you to Ubisoft for sponsoring this blog post. Please click here to learn more about Ubisoft. I was selected for this sponsorship by the Clever Girls Collective. All opinions are my own.
0