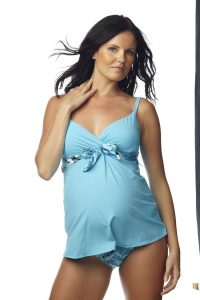 Just the thought of maternity swimwear can stike fear into even the most confident of pregnant women. I have memories of fruitlessly searching through a sea of cheaply made, black, shapeless, expensive maternity suits at my favorite store. I have found that there is very little selection and poor quality when it comes to this particular maternity item. I would also like to know who decided that all pregnant women want to wear black swimsuits. When I had the opportunity to review the swimwear by Pez D'or I was absolutely stunned by the beautiful selections. I found a wide variety of colors and styles to choose from. They have tankinis, one pieces and a fabulous option of 2 piece suit with a cover up.
None of the suits have an underwire and all padding is removable. These suits are unlike anything that you will find at the big chain stores. Pez D'or swimwear is made in Barcelona, Spain. They have been making swimwear for over 90 years. All of their fabric is designed, knittted and cut in house. There is a definite difference in the quality and feel of this fabric. It is the first thing I noticed upon opening the package. The fabric feels more like a soft knit shirt than the typical nylon/lycra blend. It is not nearly as prone to snagging and holds it's shape well once wet. The suits wash well on delicate. I hang dry mine just to make ensure the integrity and longevity of the suit.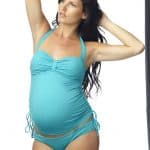 I found that the sizing of these suits is right on. A small is size 6-8. I chose to try out the tankini style suits and am so glad that I did. Because of the superior quality of the fabric these suits are made of, they are extremely stretchy and resilient. I will easily be able to wear this swimwear post baby. What a great value! A maternity and regular swimsuit in one. I absolutely love my suits. There really is nothing else like them on the market. The halter style suit to the right has fabulous elastic reinforcement so I never feel like the top is slipping down. I love that you can cinch the sides as little or as much as you want. The other suit I tried (pictured at the top left) gives extra coverage and is very flattering and comfortable to wear.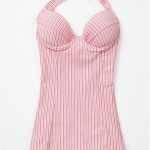 Pez D'or has previously only been available to the european market, but you will be seeing more of them in the U.S. You may have even seen some of Pez D'or's non maternity swimwear products at Anthropologie. This one is my absolute favorite. I would LOVE to have this swimsuit (after I lose all that babyweight). So, after hearing all the wonderful attributes of this suit, all you pregnant ladies are just dying to try one out yourselves aren't you? Well, it's your lucky day! Zulily is hosting a fabulous sale on Pez D'or maternity swimwear through 4/23. Up to 55% off! This is a fantastic price for a suit of this quality and style. Check out Zulily today to view the beautiful selections! Follow Pez D'or on Facebook for the latest updates and promotions.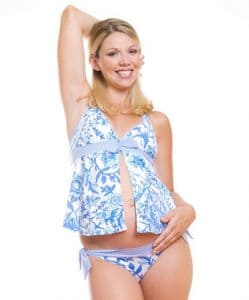 I received a sample of this product to facilitate my review. All opinions expressed are my own.