New York State is filled with amazing places to pitch a tent. Whether you like to hike up mountains, fish in a crystal blue lake, or just read a book in a good camp chair, New York has you covered. There are many federal and state run campgrounds throughout New York ranging from $15-55 per night. Typically the higher the price the more you can expect in amenities such as hot showers and flush toilets. Federal campgrounds usually do not have showers or laundry and are thus much cheaper. If you have kids, look for the campgrounds that have ranger stations as they often will have camp programs for kids. Here are a few suggestions on where to pitch a tent in New York.
Where to Pitch a Tent in New York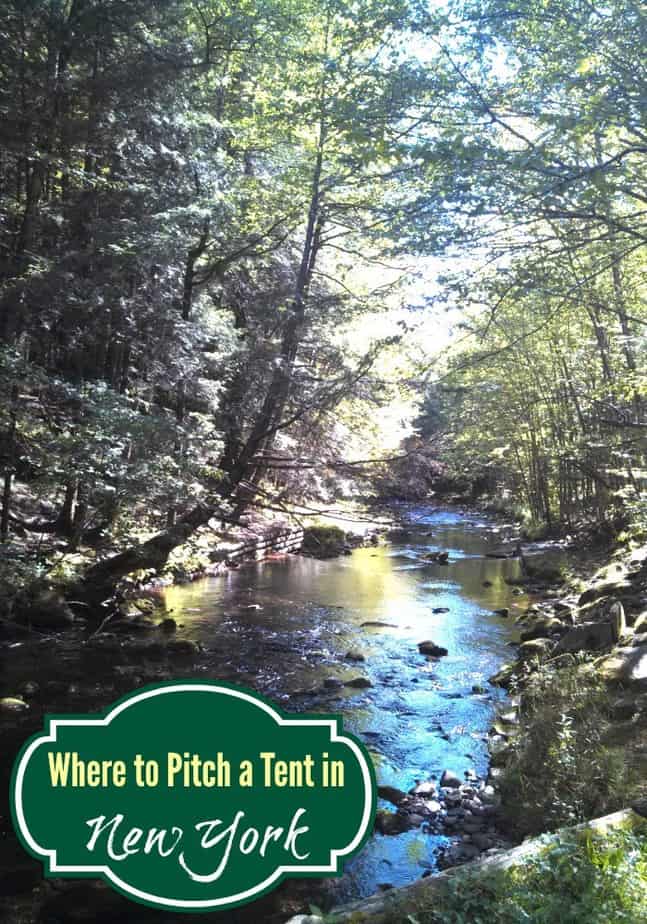 Allegany State Park
At 65,000 square feet, Allegany State Park is the largest park in New York. Here you can camp, fish, hike, and even take in the beautiful waterfalls of Bridal Falls. There are Red House and Science Lake for you to put your boat in or do a little swimming. This park is handicapped accessible and has electric hookups as well as shower facilities for campers. It is an amazing place to spend a weekend! Bird watching and wildlife viewing is pretty awesome here. There are so many activities to do for the whole family, that you can't go wrong with choosing Allegany State Park for a weekend getaway into nature.
Beaverkill Campground
Calling all trout fisherman to Beaverkill River, which is right next to Beaverkill Campground. This park is incredibly beautiful and Beaverkill River is great place to have a picnic next to and awesome fishing abounds. Pull up a chair, a good book, and get lost in the sounds of nature by the river. This is the campground where you go if you want a true camping experience. It can fill up quickly, but it isn't overly large so it doesn't feel like you are camping with the whole neighborhood. There is a 150-year old wooden bridge that is the perfect place for a picnic and to capture a great family photo.
Meacham Lake Campground
If you like hearing the sound of loons calling out over a pristine lake, head over to Meacham Lake Campground. They have daily organized activities for the kids, and a great place for the fisherman in the family to have fun too. This is one of the most scenic and beautiful campgrounds in New York and should be on your short list of where to go this weekend with your family and your tent from GloboSurf!
Where have you pitched a tent?