One of my favorite things about the end of summer is back to school shopping. There is something so nostalgic about shopping for lunch boxes, back packs, folders and pencils. I love it!!! This year, one of the items I was desperate to find was a reusable lunch box for my first grader. I wanted one that would last several years, wasn't too bulky and was efficient. This was more difficult to find than you might imagine. I'm not a fan of themed lunch boxes. These get old after a couple of months (and I just don't like superheroes and "bad guys"). After searching around on pinterest for some new and unique ideas, I ran across the Planet Box.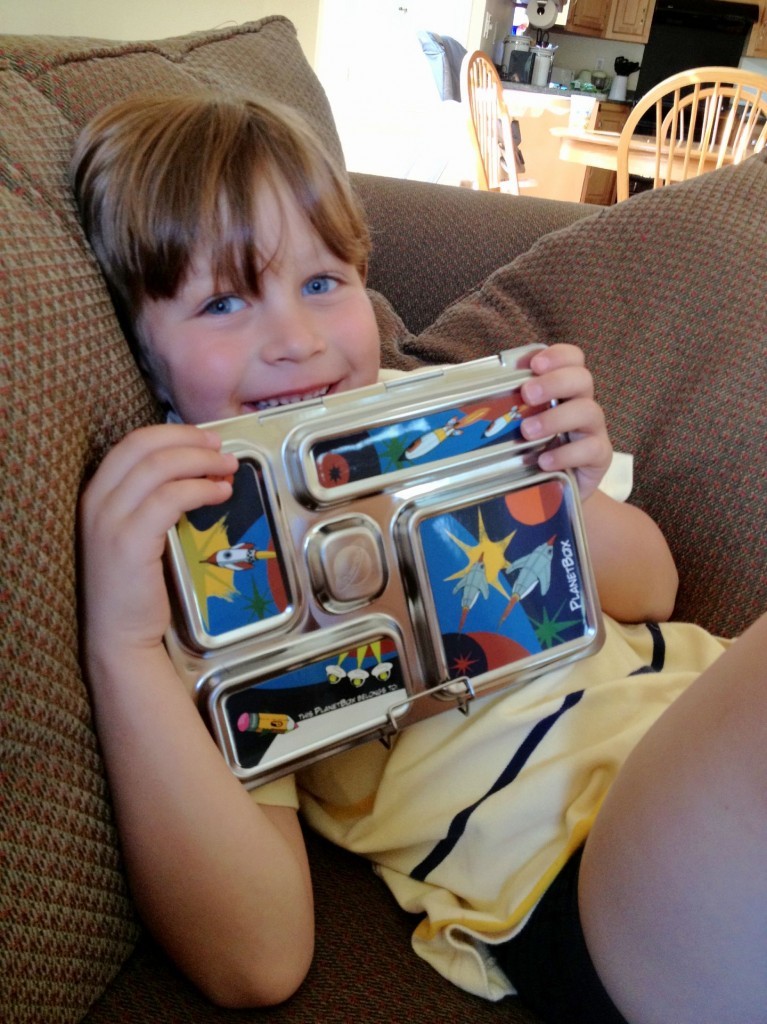 "Looking for an eco and easy way to pack healthy lunches? With right sized compartments made out of high quality stainless steel, PlanetBox is the smart lunchbox that guides you in packing a well-balanced meal quickly and easily. Part bento box, part TV dinner tray, our segmented containers are the best way to pack delicious, no waste lunches for school or work. Not your old fashioned metal lunch box, PlanetBox is truly lunch transportation for the green generation. " The Planet Box comes in 2 sizes: The Rover is great for younger children, and the Launch is great for bigger kids and adults. Rover
SMALLER serving sizes
Wide variety of foods
5 compartments, 2 Dippers for wet foods
Designated space for a little treat
Measures 10 x 7.5 x 1.5 inches
Kits range from $39.95- $59.95
Launch
LARGER serving sizes
30% larger than the Rover by volume
3 compartments, 1 Dipper for wet foods
Glass Satellite Dish for reheating foods
Measures 10.25 x 7.75 x 2 inches
Kits range from $49.95 – $79.95
A variety of kits are available for purchase. Just look at these products!
Dippers and Satellite Dish
This system is so amazing. I knew I needed one ASAP. I chose the Rover system for my little guy. I tend to overpack food and this system is divided into just the right portion sizes. He will be able to use this for a few years before upgrading to a larger box. By then I can pass it along to my next little guy! How does the Planet Box System work: 1. Choose your size: Rover or … 2. Choose dipping bowl sets 3. Ice Packs 4. Magnet sets. Yes, you can personalize and change up the look of your box with magnets! Genious!!!! (We chose the Rockets of course) You can purchase the items individually or as a set. The Rover box fits perfectly into the case. It is about the size of a notebook and is slimmer than a regular lunch box. The website has several lunch packing ideas for both the Rover and the Launch system (complete with grocery lists!!!). I found a lot of inspiration for lunches while perusing this site. I know that Bento boxes are all the rage lately. These individualized compartments are perfect for bento box type meals. The tray can be washed out with soap and water or placed in your dishwasher at the end of the day. Easy and reusable!!! This is my favorite lunchbox of all time and my little guy just can't wait to use it at school this year! One of our readers will win their own Planet Box Rover Basic Set!!!! (Winner chooses magnet set)
Loading Entry-Form…
 "A sample of this product was provided to facilitate my review. All opinions expressed are my own."
0