My girls both love to play soccer.  My littlest one can't be on a team until she's in Kindergarten next year, but my older one is loving soccer so much she's already asked to play soccer in the spring and fall from now on.  I love seeing girls being active and competitive.  My friend's daughter was voted captain of her 8th grade soccer team this year- she's a great leader for her team, a fabulous role model, and a very talented athlete (E, I'm looking at you!!).  She's not a great leader, role model or talented athlete because she's a girl.  She just is all of those things, and it makes me extra happy because she is a girl doing these things and it's not overly remarkable.  It would have been when I was her age.  What I love about seeing E, and my girls, succeeding in sports- its exactly what I love about seeing my son succeeding in sports.  Playing team sports teaches a lot of life lessons and has so very many benefits to kids…and the harder they work, the prouder I am.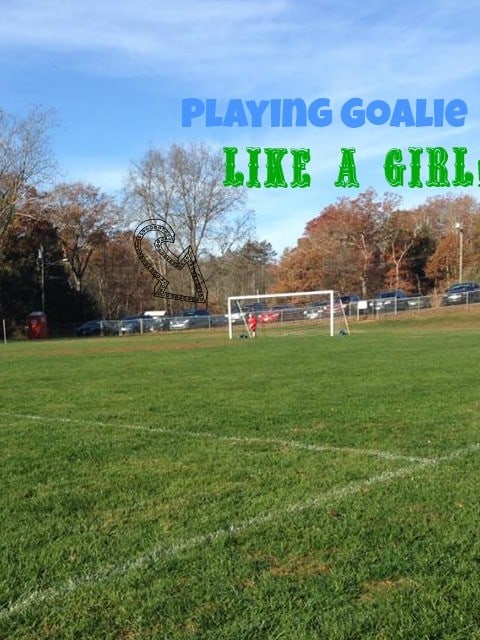 Gone are the days when sports were all about boys and men.  Girls and women have taken their place right along our male counterparts, and have leveled the playing field….and the playing screens for fans.  I know just as many avid football fans that are female as I do male!  But it isn't just about the playing of the sports.  Physical fitness is obviously a benefit but studies show that girls who do participate in sports do better in school and have a higher self esteem.  That right there is enough to keep me encouraging my girls every single chance I can!
Meet Ella, the #FioSFootballGirl.  Her big brother and his friends won't let her play football with them- because she's a girl.  Instead of getting mad, she goes home and learns EVERYTHING there is to know about football, thanks to the technology availble with FioS, and… well, just watch.  It's cute, and sends an awesome message. I love this video!
Verizon wants to hear from parents who are as proud of their daughter's athletic achievements as they would be if she was a boy. They want to provide a place to go to show that pride – a place to harness and share the empowering impact that sport can have on the lives of girls.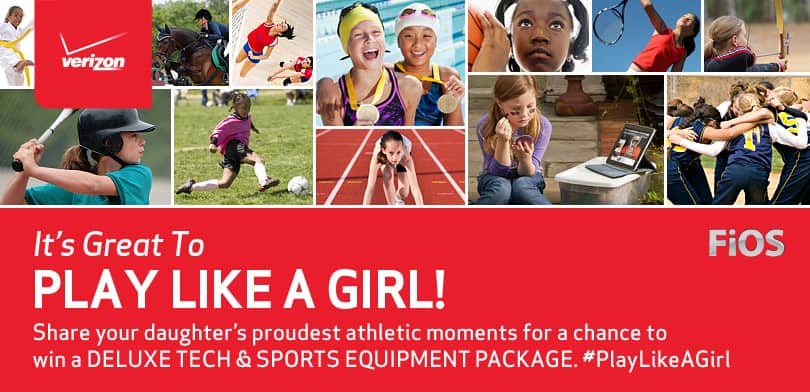 Join in the greater discussion at #PlayLikeaGirl, and share your own play like a girl stories through photos or video. One participant will win an amazing grand prize!
Complete contest details and rules can be found at www.verizon.com/playlikeagirl which will go live on October 28th. One contest participant who shares their story on will be chosen to receive the "Deluxe Tech & Sports Equipment Package".  It consists of the following (subject to change based on product availability):
One (1) Grand Prize consisting of the following will be awarded to the Winner:
Samsung Galaxy NX 20.3MP Camera with 18-55 Lens (ARV $1,699)
Microsoft Surface Pro 2 – 128 GB (ARV $1,000)
Type Cover 2 for Surface Pro 2 (ARV $130)
HEX Surface Sleeve (ARV $40)
Surface Mini Display Port HD AV Adapter (AVR $40)
Monster iSport Victory In-Ear  Headphones (AVR $150)
Apple iPod Nano (ARV $150)
Amazon Gift Card for Sports Equipment purchase (ARV $1,800)
Verizon FiOS gives your family the connection and speed you need to play with the big boys. Share your proudest moment of your daughter's athletic achievements at www.verizon.com/playlikeagirl. You could be chosen to win a grand prize valued at $5,000!
This is a sponsored conversation written by me on behalf of Verizon. The opinions and text are all mine.