A few months ago, our friends at Paramount Pictures invited me to fly out and visit the set of a then-filming live-action family film starring John Cena, Judy Greer, Keegan-Michael Key and several other wonderfully talented individuals. Obviously I jumped at the chance, and today I finally get to share with you about my set visit and interviews with some of the amazing talent behind this new family film coming this fall!
Playing with Fire is the story of some super specialized firefighters who find themselves in charge of three orphaned children after getting them out of the way of a fire- and realizing that as very remotely located first responders, they are going to be caring for the children until someone comes to collect them. Their leader, Jake, played by John Cena, is hard core, super serious and super dedicated. He's all business and by the book. But, as the firefighters quickly learn that they have their hands full- and are kept on their toes by the three kids who, of course, end up sneaking into their hearts- the wall starts crumbling.
John Cena summed up the movie well when he explained that this movie is about family, friends and togetherness. But with the comedic talent that goes along with the stars of this film, you KNOW there's going to be funny parts, and there are. And as to why he chose to do a family comedy, well,
…"this one hit me especially hard because it's a story about a gentleman who is dedicated to his work and thinks there is nothing else in life except work and then gets a set of circumstances that change his mind.

And that's like exactly where I am in my life right now. So, when you read something, and you get emotionally charged by the words, when movie magic takes over, it's awesome."
With all that John Cena has done, and how much success he's had, I was (happily) surprised when he told us about how open he is to learning from colleagues and how eager he is to learn and grow in his work. Any work. He's a really dedicated guy and when he decides to learn something, but I guess if you've heard of John Cena you know that he's a man of many talents!
I also made a conscious choice to try to never be the smartest person in the room, especially in the movie business, because I'm still kind of learning the movie business.

So, I want to do projects with people that are much smarter than me, that are much more experienced than me, so I can learn from these people and learn how they have made these decade-long careers in the movie business.
On set, working with three talented- and fun kids- Cena said he was the only crew member who didn't have a blast and bond with the kids. Which took me by surprise. But he explained…
"I tried not to…Because–The story is I'm supposed to be this like military drill sergeant."
Which made sense as he said it. If he was buddy buddy with the kids, he couldn't have the dynamics play out for his character to have that big tough emotional wall built up- and it wouldn't hold as much meaning or tug at viewer's heartstrings as that wall started to crumble. He really couldn't befriend the kids, not at the stage of filming they were in during our visit. I do suspect that by the end of filming, there was bonding and fun had by ALL of the cast and crew.
"I learn from everybody every day. That's–that is absolute fact."
This is one of the smartest things I've heard a person say in a really long time. We can all learn from others every day. We have to be open to doing so.
If you've noticed that John Cena's done some more family friendly movies lately, and wondered if he's open to doing other kinds of projects, he definitely is. From what he said to us, and what I've read of him online, he's just considering each project as it comes up and deciding what he wants to do as he goes. I, for one, can't wait to see him as Jake Carson, but look forward to seeing all of his future roles!
We also had a chance to sit down and chat down with some of the other talent behind this film, but we'll save that for another post. Until then, watch the trailer, and get excited to see this film in November! I know we can't wait! Plus, I can finally show my kids that I DID take a photo with John Cena!
PLAYING WITH FIRE OPENS IN THEATRES NOVEMBER 8, 2019
Facebook | Instagram | Twitter | #PlayingWithFireMovie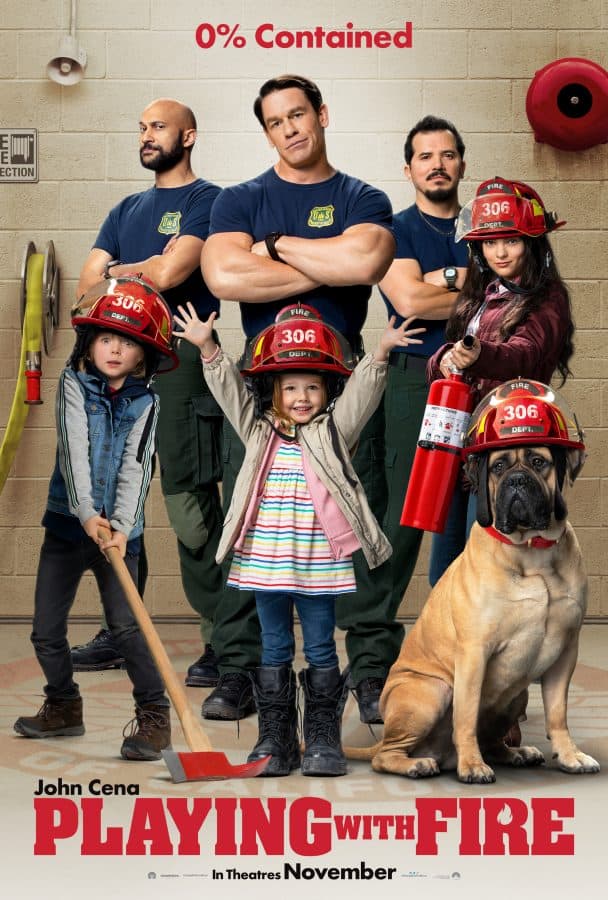 I love action movies. I love comedies. But something I've missed, and I know many others have, are family comedies. I feel like we've gone to crazy effects action movies, animation and CGI movies, but somewhere along the way we lost the awesomeness of a fun family movie. I remember posting on my Facebook wall asking for family movie ideas, and really there wasn't much NEW stuff at all…most went back to my childhood/high school days. Which is fine, but I'm SO super excited that Paramount Pictures agrees that live action comedies are SUPER fun and they are perfect for family movie nights. They are going big with this comeback of this genre, with stars like John Cena, Judy Greer, Keegan-Michael Key and John Leguizamo. I watched some scenes being filmed and I laughed so hard I cried a few times. I'm so excited to finally get to see the trailer and to tell you guys we visited the set!
When straight-laced fire superintendent Jake Carson (John Cena) and his elite team of expert firefighters (Keegan-Michael Key, John Leguizamo and Tyler Mane) come to the rescue of three siblings (Brianna Hildebrand, Christian Convery and Finley Rose Slater) in the path of an encroaching wildfire, they quickly realize that no amount of training could prepare them for their most challenging job yet – babysitters. Unable to locate the children's parents, the firefighters have their lives, jobs and even their fire depot turned upside down and quickly learn that kids – much like fires –are wild and unpredictable.

DIRECTED BY: Andy Fickman-EXECUTIVE PRODUCED BY: Mark Moran-PRODUCED BY: Todd Garner, Sean Robins-STORY BY: Dan Ewen-SCREENPLAY BY: Dan Ewen and Matthew Lieberman-STARRING: John Cena, Keegan-Michael Key, John Leguizamo, Brianna Hildebrand, Dennis Haybert, Judy Greer