I remember babysitting my nieces and nephews all through the 1990s and playing with Floam and Gak from Nickelodeon.  It was crazy fun, the kids loved it, we all enjoyed it, and now, Nickelodeon's Floam and Gak are back…  and they're better than ever!
Completely reformulated to make playtime and clean-up a cinch for a new generation of families, new Nickelodeon Floam and Gak are two unique reusable compounds, each designed to encourage creative thinking and open-ended play:
•    New Nickelodeon Floam is an incredible, reusable molding compound.  Mold, fold and roll new Nickelodeon Floam into any creation imaginable – the possibilities are endless!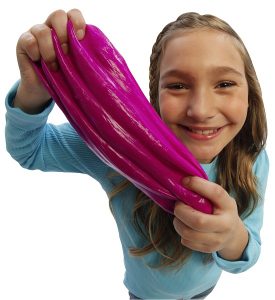 •    New Nickelodeon Gak is a stretchy, squishy collectible compound.  Gak can be squeezed, stretched, bubbled and more – once kids pick up Gak, they won't want to put it down!
The Floam is tons of fun to play with although I will tell you that you DO need to remove it from the packaging and knead it for a few minutes first.  This is great for kids' fine motor skills anyway, and fun, but also necessary for the product to perform as promised.  Once it's kneaded the first time, you won't have to do it again.  Each of the Floam packages comes in a reusable container and ours had a bonus little "stamp" in different, fun shapes (see photos above).  Tons of fun for all three of my kids.  Our colors were, of course, mixed up into a rainbow within 20 minutes of opening the packaging, but the kids had a blast and have been asking daily to use it since- so I'd say this product is a HIT!  We received a mat with our floam that was great- it helped the kids to contain the area they were making creations in, and kept cleanup to a minimum.  One of our colors was the red floam and that did leave some reddish residue on the mat- it didn't stain hands or clothes past a quick wash with soap and water, though.  I think I may just skip the red when we buy more, and we definitely will be buying more. I think this would be a fun birthday gift!
The Gak is a ton of fun- one of my all-time favorite sensory experiences for kids, and such a different feel that most kid modeling compounds.  Stretchy and squishy and ohsomuchfun!  (I can't seem to locate the pictures I have today of the kids and their Gak).   If you notice that your Gak is a bit too wet when you first open it, just set it aside and let it get some air (like wine!) before playing.  A few kneads and it'll be good to go.
These compounds are a ton of fun for kids of all ages- even soon-to-be-38 year olds!
I received samples of these products to facilitate my review.  Opinions are my own.