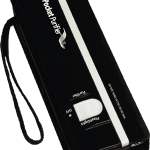 As a mom I am always looking for a quick and simple way to make sure my son is not exposed to too many germs. The Pocket Purifier is a compact germicidal light that uses the same UV-C light that is often used to sterilize surgical instruments.
This hand-held sterilizer is powered by 4 AA batteries and it also has a handy flashlight option. The Pocket Purifier can be used on baby changing stations, grocery carts, cutting boards and so much more!
I used it on my keyboard, counters and pillow. Items like pillows and stuffed animals are hard to wash so I thought the Pocket Purifier would be a great way to eliminate germs on them. It is hard to see the results but after a bit of research I found that UV-C is a proven way to safely sterilize items.
The Pocket Purifier retails for $19.95 and is available in black or pink. You can go to www.purelyproducts.com for more information or to purchase your own.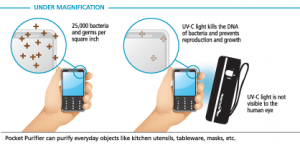 Features:

Incorporates ultraviolet light and nanotechnology to eliminate 99.9% of germs that cause colds, and flu, plus e-coli, salmonella, mold, fungus and MRSA staph (Methicillin-resistant Staphylococcus Aureus)
Built in 4-watt germicidal ultraviolet light deactivates the DNA of bacteria, viruses and other pathogens destroying their ability to multiply
Suitable for purifying masks, kitchen counters, sinks and utensils, bathroom surfaces, computer keyboards, remote controls, cell phones, nail clippers, shoes, clothing, bags, scissors, baby toys, pacifiers, diaper pails, cribs, strollers – most everyday items. UV light will not harm function of surfaces or items disinfected.
Powered by 4 (AA) batteries for easy carrying and safe usage (Batteries not included)
Convenient, lightweight, quick and easy to use
Suitable for disinfecting most everyday items with exposure of 10-15 seconds.
Available in convenient single, double and family-friendly four packs
UV-C bulb effective for 9,000 hours (click here to order replacement bulb)
Mandatory Entry: Leave a comment with your name and be sure to include a valid email address in the comment form!
Extra Entries:
1. Follow Pocket Purifier on Facebook.
2. Follow me on GFC, Facebook, Twitter or RSS/Email Subscription (+1 each)
3. Share this giveaway on any social networking site (leave URL of your post please!! hint: right click the time stamp!!) #win a @PurelyProducts #pocketsantizer #backtoschool #green #chemicalfree from @mamatomjr https://www.thismamaloves.com/?p=10248(can be done 2x day at least 1hour apart)2x/day at least 1 hour apart
4. Heart Monkey Threads Shop on Etsy
This giveaway will end on August 22, 2011 at midnight, EST. US only. Winner to be chosen randomly. Winner has 48 hours to respond to my email or a new winner will be chosen.
We received a sample of this product to facilitate our review. All opinions expressed are our own.[ad#glam between posts]
0