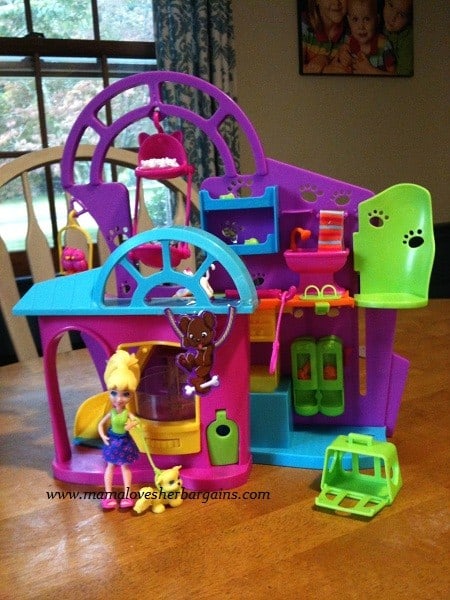 My kids love animals.  The love to play with them, either our family pets or toys.  They dress them up, play house, school, and whatever else comes into their minds.  They've been playing a lot with Polly Pocket's Playtime Pet Shop for the past few weeks- a cute new playset from the Polly Pocket folks that's sure to be a hit with any animal loving kid!  This set has a pet carrier, treats, food bowls, toys, leashes, plus activities to do with the animal friends.  You can even give them a bath! (I have to confess I've not undone the stitch holding the towel around the bar- the kids haven't asked me to and I feel like it works quite nicely as is…and we can't lose it this way!)
One thing that's always "worked" for Polly Pocket is the size- the dolls, the accessories, the playsets, all are fairly small in size and are easy to store and are portable.  This is important for those of us who have smaller homes, don't want clutter, or even for folks who travel a lot.  Having toys from home that are familiar can go a long way when traveling, and toys that encourage dramatic play seem to lend themselves to longer periods of play, so these are perfect for on-the-go. Kids love being able to bring toys places- with the Polly Pockets, they can tuck a few toys into their pocket and have something to play with and entertain them during dinner at a restaurant, or at a doctors office.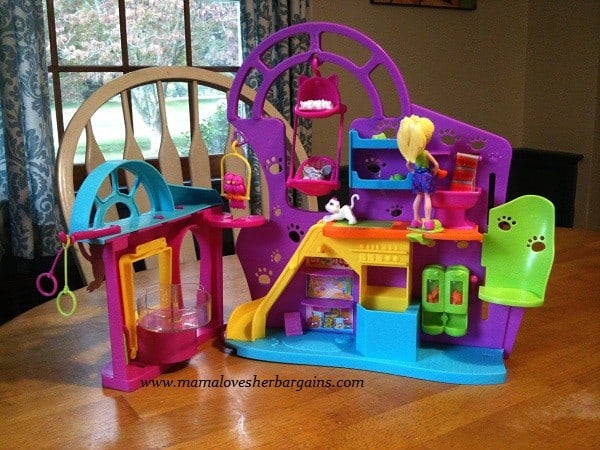 I love Polly Pockets, always have. They are just cute and fun.  I feel like Mattel has done a great job keeping the Polly and her friends doing age-appropriate activities and age-appropriate apparel.  I get very frustrated when brands and products directed at the 3-4 and up crowd have more adult-themed or teenage themed activities and clothing.  Sets like the Playtime Pet Shop are great- the dolls are stylish and fun, the animals adorable, and there are multiple ways to interact with the playset through the slide, the checkout, the spinning bins, the swing…although I think the girls' favorite and my own are the treat dispenser and the little treats.  Its hard for me to get the treats back into their containers because of my big chubby mama hands but the kids have no problem.  Plus, the teeny tiny fish and teeny tiny bones are just adorable.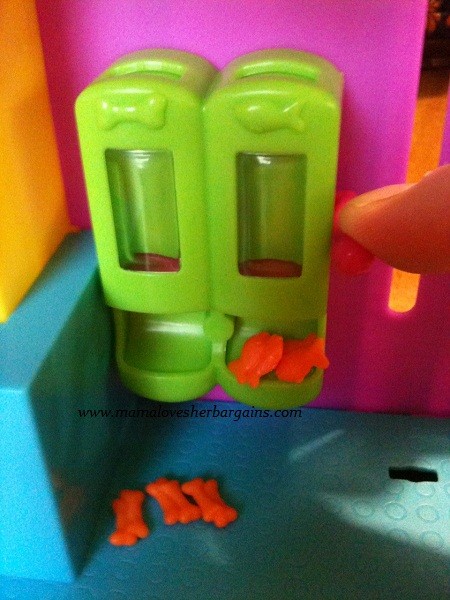 I do have to say I almost wish sets like this came with some kind of storage pouch on the back- hidden during play, but a place to store all of the tiny pieces that come with these sets.  It's hard to keep track of them.  Not a drawback, but it would be a very nice feature.
Having recently checked out the Stick 'n Play  Polly Pocket set, I have to say I prefer this one…and the kids seem to also. I think the suction cups are nice because it means the dolls will stay in place and stand upright, but it also impedes moving them around which gets frustrating for them.  I think they are a great idea but may need a little tweaking.  The kids don't seem to mind and have mixed one set with the other and just play Polly Pockets.  They just like the dolls and the animals.
We also received the "Friends Finish First" DVD with Polly and her friends and all three of my kids loved this.  My girls loved seeing their dolls come to life and hearing their voices.  Polly and her friends are in a skating contest and Polly learns how it's more important to have fun WITH her friends than to win and beat her friends. A cute episode and just 22 minutes long- teaches a nice lesson and isn't very preachy.  Plus my kids love ice skating, so this was a win-win for me!
I participated in a campaign on behalf of Mom Central Consulting for Mattel Polly Pocket. I received a product samples and a promotional item as a thank-you for participating.
0