This post about Pretty Poppies for Back to School is brought to you by our fashion forward friends at Gymboree.  I don't even think I have a lot to SAY about these pieces- I think the photos kind of speak for themselves.  Gymboree is known for quality clothing that comes in lines that mix, match and coordinate to your heart's content.  My oldest chose this Pretty Poppies outfit specifically SO she and her little sister could match for back to school and I think she did a great job choosing pieces.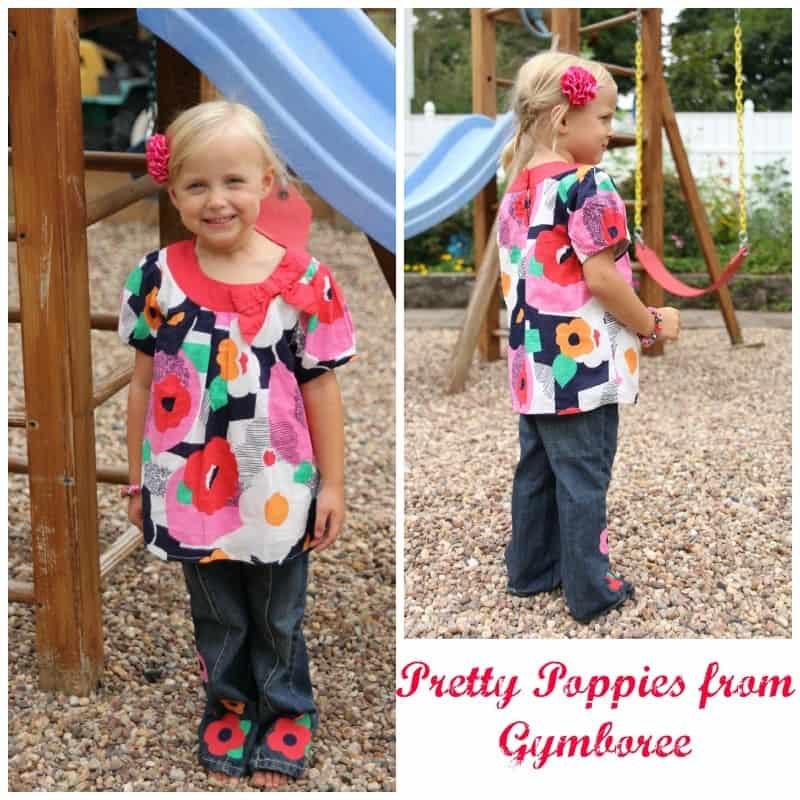 You can see that my little one has some growing to do before these fit her really well, but thanks to adjustable waist jeans, she can wear them now with no issues.  They will fit better length wise when she actually wears shoes, but hey, it's August and we're not back at school and the only person who wears shoes consistently in our family is my husband.
Speaking of shoes, both girls are upset that I didn't order the adorable and glittery navy ballet flats that go with this outfit.  I promise you I would have but honestly? I couldn't afford to include EVERYTHING! I did notice they ARE on sale when I was looking for the link to the outfit so they may just show up at the front door in the next week or so.  They really truly would be the perfect way to finish off this outfit!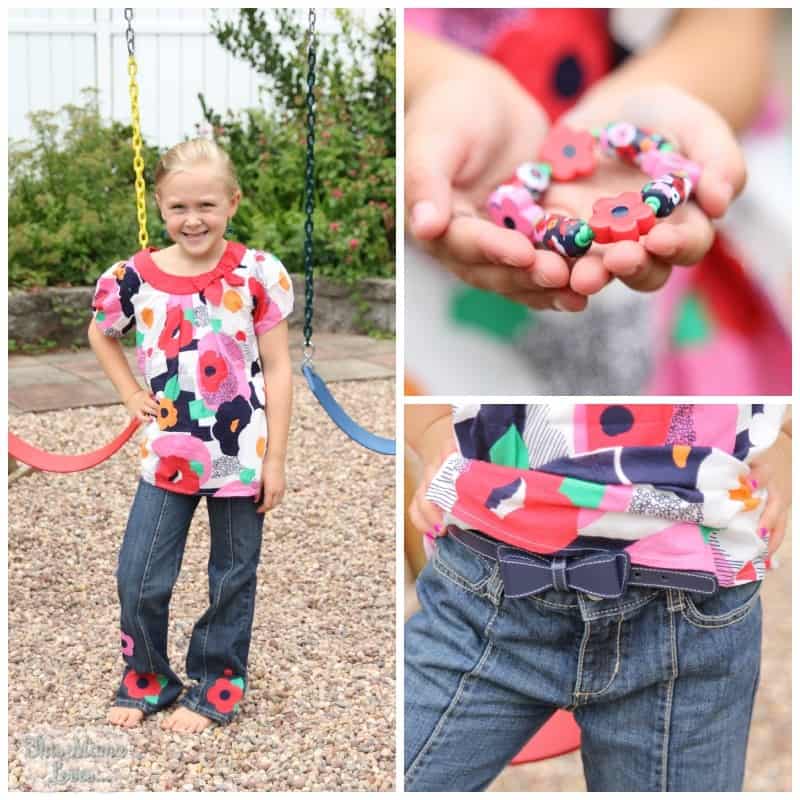 I am amazed that my 8 year old is wearing jeans- and willingly.  She's NOT a jeans girl.  But these are nice and soft, plus adjustable waist, and how can you not love the poppies on the bottom?  Too cute.  The seam that goes down the legs just gives the jeans a little extra bit of fun and she loves that.  The over-the-top-cute patent leather bow belt was a must for her.  We did not get the belt for my 4 year old because, well, she's still learning to undo snaps on her pants and she waits way too long as it is to go to the bathroom. We dont' need any obstacles in her way.
Little sis got the bracelet (pictured above) in lieu of the belt.  Actually, she got 2 bracelets, because my older daughter declared that it was too tight and doesn't fit. (So there you go.  The bracelet runs small). My little one is the accessory girl in our house anyway, so she's happy to wear 2 or 20 bracelets, necklaces and anything else she can put on her little person.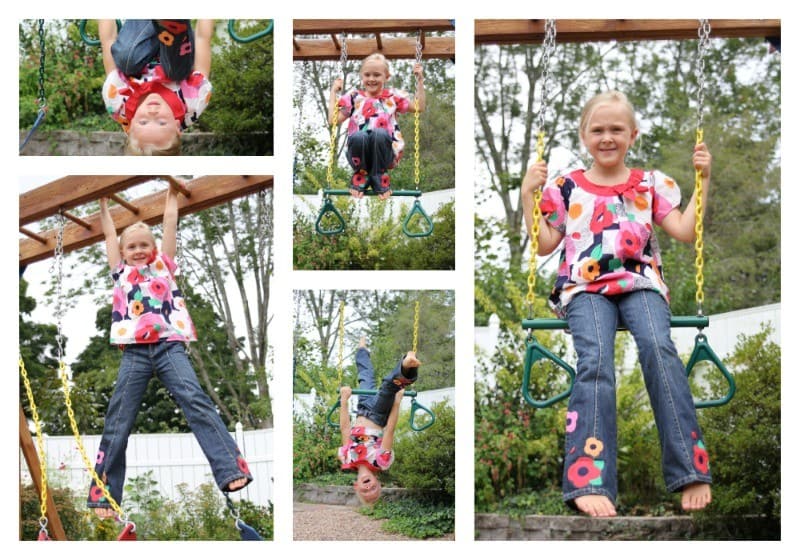 One of the things I love the very most about Gymboree is of course that they make a great quality product, which means I'm getting my money's worth, but also…at the end of the day, they stay true to the idea that they are making clothes and fashion FOR KIDS and they design the clothes to be played in.  Sometimes I find brands forget that kids move and climb and jump and cartwheel and however else they want to move and aren't just sitting at a desk or in a magazine shoot.  Gymboree does not forget.  My girls were MORE than happy to strike a bunch of poses to show just how much you CAN do with their fabulous new outfits.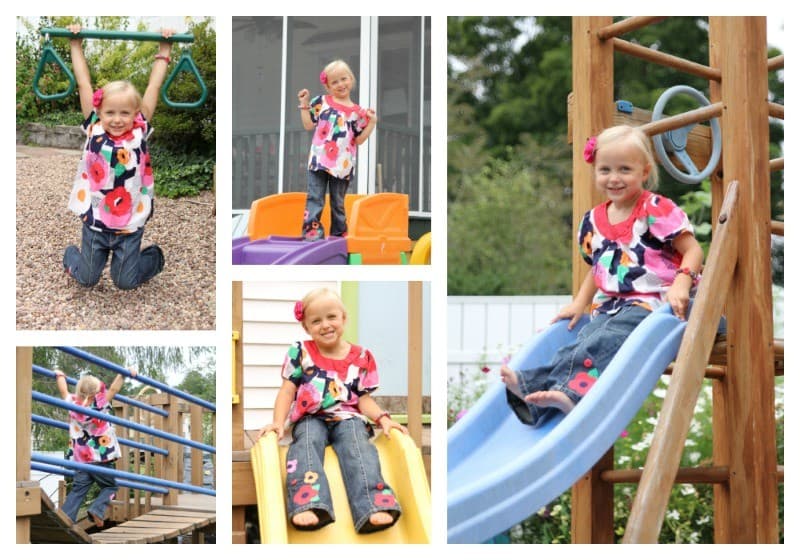 So, now that you've decided that you want your children dressed just like my girls for back to school….or maybe not (…although I won't be upset if you decide to tell me how darling they are or how cute they look.  I really won't.), who wants to win a gift card to spend for back to school or whatever else you'd like???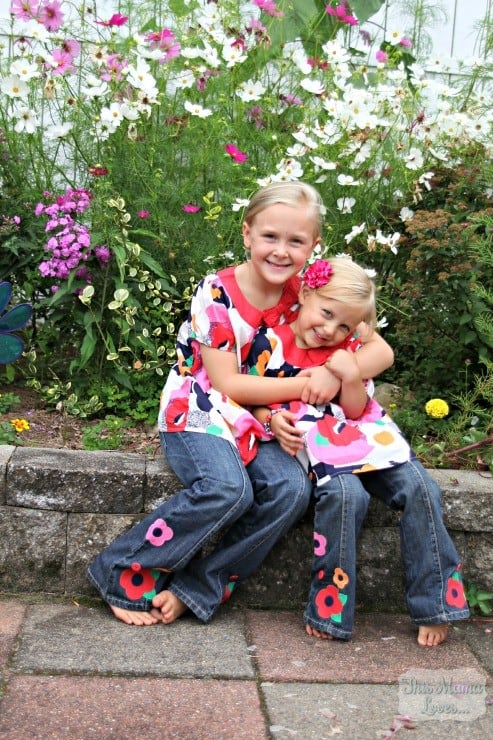 One reader will win a $100 Gymboree Gift Card!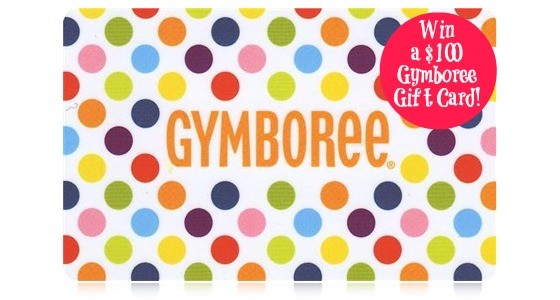 0