My 6 year old has become obsessed with her hair.  She wants it fancy, and she wants it fancy in different ways each day.  Now, I love hair clips and the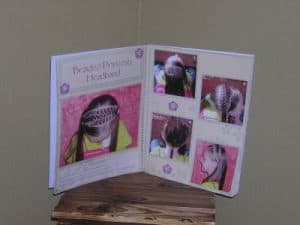 like, but I am far from skilled in this area.  I can braid, I can french braid, and do ponytails, but that's about the sum total of my skills.  I turned to my beloved Pinterest and was introduced to PrincessHairstyles.com and fell in love.  I "met" Kori, a mom just like me,  through a "pin" of how to do heart shaped braids into ponytails, but when I saw her book, Fun Hairstyle Ideas for Girls, I knew I was hooked.
This book is awesome.  It's got full color, step by step illustrated instructions for 16 different hairstyles.  16 hairstyles that I wasn't able to do before.  I can do most of them and I know I'll be able to do all of them in time.  It took me a while to realize that keeping my daughter's hair WET is the way to get her hair to style it's best.  
I love this book.  I 100% think it's worth the cost, because it helps keep from having hair boredom.  It's so much fun to play with the different hairstyles and hair accessories, and Kori has made it SO easy for even the least talented folks (read: ME) to make hair look absolutely adorable.  Don't you agree?  Kori also does tutorials via video and blog posts so be SURE to subscribe and/or bookmark PrincessHairstyles.com to keep up to date!!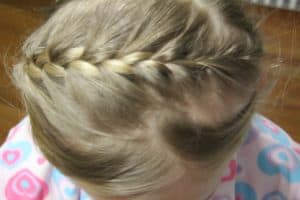 My best tips:  Get a small sized spray bottle for water.  Get some clear elastics (bags of 500 are about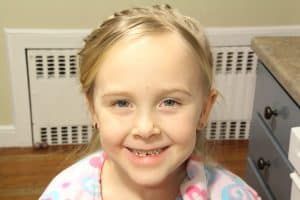 $3.00 at Sally Beauty Supply) and a pack of mini bobby pins (also found at Sally but I think they were $3-4 for packs of 50 or 75).  I have a zippered pouch for our "hair supplies" that I keep right with our books so I can get hair done each morning without searching for things all over the house.  Keep them out of reach of your toddler.  (Trust me.  Do you know how long it takes to pick up 500 clear elastics? You do NOT want to know!!).  Follow the instructions.  Use the images to guide you.  Don't be afraid to practice a few times. I've even found that because my daughter's hair is very fine, I can't necessarily get her 'do to look exactly the same as the pictures, but by the 2nd or 3rd attempt at a style, I find ways to make it look just as cool as the book even with shorter hair or less than thick hair.
One reader will win a copy of Fun Hairstyle Ideas for Girls from PrincessHairstyles.com!!  This is open WORLDWIDE!!
I received a sample of this product to facilitate my review.  Opinions are my own.
0