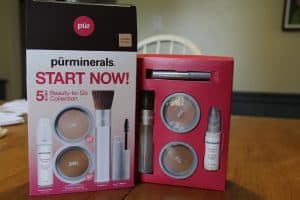 Pür Minerals 5-Piece NEW Start Now Kit is a really affordable way to try the pur minerals product line without a huge financial commitment- with enough product to get a good feel for how it works.  These aren't teeny tiny tubs of samples- these are generously sized samples that will get you through at least 2 months of use- enough time to really, truly discover if this is a system that works for you (it works for me!).  I'd already tried a few pur minerals products a few months back, and loved each thing I tried, although my favorite item from pur minerals is the primer.  I love, love love it.  I feel like my skin is so uneven in tone and color, and the primer makes me feel like it has a more even base to start with!
This set was what I brought with me for my nephews wedding last month.  I was so happy with the small packaging because when you are packing 3 small children plus 2 adults for 2 nights at a hotel including a very formal event, its very easy to over pack.  Having this was a lot simpler to pack with some lipstick and eye shadow than my normal enormous bag of cosmetics!!
Lots of makeup can make you look pretty, but how many can improve clarity or diminish the look of fine lines? More than just a get-the-look kit, Start Now! is an expressway to a naturally flawless complexion. In an eight-week clinical study, women of all ages saw an improvement in their skin's appearance after using this five-piece kit. Up to 89 percent saw a smoother, softer appearance while 75 percent experienced visibly less irritation than before.
Aside from the generously sized samples (and the brush included is awesome!! I really  like that this set comes in 7 different colors- – so often I see "try me" kind of products but they come in very limited color choices- which makes it very difficult to match to your skin, and then the product samples are so small they are used up before I feel like I've gotten a feel for how I like the product.  I'd rather spend a bit more on a "try me" set like this one and get the chance to really see if I like it and how it works on my skin!!
What comes IN the starter set?
4-in-1 Pressed Mineral Makeup (.15 oz): Loose powders are so last year. Combining pure mineral pigment with the finest skin care ingredients, our all-in-one foundation, concealer, powder and SPF 15 has inspired generations of women to forget the mess and go pressed.

Neutral Primer (.3 fl oz): While most primers create the illusion of a more uniform complexion, our skin correcting formula contains special key ingredients that minimize the look of pores, dark spots and fine lines for a truly flawless makeup canvas.

Mineral Glow (.12 oz): Combining premium quality minerals with proven firming ingredients, Mineral Glow gives skin a natural-looking touch of sun with added skin care benefits.

Impact+ Mascara (.12 oz): Lengthen, thicken or curl—most mascaras give you just one option. Impact+ gives you all three, with the added benefit of extreme lash hydration for naturally healthier looking lashes.

Chisel Brush: Designed specifically for our 4-in-1 formula, this cruelty-free total coverage brush delivers an effortlessly even application every time. Also works with Pür specialty powders.
This is a joint giveaway (Rafflecopter form) that I'm hosting along with Our Kids Mom- so TWO people will each win a starter kit exactly like ours in their preferred color!!


I received a sample of this product to facilitate my review.  Opinions are my own.
0