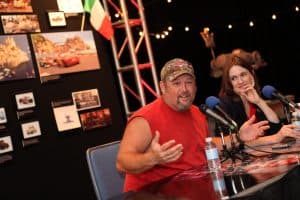 While in LA for the Cars 2 premiere, I had the opportunity to participate in group interviews with some of the stars, including noneother than Mater himself, Larry the Cable Guy.  Larry (Mr. The Cable Guy?) was just so down to earth, so funny, and I loved listening to him talk about Mater, about the progression from the first Cars movie to the second, and how he didn't even get a real script for the new Cars 2 movie at all! 
When asked why Mater is so very endearing and iconic to children (and let's be honest, people like me!): Aw, he's just a good guy.  He's just a fun little animated character.  He's nice, he's funny, you know.  Uh, everybody wants to hang around with him.  He's a faithful friend.  You know, plus he's funny.  He says funny things and he does fun things.  Kids like that.  Well, Adults like it too.  So I think that's pretty much what it is.
He says funny things and he does funny things.  The basics.  Plain and simple, honest and clean (in a rusty disguise).  Mater is just pure, clean fun.  I do realize that Larry the Cable Guy may not always be this way, but you know what?  Having met him?  I feel like I met Mater.  Really and truly.  He says funny things and he does funny things…and he has a big heart.  He may not be rust covered and he may spend his mornings deciding on shirts with sleeves or no sleeves, but he's got the heart of Mater right there.  He's kind of awesome.   
I loved listening to Larry talk about Mater, and how he felt and what he thought as he saw the story boards for Cars 2, and as he heard more about the movie, thinking to himself that Mater had a bigger role in this film….a really big role, and finally realizing that hey!  Cars 2 is really a lot about Mater!! 
Most of the bloggers who were on this trip with me are also moms (a few grandmas too) and I know that many of us had expressed surprise at the violence and presence of weapons in Cars 2.  When asked what he thought about Mater having guns, Larry did admit to being surprised at first, but that the more he thought about it and the more he did the movie, the "cooler and cooler" it got.  He likened it to time passing by and how the characters are still true to themselves in Cars, just with lots of action. 
So it's awesome and — and the cool thing about it is they kept the heart in it.  They kept the relationship, the friendship factor in it.  They kept everything in it.  They just added a ton of action.
Larry's favorite part of the movie was when Mater eats the wasabi ice cream: More of that Ice Cream!  Boy, come on, it's free, ain't it?  I get some.  I do.  Let's go, it's free.  Move on there!  Get her done.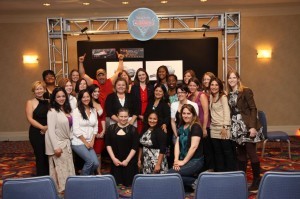 When we interviewed Larry, Emily Mortimer was with us, she's Holley Shiftwell if you aren't yet familiar- and it was really fun to see the two of them interact with one another.   It was obvious they both felt a great connection to their characters in their tone and body language while speaking of their roles in the film.  Having seen the movie once before meeting with them, it was neat to see the faces behind the voices interact with one another just as smoothly and easily as they did on screen in character. 
It was obvious that Larry the Cable Guy has a bit of a sweet tooth, from the candies he was happily unwrapping (over voice recorders- oops!!) and munching on!!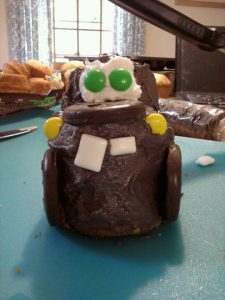 Which is what brings me to sharing this recipe below with you, shared with me by one of the PR reps at Mattel, that we made just this afternoon. 
Author:
Mater is my most favorite Cars character, and with Cars 2 having just come out, we thought it would be fun to try making these cupcakes!! Adorable and fun, too big for just one person to eat so prepare to share!!
Ingredients
1 box cake mix
2 16 oz cans of milk chocolate frosting ** We made Chocolate Buttercream
16 oz can of vanilla frosting ** We made Buttercream Dream
6 cup large muffin baking pan ** We used a popover pan
12 cup regular size cupcake baking pan
2 boxes Thin Mints Girl Scout Cookies (or similar)
Ziploc bag
12 White M&M's candies (headlights) (we used yellow)
12 Green M&M's candies (eyes)
6 white gum pieces (teeth)
6 inch cardboard cake boards (we used the little plastic plates from IKEA)
Black edible ink pen (Didn't have, didn't use)
Toothpicks
Instructions
Coat both pans with non-stick spray.
Prepare cake batter and fill both pans about 2/3 full. Bake as directed on the package and let cool.
Count out 60 cookies and set aside. (What you do with extras is your business, not mine!)
Place the remaining cookies in a Ziploc bag and finely crush them with a rolling pin or glass. (I let the kids roll with a rolling pin)
Set aside 12 green and 12 yellow M&M's. (I won't judge you for what you choose to do with the rest of the bag.)
For Mater's teeth, cut each piece of gum into two pieces so one piece is larger than the other. (We used Trident so I used 1 whole piece and 1/2 for the second tooth but other brands are larger to begin with)
Cut the tops off of 6 of the cupcakes so you can place them upside down for the truck bed. Before turning upside down, frost the sides and bottom (now top) with milk chocolate frosting and sprinkle with cookie crumbs
Place the cupcakes, cut side down toward the back of a 6-inch cake board. Place a dollop of frosting on the board to help the cupcakes stay in place.
Frost the sides of the larger muffin-size cupcakes. Sprinkle some of the crushed cookie pieces on the sides and then place on the cake board right in front of the other cupcake. Frost the top and sprinkle with more cookie crumbs. Attach one cookie to the front of each muffin-size cupcake for the mouth.
For each tire, attach two cookies together using frosting and then attach two tires to the larger cupcake and two in back to the smaller cupcake.
Place one more cookie on the top for the tire on Mater's hood. Attach the teeth to the cookie mouth with a small amount of frosting.
For the top of the trucks, first frost about half of each of the remaining cupcakes with vanilla frosting. You can place these in the freezer for a few minutes for the frosting to harden and then it will be easier to frost over the vanilla edges with chocolate frosting to finish Mater's face. Frost the sides and top with chocolate and sprinkle with cookie crumbs.
Attach two green M&M's in place for eyes and two white M&M's in place for headlights.
Use a black edible ink pen to draw pupils on the eyes and when dry, you can use a toothpick to dot a small amount of vanilla frosting for extra detail. Heat it slightly in the microwave and it will be easier to dot on. (We didnt do this part because I forgot to get the ink pen and the kids didn't notice so don't tell them please)
Notes
Don't let your 23 month old near the box of toothpicks. 750 toothpicks is a lot to pick up.
Have fun with this. We like to make our own buttercream so our colors were not the same as Bakerella's (recipe is from http://family.go.com/disney/pkg-disney-recipes/recipe-903493-tow-mater-cupcakes-t/) but we were really happy with ours and the kids were super excited about them.
I had the opportunity to attend this interview as part of my trip sponsored by Disney.  All opinions expressed within are my own. [ad#glam between posts]