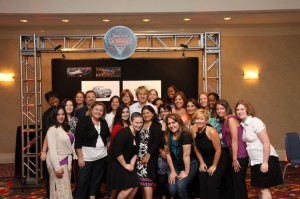 After 37 years on this earth, I am someone's hero.  Why?  Because I met LIGHTNING MCQUEEN.  Well, really, I met Owen Wilson, when I had the chance to interview him during the Cars 2 press junket on June 18th with the other mom bloggers I headed to LA with.   But he IS Lightning McQueen. 
I asked my son, what did he want to know about Lightning McQueen?  "Um, does he like wearing red car clothes all day?"  That's what's weighing on the mind of my 3.5 year old son.   One of the other mom bloggers' kids wanted to know the grossest thing Lightning McQueen had ever eaten- turns out, it was some food he was served in Australia on a morning show and it sounds like it was pretty much yeast and water.  Gross.  I don't blame him!!
So I have to say- I feel like having watched Owen Wilson's mannerisms and listening to him, that Lightning McQueen and he are the perfect match for one another.  One of my favorite parts of Cars 2 is the "You're the Bomb" scene with Mater, and as it turns out…that's also Owen Wilsons!!  It is a funny scene and I cracked up each time I watched it.  Can't wait to see how my kids like it when we see the movie with them!!
Owen spoke with us about how getting into character for Lightning was not hard for him because it was like when he'd play with his toy soliders as a little boy.  He also spoke of how kids love "spy" things and remembered making listening devices with dixie cups and string- which was cool for me to hear since we did the same (and tried with soup cans but dad wouldn't let us cut the holes by ourselves).  
I know one of the "cool" factors of Lightning McQueen is that he's a red-hot RACECAR and the toys relating to Lightning are red hot and fast- just like in the movie- and the toys that Mattel has out right now are no exception.
The Tokyo Spinout is (pretty)simple to set up, especially if you take time to read the instructions all the way through before starting (which is something *I* don't seem to remember but I muddled through- hard with three anxious helpers standing over your shoulder!)
Little racers will speed, jump, spin and be part of Lightning McQueen's stunt defying race with the Cars 2 Tokyo Spinout Track Set. Load two Cars into the set's dual launchers to watch the vehicles zip toward the elevated spinning platform and whirl above the roaring river below. Only one car can claim victory while the other spins out of control and off the track. Set includes one die-cast Cars 2 vehicle.  ARP: $29.99 | Ages: 4+ | Available: Now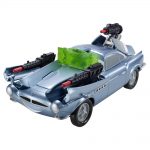 Finn McMissile Secret Spy Attack Kids relive favorite Cars 2 moments and create new adventures with Cars 2 Secret Spy Attack™ Finn McMissile. Fully loaded with "top secret" spy weapons, firing missiles, sound effects and thrilling transformations, Finn will make playtime "mission: nonstop fun." ARP: $29.99 | Ages 4 + | Available: Now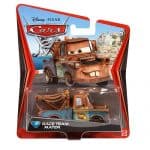 Cars 2 Character Die Cast Assortment With new vehicles debuting every month, kids will be racing to complete their collection of Cars 2 Character Die-Cast Assortment. The new 1:55 scale vehicles come with a huge character variety, including kid favorites Lightning McQueen, Mater and new characters from Cars 2.  ARP: $4.99 each | Ages: 3+ | Available: Now
Cars 2 Lights & Sounds Die Cast Assortment Recreate all of the heart-pounding racecar action and bring the major movie characters to life with Cars 2 Lights & Sounds Die-Cast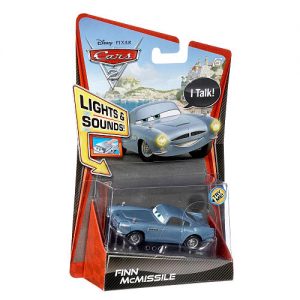 Assortment. Lightning McQueen, Mater and friends come alive with real working headlights and revving sounds including their signature phrases from the film. Available in 12 different characters, the vehicles feature 1:55 die-cast scale. ARP: $7.99 each | Ages: 4+ | Available: Now
What I love about these toys is that they are so true to the characters- the features, the details, are exactly like the movie.  The sounds are just like the movie, too. 
One of my readers will win TOKYO SPINOUT courtesy of Mattel!!  This is a Rafflecopter giveaway so no need to use the comment form, although you can leave a comment to help you remember that you have already entered if you want!!


I received a sample of these products to facilitate my review. Opinions expressed within are my own. The Q&A with Owen Wilson was part of my trip sponsored by Disney for the Cars 2 premiere and all travel expenses were paid for by Disney, but as always, opinions are my own.[ad#glam between posts]
0