This post brought to you by Triad Retail Media. The content and opinions expressed below are that of this mama loves.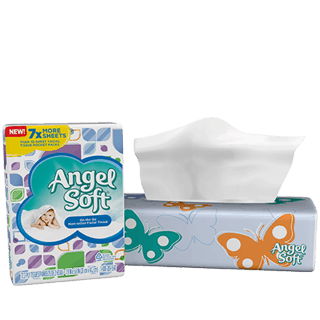 If you missed the  #ReadyForAnythingTwitter party, let me tell you, it was a mess.  Or rather, we shared our messes. And how we use Angel Soft® facial tissues in oh so many ways to help with those messes.  We've all used facial tissues for blowing and wiping noses, but there are so many other ways we've used them!
You can use facial tissues to wipe drool (my littlest does this all the time. The record length of her drool to date is about 18 inches…)
@familyfocusblog need tissues to wipe up her drool! #ReadyForAnything pic.twitter.com/Can4iUyLFT

— Racheal Langley (@brdk620) August 7, 2014
  Steadying a wobbling table…  
No, good idea! RT @familyfocusblog Ever used one to even out a wobbly table? #ReadyForAnything http://t.co/crNXZe6KHN #ad — Jen (@SuburbanMomClub) August 7, 2014

Taking care of creepy crawlies…
When you have to *ahem* take care of creepy crawlies! #readyforanything @familyfocusblog

— Brett Martin (@brettbmartin) August 7, 2014
Playing at a water park. Or IN water. Or around water. Or near it. Or thrown water..  
@familyfocusblog Tissue comes in handy to wipe her after she is played a lot at the park #ReadyForAnything pic.twitter.com/zdcpA5GDDV — Riya (@jia_biswas) August 7, 2014
My Grama Evelyn used to keep a tissue tucked into her watch band.  Just in case. You really just never know…
So we came, we tweeted, we partied, and gave away prizes.
Don't forget to head to Walmart to grab Angel Soft® tissue packs!
They conveniently fit in your purse making them available at home and on the go. Sad movie? Allergies? Is your little one wearing lunch on his face? Was there a juice box spill in the car, again? The everyday stuff that only a mom truly understands just got a bit easier thanks to Angel Soft® soft pack facial tissues.