This post is sponsored by Sivan Social. All comments and opinions are my own.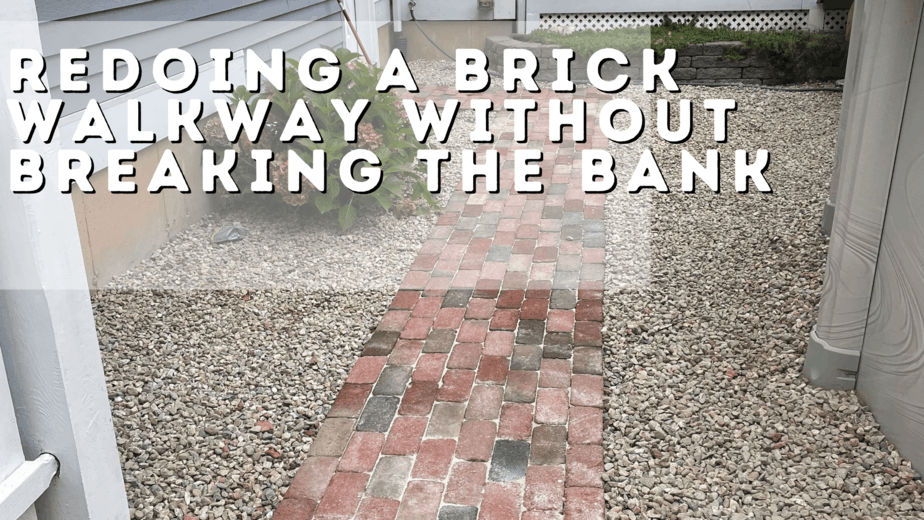 We have a walkway that goes along the side of the garage to a side door of the garage. For whatever reason, when our house was built and they were looking at ways to keep water away from the house (or, shall I say, try to), someone had the idea to run pipes under where a walkway would go, and direct gutters, downspouts to a drywell. Which is great in concept but someone missed a few important details, like ensuring that the pipes used to redirect water to drain to the drywell needed to be at a pitch in order to let gravity do it's job. What we've had the last several years that we've lived here is often a flooded, muddy mess and a walkway that looks poorly done and sloppy, and is very uneven. After the heavy rains we have gotten on numerous occasions this summer and multiple times where that whole area has flooded up to 8 inches, we decided it was time to remedy the issue. We have a high water level in our town as it is, but if we have a storm event in the winter months we also don't want to end up with inches of solid ice on top of the walkway. We need to get this done before winter!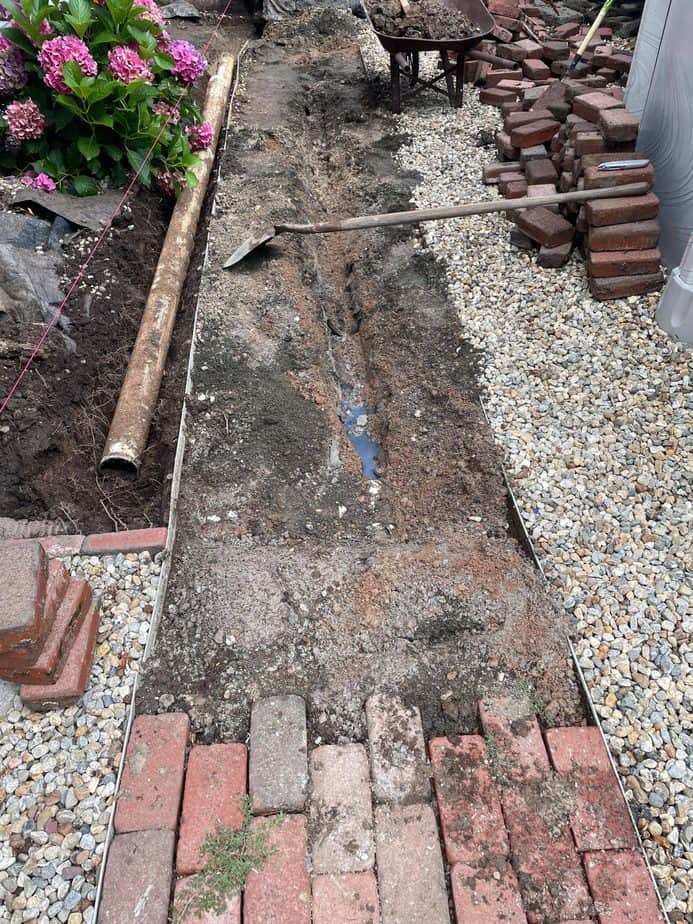 Of course, once we got the walkway up and started digging, we realized there was kind of a laundry list of what was done incorrectly or not done at all. Frustrated, my husband worked out the math and measurements and "stuff" that needed to be done to make sure the walkway stays intact but also that this whole system works to keep going away from the house and not flooding.
We had to pull UP the existing walkway bricks, dig out the pipe, fill in that trench, level the walkway sand/crushed stone, relay the bricks, sweep paver sand, and now? It's pretty much done. Finally. I am going to be happy if I never touch this walkway again!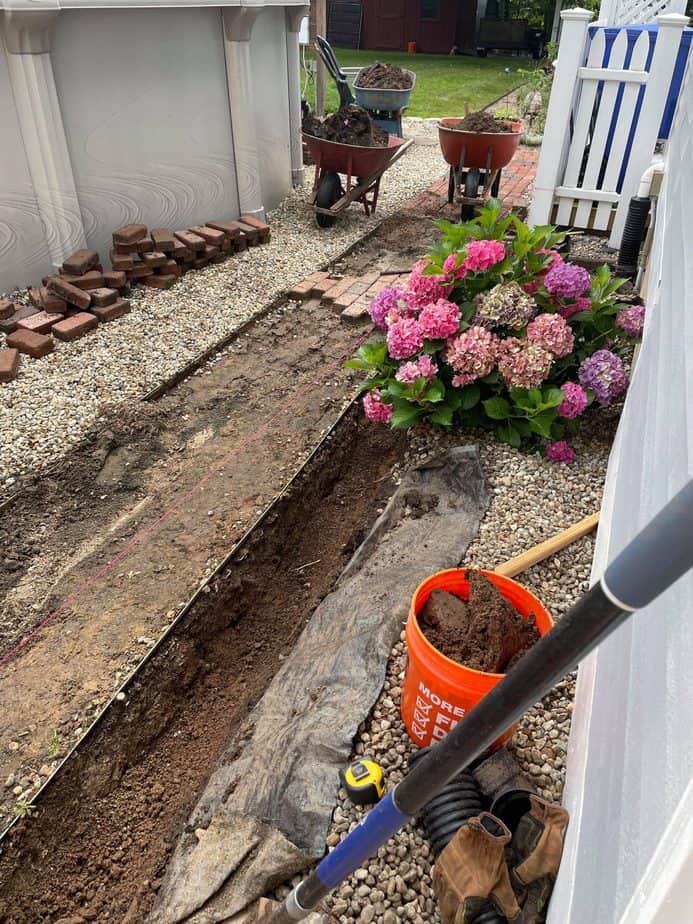 It was a lot of hard, sweaty and dirty work. Shoveling and raking and sweeping and moving and lifting and I complained a lot. Also, Home Depot buckets are part of my daily life. We have so many. But they are so versatile and can be used for so many things! Also, miraculously, my hydrangea suffered no injury through this whole project. I'm so happy!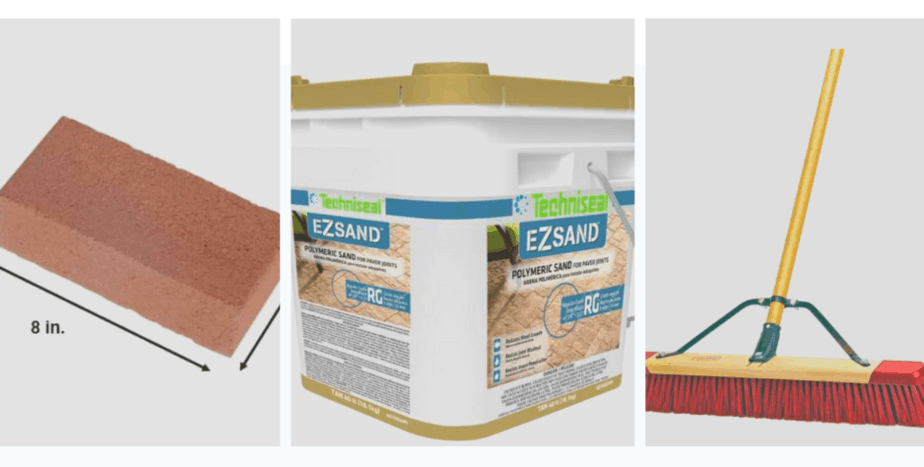 Given that (of course) the project turned bigger as we unearthed the existing pipe, we had a few trips to Home Depot for supplies, a lot of sweat, tears and probably some swearing…but we've got it done. We ended up needing to get a few extra bricks for a walkway, some tan polymeric sand, and a new outdoor push broom because someone snapped the handle on ours (and it wasn't me this time!) Oh, my husband got some pipe stuff but that's kind of secondary to the walkway. Other items you may want to make this job easier are knee pads because kneeling down to lay brick HURTS YOUR KNEES quickly, especially if you are of a certain age like we are, and leveling sand to help ensure your walkway is nice and flat/level.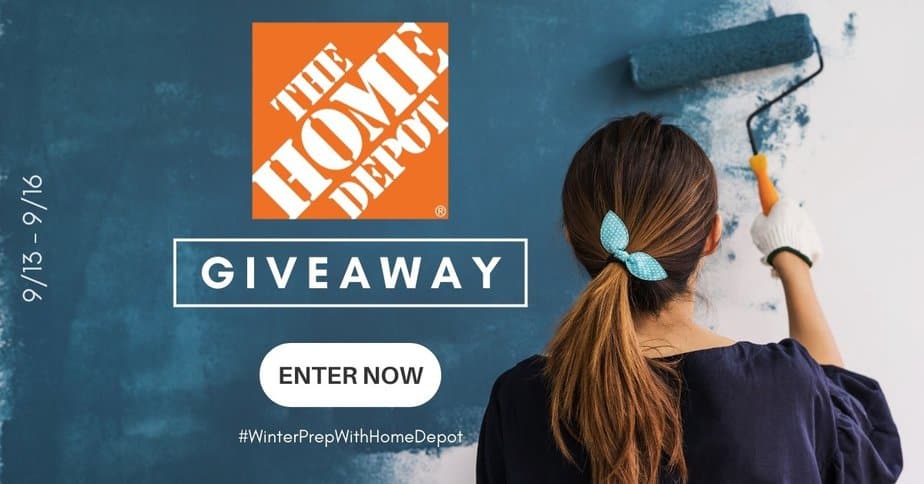 Be sure to enter the Savings.com #WinterPrepWithHomeDepot giveaway for a chance to win a $250 Home Depot e-gift card! What would you spend $250 on at Home Depot?
Giveaway details:

Monday, September 13th at 12:00 AM PT to Thursday, September 16th at 11:59 PM PT.

Four (4) winners will receive a $250 e-gift card from The Home Depot.

Users enter the giveaway by heading to The Home Depot merchant page on Savings.com and submitting their email address on the form on the page.

The winners will be chosen through a lottery drawing and notified on Friday, September 17th via the email address they used to enter.