This week at our Daisy Girl Scout meeting, we worked on the petal for Respect Myself and Others. The folks at Cakes.com had sent me a bunch of Frozen cake goodies- edible toppers, rings, blue edible glitter, and more, and since we are super lucky in our little troop of Daisies to have no food allergies, I wanted to work the fun of Frozen into our meeting.  It wasn't really a hard stretch- Girl Scouts work to be a sister to every (other) Girl Scout. Anna and Elsa are sisters.  Given that it's December and (relatively) cold, my co-leader and I thought doing some discussion and activity about what makes each of us special and unique, and ways to respect that uniqueness.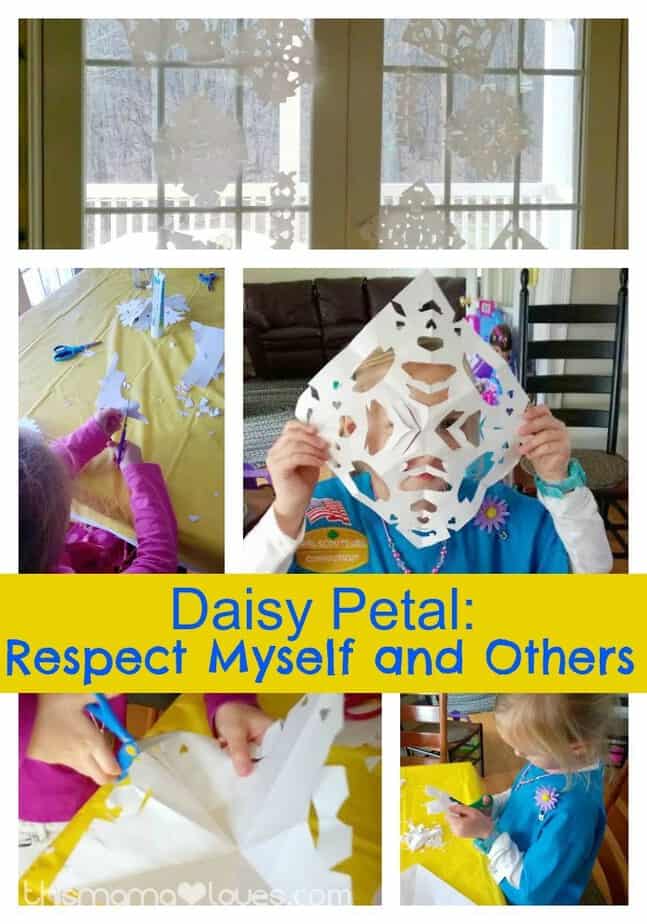 We began our meeting with our "business" as usual- reciting the Girl Scout Promise, and the Law. We ended up having to postpone our regular meeting because my daughter was quite ill before Christmas, so the girls were excited to share their favorite holiday gift because we were meeting AFTER Christmas. Almost all of the girls shared a Frozen related gift as their favorite, so that was an easy way to start our discussion. Talking about how Elsa was 'different' and so special because she was able to freeze things was something even my little 5 year olds could understand,, and talking about how Anna respected Elsa's gift to want to help her with it, and not make fun of her.
We talked with them next about how snowflakes are all different, every single one, and that even when we see twins (there are 3? sets in Kindergarten in our tiny town this year) who look exactly alike, each has something that makes them different from everyone else in the world. Respecting those differences and celebrating them was a key theme in our discussion.  Then we made our own paper snowflakes. We had SO much fun (Snow much fun!) making our snowflakes!
After we made snowflakes, we cleaned up (respect for rules, and for our meeting space)and had a little bit of conversation about how our words can hurt our friends and just because someone is different than we are, we still need to respect them.  I totally forgot to get photos, but we used a tube of toothpaste to illustrate how our words cannot be unsaid… squeezing some out onto paper and asking the girls to please try to put the toothpaste back into the tube.  (Someone did this during a children's message at church a while back and it's really just a great way to illustrate this message). Respecting ourselves also includes being respectful of what we say and do to others.
After we had all of our 'business' to get through with our regular meeting things, it was time for a very special snack. Cakes.com sent a bunch of their Frozen cake decorating items for me to have some fun with.  Normally? I would have totally baked my own cake and cupcakes.  This was not a normal time and I won't deny I called the local store and had them make some very plain (albeit Frozen-blue) canvases for us to work with. It's been a hectic few weeks and I simply didn't have the time to devote to baking. We all survived. The point of our meeting was for the girls to learn about respecting myself and others, and to respect differences and likenesses- a perfect tie in with the Frozen cake supplies.
A very basic, plain cake gets some fun with edible Olaf cupcake toppers!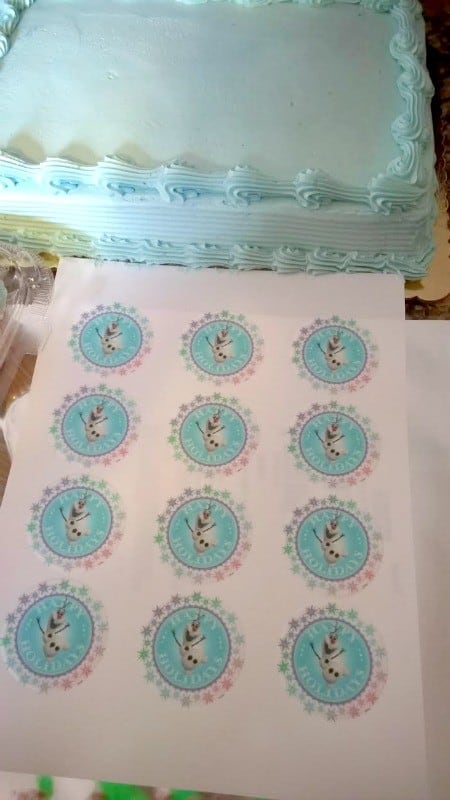 Once our toppers were laid out on the cake, we placed edible snowflakes around, and then sprinkled a bit of light blue edible glitter for some shimmer.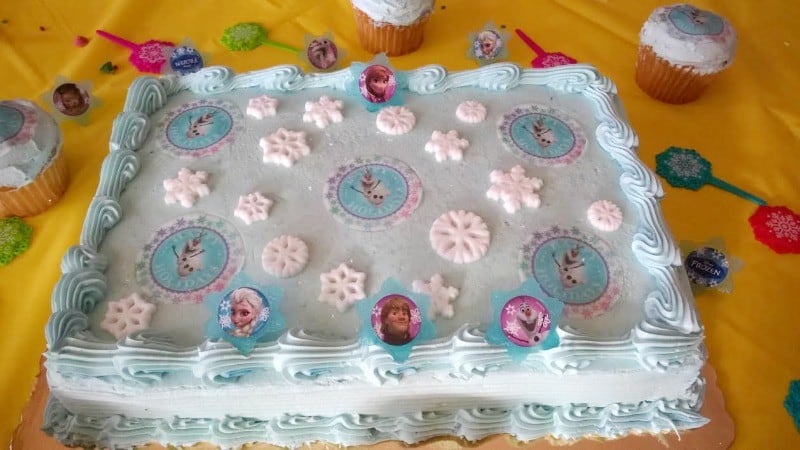 The final touch for our cake were Frozen Adventure Friends Cupcake Rings. We didn't use them for the cupcakes but set them around the cake. Extra Olaf decorations were put onto the cupcakes, and we put the extra rings around the snack area for more fun and decor.  The snowflake picks were just a fun way to add more color- if we had more than a 2 hour meeting and kids who might be hungrier than 5 year olds, I would have made little fruit kebabs with these picks. Super cute and really strong- you could totally reuse them with a good wash!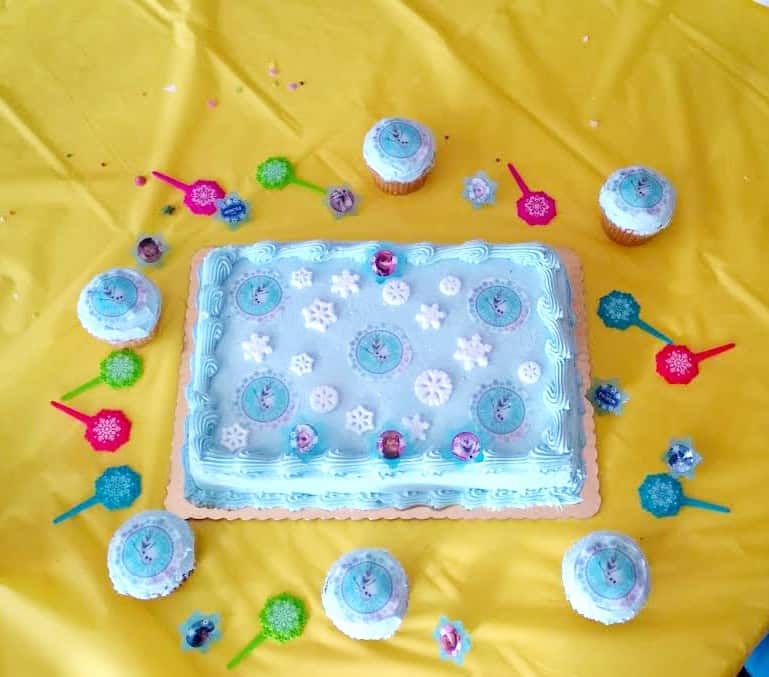 Many thanks to Cakes.com for sending the fun Frozen cake decorating supplies to us for our meeting, and for all of the fun products on site- and inspiration ideas for so many themes!!  I could spend hours perusing party ideas on Cakes.com, there are ideas for themes for every occasion and then some!