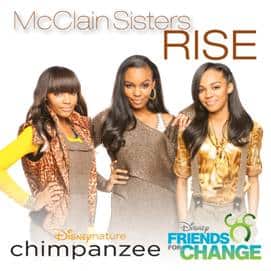 **Note 3/27: I just heard that we will be MEETING and Interviewing the McClain sisters during the #DisneyGlobalEvent next month!! **
We JUST saw this on Disney channel earlier tonight and I love it.  Friends for Change is such a great program, and it's only helping ME to get even more excited for the Disneynature Chimpanzee event I'll be attending next month in Kissimmee, Florida!!
"Rise," written and performed by McClain Sisters after being inspired by Disneynature's feature film CHIMPANZEE, is the latest Disney Friends for Change anthem.  With the motivating lyrics "Together we can do anything," the song captures the central message of the program:  when kids and families work together, they can inspire each other and their communities to make a lasting, positive change in the world.  "Rise" is the fourth Friends for Change anthem to be released with a benefit back to the Disney Worldwide Conservation Fund.  This contribution marks nearly $1 million awarded through the music campaign to charities working to protect the planet and conserve nature for future generations.
Check the video out right here!

0