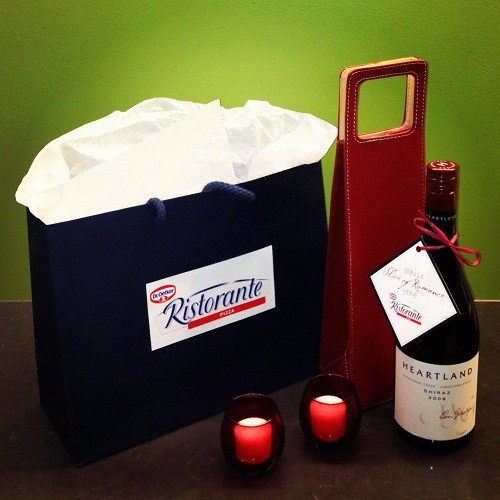 A few weeks ago, I had the chance to chat with Richard Vayda, Director of Wine & Beverage Studies at the Institute of Culinary Education, about different wines to pair with pizza from Dr. Oetker Ristorante to make a "Slice of Romance" date night…right at home.  With the busy lifestyles we lead today, it isn't always easy nor convenient to just head out for a night on the town for a romantic date, so it's great to have tools we can turn to and make for some romantic dinners…at home…without a huge cost incurred.  In our house, we aren't always too busy to find time for a night out, but it adds up quickly when you need to hire a sitter for three kids and then go out and pay for a restaurant meal…I was very, very glad to have the chance to speak with Mr. Vayda and learn a bit more about ways to pair wines and foods.
Having a romantic dinner at home can be quite simple- instead of just eating at the table, grab a nice tablecloth.  Pull out the cloth napkins (or in our house, we'd pull out the nice cloth napkins).  Use your china that's probably sitting in the cabinet like mine does most of the year!  Light some candles.  Set a small table up that's not where you normally eat.  The weather is nice now- why not set up a romantic table for two al fresco?  A few simple changes can make a world of difference….and can cost nothing or next to nothing.
Since I'm far from a wine connoisseur, I'm going to share with you the pairings Mr. Vayda suggested.  I love that he took the time to explain to us where a light dish will pair nicely with a boldly flavored wine, and other pairings like that.  I've always just heard that red wines go with red meats, etc.  and when I walk into a store to purchase wine, I feel like a fish out of water.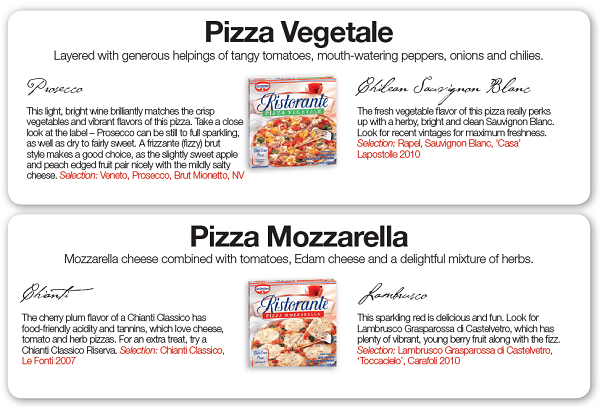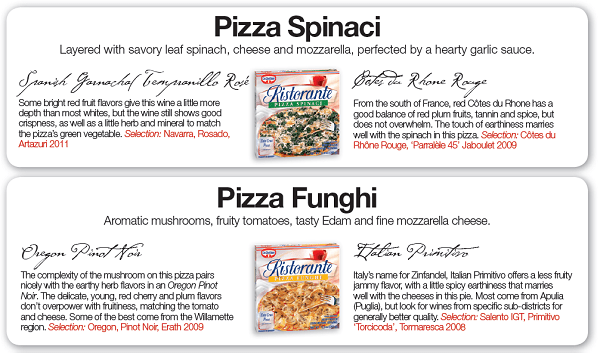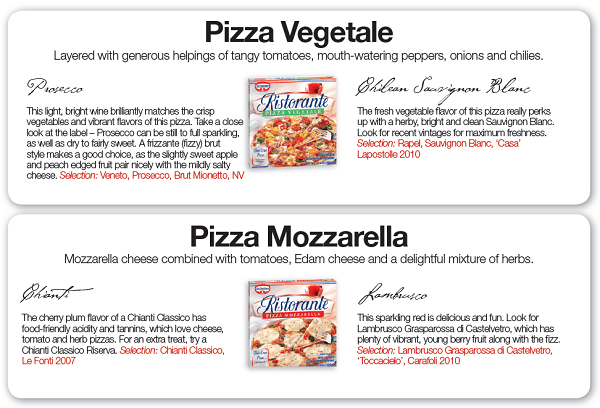 Now, I have to note that this info is all available for download to you by clicking this link:
Ristorante+Romance+Fact+Sheet+5+3+12
But I also want to share with you that these "rules" are not set in stone, that's the one thing I really took away from what Mr. Vayda was saying.  Wine doesn't have to be paired with the same things all of the time- but these are guidelines- suggestions, if you will.  Bolder meals may mean you want a bolder wine- in cold weather- but as the seasons change, you may want to opt for a lighter wine to pair with that same meal.  This "news" was a big relief for me to hear, because as I mentioned before, I kind of grew up hearing that certain foods pair with certain wines and wasn't ever exposed to creativity in wine pairings.  I feel a little better prepared to shop wines now, and a little braver in what I choose to serve with different meals.
One lucky U.S. reader over the age of 21 will win a Dr. Oetker Ristorante prize pack including:
·         Bottle of wine from Richard Vayda's list of pairings
·         Set of red votive candle holders, candles included
·         List of Richard's wine and pizza pairings
·         Dr. Oetker Ristorante reusable canvas bag
·         Dr. Oetker Ristorante coupon
Javascript must be enabled to enter this giveaway. Learn how to activate Javascript by
clicking here.

Loading Entry-Form
I received a promotional item to thank me for taking the time to chat with Mr. Vayda. Opinions are my own.