How To Pick The Best Safety Shoes For Women?
Slipping and falling are one of the most common causes of occupational injuries in the United States. It is estimated that over 290,000 injuries occur per year as a consequence of occupational slips, accidents, and falls. The first step in preventing occupational slips and falls is to choose a shoe that is specially built for the job at hand.
And if you are a woman, it has become much easier to find a slip-resistant shoe that is both functional and fashionable. In the past, work shoes were made unisex but over time, these shoes penetrated the fashion industry as well. Slip-resistant shoes for women can be worn both at work as well as casually if you know how to style them.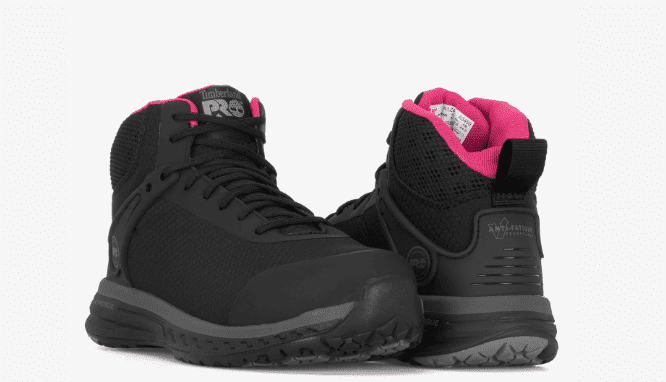 It might be tough to choose slip-resistant footwear among the plethora of options available. The specifications for the soles range from "increasing grip-ability" to "great multi-directional slip-resistance." Frequently, footwear is simply marketed as "slip-resistant," with no indication of the situations for which the boots are best suited.
Here are some tips you can follow to choose the best slip-resistant shoes for your work.
Examine Your Workplace
Varied locations demand diverse levels of safety, as well as different materials that make the floor wet or slick. Slip-resistant shoes designed for wet situations outdoors will not work on greasy chemical-coated workplace floors. In comparison to hospital or restaurant flooring, industrial floors get a different type of slippery.
As a result, it's critical to examine your workplace and inform your shoe provider or read the entire description to get the best slip-resistant shoes for your demands. Some will even provide you with a test to see if the slip-resistant shoes you are considering are effective.
Also, look for shoes that go with your outfit or uniform. If you are a woman, you will be concerned about it later so keep that in mind early on. Manufacturers are now making slip-resistant shoes that not only provide safety but also look dashing. Some are also multipurpose, you can wear them to parties or when traveling.
Examine The Sole
All slip-resistant shoes have almost similar tread patterns and this does not make them better than the others. Shoe manufacturers indeed use the sole as a marketing tool to advertise how different sole patterns can help them hold the grip or make them more slip-resistant.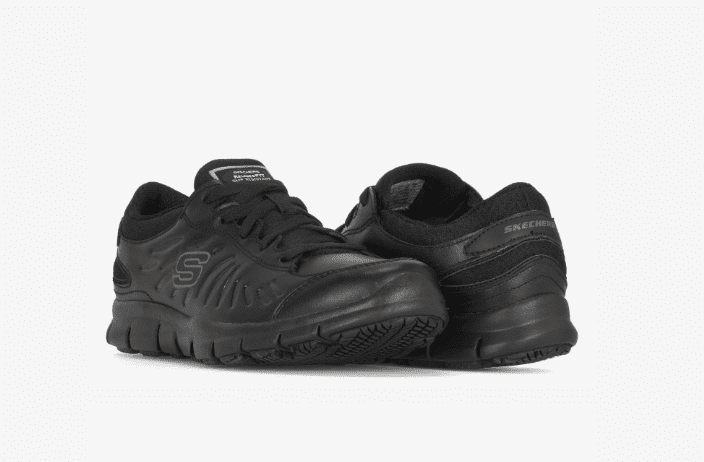 It becomes difficult to assess what type of pattern is good for you and what to look for soles in slip-resistant shoes. Here are a few tips.
Always buy shoes that grip the floor firmly. Treads do not have to be too deep as they can make the shoes unstable.

See if the sole can channel Water or oil away from the shoe using tunnels. When you walk into a liquid, it will take the shortest path to the surface. It will be a safer step if the tread has several channels or paths to allow this.

Circular grips are better at preventing hydroplaning than square or triangle grips.
You can also ask the shoe providers about sole pattern recommendations but be aware of the marketing tactics.
Choose The Best Material
Slip-resistant shoes are made up of different materials as compared to simple shoes. The outsole is sometimes known as the "sole" of the shoes, but to distinguish it from the insole and midsole, the outsole is the section of the shoe that enables effective contact with the surface.
When exposed to water and grease, a slip-resistant outsole is soft and composed of material that is extremely durable than other outsole compositions.
Because of the softer rubber outsole, a slip-resistant shoe can better grip a slippery floor. This implies that a slip-resistant shoe will be able to grasp grip even on quarry tiles, hardwoods, or vinyl flooring, but a shoe with a harder, stiffer bottom will not.
These shoes are also not very heavy. Buy soft shoes, with a better outsole and are less in weight.
Final Thought
Injuries are costly; there are many other unexpected and hidden expenses. When it comes to shoes, like with any other commodity, you usually get what you pay for. Make sure you get shoes that will do the job – this will not always be the cheapest option.
However, it may be more comfortable or appealing, guaranteeing that employees wear it and that it lasts longer.
Any decent slip-resistant shoes also provide the sole pattern for additional contact areas. This is because if the tread pattern and outsole material are intended to be slip-resistant, it seems to reason that the more of it that gets into direct contact with the ground, the better the shoe will perform.
In every condition, no shoe or boot can be guaranteed to be slip-resistant. And none of them can protect you from every danger.
Footwear that is not prone to slipping in one scenario may be prone to slipping in another. As a result, pick wisely according to your needs and workplace environment.