One thing my parents instilled in all of us was to save early and often- for college, and for our future. Obviously for parents, saving for college is a big one, and we've been working hard to add to our kids' 529 accounts each year since they were born. When you are looking at finding a 529 plan in Connecticut, you'll find CHET-the Connecticut Higher Education Trust. This post about the Connecticut 529 plan and giving the gift of saving with CHET is sponsored. Opinions are my own.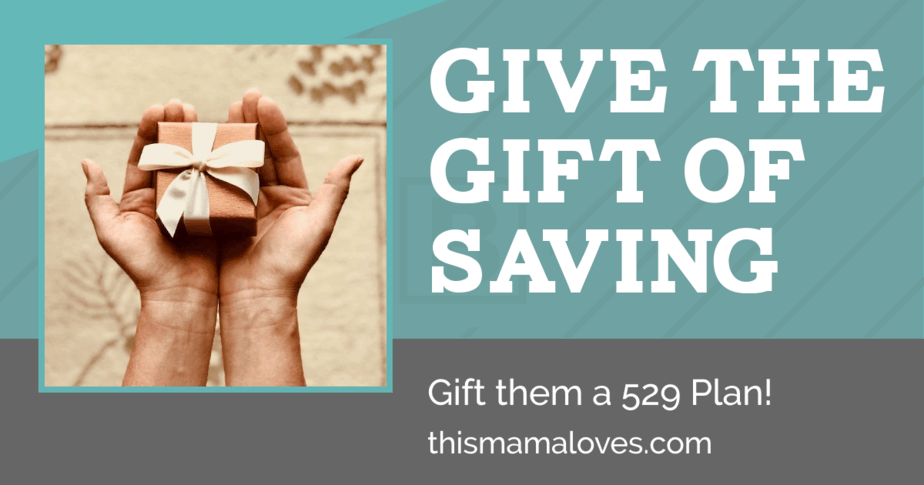 Connecticut 529 Plan: Give the Gift of Saving with CHET
With CHET, my husband and I make contributions regularly, from our paychecks, or when finances allow. But there are two great options for starting or adding to a Connecticut 529 plan, in CHET Baby Scholars and CHET Gift of College Gift Cards.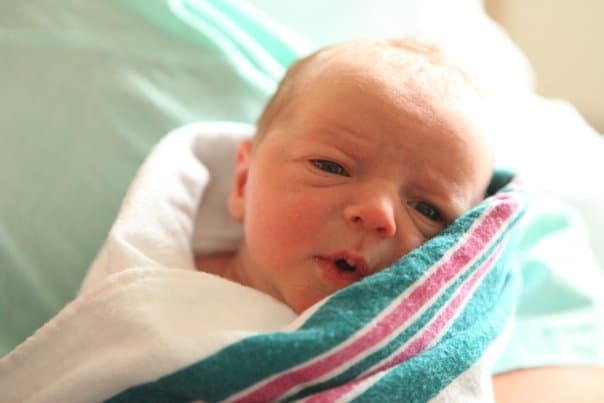 CHET Baby Scholars
While you are enjoying the amazing – and at times overwhelming – first year of your child's life, let CHET help you get started saving for college. Open a CHET account and receive up to $250. This is one of the first things I said to my nephew last February after his daughter was born. I remember telling him that hey you get free money when you do, because if you have put in $150 or more before the baby is four, you could get up to $250 free for her account.  I was happy to hear he'd opened an account for my little grand niece, and I know when she's a big sister down the road, they'll open an account for that baby as well.  It kind of seems silly not to take advantage of free money- you do need to make a deposit, but you're going to want to do that anyway so the money has time to grow as your baby goes through childhood. It's never too late to start saving for college, but it's also never too early…and the earlier you start saving, the less you have to borrow down the road. For more details visit www.aboutchet.com/babyscholars.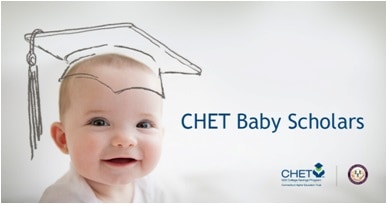 Specifics: The CHET Baby Scholars program provides up to $250 toward a newborn's future college costs. Babies born in Connecticut, who are less than a year old, and adopted children, not later than the first anniversary of the adoption, are eligible for a CHET Baby Scholars grant in the amount of $100. The grant is given as a contribution into the child's CHET account. Then, if an additional $150 is saved in the account by the time the child is four (or in the case of an adoption, by the fourth anniversary of the adoption), the account may be eligible for a second grant of $150.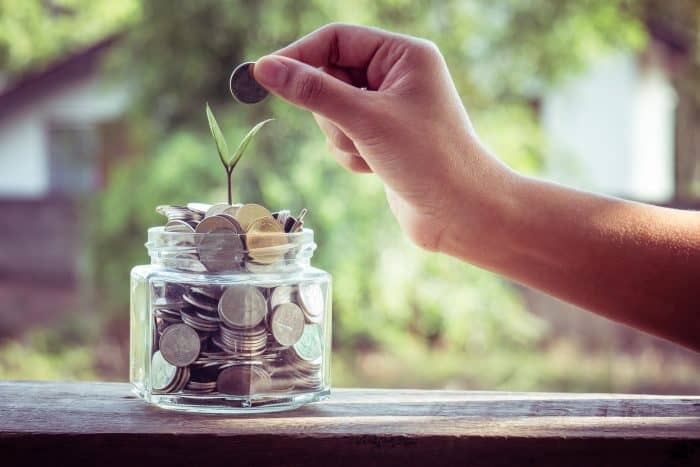 CHET Gift of College Gift Cards
As a mom, I hear from parents almost daily how their kids have "every toy" and want for nothing. Or, the holidays just passed, and we don't have room for more things…the message is the same over and over, it's appreciated that others want to give the kids a gift, but I'd rather it be something that offers something MORE. So why not suggest to those who want to do a gift that it be a contribution to a 529? Why not share a link to buy a CHET Gift of College Gift Card?
A CHET gift card is one size fits all and perfect for many occasions – baby showers, birthdays, graduations and holidays. I can tell you there are gifts I have purchased even for my own kids (and others) that I will tell you outright, I wish I'd just done a gift card or bank deposit. Make saving for college a family affair – instead of toys or clothes, ask family and friends to contribute to your child's college savings account.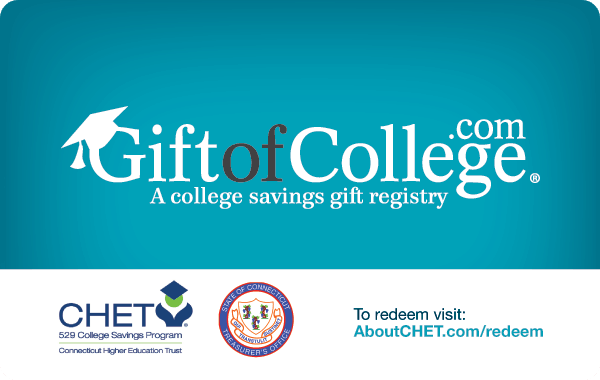 You can purchase CHET Gift of College gift cards online at www.aboutchet.com/gift. You can choose for the CHET gift cards to be delivered via email or physical "snail" mail. Pretty sweet, right?
529 Day
I'm excited about this last bit. CHET is offering a great promotion for 529 day- May 29th- it's an exciting day because it means your kids will have some money saved for higher education!
Offer: Anyone who opens a new CHET account between May 29 and June 1 with $100 and signs up for an automatic contribution plan will receive $50 after 6 months!www.aboutchet.com/529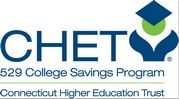 Have you thought about giving the gift of saving with a 529 plan for someone you love? Will you take advantage of Baby Scholars or 529 Day promotions?