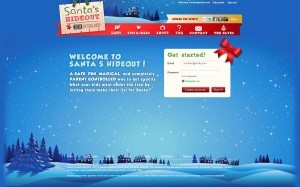 Conde Nast has introduced parents to new way to organize Christmas.  No more sticky notes here, there and everywhere to say who was told what wish list item, and no more risk of kids seeing what you might be buying- Santa's Hideout lets kids enter their wish list, parents can edit, and family and friends can see exactly what it is on the wish list- and update so that no duplicates are purchased.  Did I mention that it is FREE to sign up and use this site?
It took me all of a minute to get my account started.  A few more minutes to get the kids' names and dates of birth entered (don't forget to check off the box to get a free birthday e-card from Santa!!) and things were set to go.  One feature I really like is the price limitation for the wish list- I was able to put a maximum dollar amount on the wish list.  My 4 year old would love an iPad, and that's simply not going to happen.  My 6 year old has her heart "set" on at least 6 of the American Girl Historical Characters (also not going to happen). 
Once you've added each of your children, you can send the link to your child to add wish list items, or to a guest if they would like some gift ideas for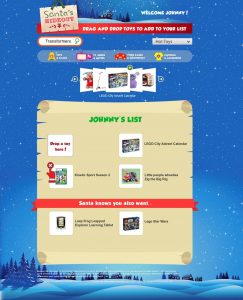 your kids.  My son was around when I was creating this so he sat on my lap and we started with a search for Spiderman.  Having given my parental parameters, I was comfortable that the results that popped up would not be exceeding my price limit, and he was happy to see all of the different Spiderman products available.  They had a "super cool" watch that he just fell in love with.
There are dangers if you are a toy lover like me.  I've had my eye on a play food set in felt for a while and in creating a list for my 2 year old discovered oh so many more that I fell in love with.  Sorry, Mr. Bargains!  Santa's eyes are always open…
Once your lists are shared (remember, parents can edit what the kids put down), things can be marked as purchased or reserved for purchase by others who view it.  This is kind of nice and hopefully helps prevent duplication of gifts!!  The kids' view is very different from the parents' list, as you can see.
A cute extra feature that I like was Santa's Desk.  Santa can and will send an email to your child with a note of encouragement about that hard test, or just a quick hi, I got your wish list…and yes, I am sure you could email  your child to remind them to stay on the nice list if so desired.
This is a cute, fun site that I think has the potential to be really useful for families everywhere, and helps parents keep things very organized.  If only they'd serve hot chocolate and deliver things wrapped, too…
This post is brought to you by our friends at Maggie's Clubs.  Opinions are my own.
0