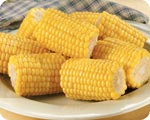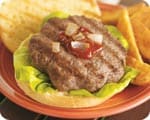 Tonight we had Black Angus Steak Burgers  from Schwan's on the grill with Mini Super Sweet Corn on the Cob also grilled…and then some Loaded Waffle Cone Peanut Butter Swirl Ice Cream (cones) for dessert.  Or rather, the family did.  I did have a few bites of the ice cream (no cone) and 2 mini corn cobs…so delicious.
This was only the second time we've tried Schwan's at home and we were again happy  The burgers were a nice size, not too thick, quite juicy.  The corn cobs didn't last long at all- we LOVE corn on the cob around here…I didn't even put salt on my corn cobs and that says a lot- I can do without butter but I need a bit of salt on my corn!!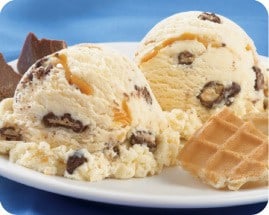 I will be honest, though-this Loaded Waffle Cone Peanut Butter Swirl Ice Cream is out-of-this-world divine.  Oh, man.  I don't want it in my house, its a constant temptation!!  But oh, its heavenly.  Creamy ice cream, crisp and sweet waffle cone bits- mixed in with the peanut butter…your tongue will do a happy dance…mine did!
I think Schwan's is great and while we cannot afford to have their products around every day, they are definitely an option I want to have in the freezer at times for hectic days like today was!!  I thought my summer was going to be super relaxing…shows what I know!!  I think I will be watching for deals and promotions more often to maximize my money spent there. I really like the LiveSmart items too.  Perhaps they will balance out my love of the above mentioned very-long-named ice cream flavor?
Samples of these items were received for review. Opinions expressed within are my own.[ad#glam between posts]
0