Schwan's has saved dinner before at my house, and with the school year in full swing, we're finding that dinner time can be a really hectic time, especially with the kids adjusting to their new schedules- they come home wiped out from school and sometimes they need mommy to cuddle instead of cooking dinner- which is perfectly ok except that I do still have to manage a dinner on the table at some point!!  So, on days like that, I love having Schwan's in the freezer to grab and make for a quick and easy to prepare meal that will make everyone happy and allow me to be with the kids giving them the extra attention they may need.
This time around, we tried the Crispy Chicken Breast Strips – boneless and skinless chicken breast tenderloins, coated in savory seasoning and then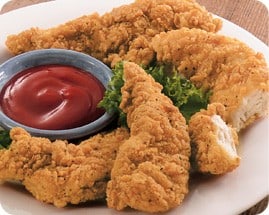 batter fried to golden crisp.  2.5 lbs come in each resealable bag to serve 10.  This is perfect for my family of 5- that's 2 meals of chicken for nights we have a lot going on- or 4 lunches for the kids during the week on busy days!!   We have used these in quesadillas, sandwiches, on salads and just cooked with "dipdip" on the side.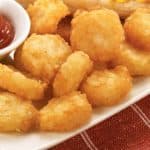 QUIK TATERS® Potato Rounds – Creamy, tender inside and crispy, golden outside—these shredded potato rounds bake-up or deep-fry fast, delicious and versatile.  These also come in 2.5 lb resealable bags, and are crispy and delicious.  Not something we serve every day but they make for a fun treat, and are definitely quick and easy to prepare!!   I do a casserole for pot lucks and brunches that I may just add these too- they are very crispy and I'm sure people will love them!
Peanut Butter Candy Crunch Ice Cream – loaded with chunks of your favorite chocolate-covered peanut butter candy for a delicious crunch in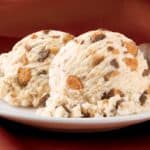 every bite.  I don't know what to say about this ice cream.  It isn't healthy, unless you could the whole ice cream is dairy thing and then I suppose you could do that, but ohmygoodnessgracious does it ever taste divine.  I am not kidding.  Its got a little of something for everyone, peanut butter, ice cream, chocolate, saltiness, all in one spoonful at a time…be warned, this wont' last long in the freezer.  Its really, REALLY good on a sugar cone.  Just in case you were wondering.
In any event, one of YOU fabulous readers will be trying this same dinner courtesy of Schwans! 


I received a sample of this product to facilitate my review.  Opinions are my own.
0