The world may not seem quite the same after you sample these cookies.  I'm totally serious.  I even found
a coupon you can use to save on the Sea Salt purchase!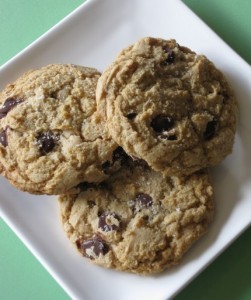 | | | |
| --- | --- | --- |
| Sea Salt Chocolate Chip Cookies | | |
Author:
You've had chocolate chip cookies before, but you may never think of them the same after trying this recipe. Oh my goodness!!
Ingredients
3 cups all-purpose flour
1/2 teaspoon baking soda
About 2 1/2 teaspoons sea salt, divided
10 ounces unsalted butter, at room temperature
1 cup vanilla sugar
2 large eggs
1 teaspoon vanilla extract
12 ounces bitter chocolate chips, or bitter chocolate cut in very small pieces
Read More http://www.epicurious.com/recipes/food/views/Chocolate-Chip-Cookies-with-Salt-104371#ixzz1V6UmbD00
Instructions
Preheat the oven to 375°. Line two baking sheets with parchment paper.
Sift together onto a piece of waxed paper the flour, the soda, and one half teaspoon of the salt.
In a large bowl, whisk together the butter and the sugar until it is light and pale yellow. Whisk in the eggs one at a time until thoroughly blended. Whisk in the vanilla, then stir in the flour just until it is blended.
Stir in the chocolate chips or pieces and mix until they are evenly distributed throughout the dough.
Drop the dough by tablespoons full onto the prepared baking sheets. Sprinkle each with a generous pinch of sea salt. Bake in the center of the oven until the cookies are golden, about 12 minutes. Remove from the oven and let sit on the baking sheets for about 4 minutes to allow the cookies, which are fragile, to firm up, then slide them onto a cooling rack.
0